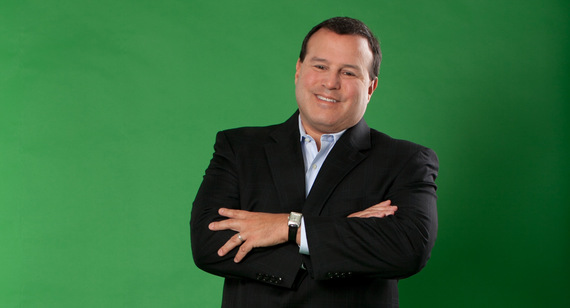 As a solopreneur myself, I always enjoy talking with fellow entrepreneurs about what sparked them to take the plunge and start their own business and the lessons they've learned along the way. Recently, I spoke with personal finance expert and consumer advocate Howard Dvorkin. Dvorkin is a true financial education pioneer. Over two decades ago, he quit his job at an accounting firm to start his own business dedicated to helping the average consumer get out of debt. Since then, Dvorkin has grown his business, Debt.com, into the premiere online source for consumer finance.
Recently, I chatted with Dvorkin about why he started his own debt counseling business, what marketing and brand building strategies have been most successful over the years (and which he most regrets), and what he thinks about the newest crop of consumer advocacy-oriented fintech startups.
Brian Hughes: Why did you decide to take a risk and start your own business?
Howard Dvorkin: I'm a serial entrepreneur. When I left the corporate world to help Americans get out of debt, I saw both a business opportunity and a noble cause. Back then, credit card debt was only just being recognized as a serious problem.
The experts and nonprofits who were supposed to help weren't embracing the latest technology. Many credit counseling agencies I encountered had a three-month waiting list just to see a counselor to evaluate a person's situation. When people are suffering and are dealing with a mountain of debt, they can't afford to wait three months for help.
Expediency was a major reason why I invested in and embraced Internet outreach and education. People need help fast and the Internet allowed them to get on the right road quickly. And that's also why Debt.com is the first one-stop resource for every form of personal debt, identity theft and credit correction solutions.
Brian Hughes: Your early message discussing the problems of debt in America was pretty groundbreaking. Why do you think it resonated so well with so many people then?
Howard Dvorkin: I believe that Americans who are struggling with debt are smart people who want straight answers. They don't want to be talked down to and they don't want to be pitied. They've made some costly mistakes but they're willing to work hard. So I've always treated my clients, readers and listeners with respect, but I've also been blunt about what they need to do. And if they choose not to do it, I'm equally blunt about their prospects.
Brian Hughes: What marketing strategy has had the biggest impact on your personal brand growth? Which strategy has been the least successful?
Howard Dvorkin: The most successful strategy has been the simplest: "show don't tell". In the marketing messages, we provide real-life examples of client profiles and testimonials, often with names and pictures. Anyone can call themselves amazing, but it only matters when satisfied customers do it. Also becoming an industry expert in your field helps separate you from the pack. Authoring books in your field and being able to help the media clarify difficult topics or give advice that will help their audiences has, in turn, helped my growth in the industry. As for the least successful strategy, I once made an infomercial that helped a lot of people, but it was such a labor-intensive undertaking, it wasn't worth the effort to repeat.
Brian Hughes: Generating that initial "buzz" for brand building is pretty tough. What advice do you have for individuals just getting started with personal brand building today?
Howard Dvorkin: Be patient and consistent. Two decades ago, the strategy was to advertise in local markets, be an expert for the media on trending topics, and build a cutting-edge website. Brand building was a lengthy, multi-pronged process, but the results were real and profitable.
It takes less time today to get your message out online, but there's so much noise, progress can be slow. However, as long as there is progress, resist the urge to make sweeping changes with the hopes of a sudden bump. You'll simply undo what you've already accomplished.
Brian Hughes: Debt.com is a website you've been continuously re-inventing since it first launched. What's up next for the site? Any new features or information we should look for?
Howard Dvorkin: Debt.com keeps evolving because personal debt keeps evolving. Four years ago, we decided to partner with a few reputable firms and offer a one-stop shop for Americans to solve their financial problems.
Since then, other personal finance websites and companies who mainly relied on advertising or limited financial products have noticed that fierce competition has slowed their growth. So we offered to partner with them, allowing them to market our solutions directly. We call it "Business in a Box" and it works for two reasons. First, the partners (online and/or brick and mortar) get a commission and second, they're guaranteed that the solution providers sign the Debt.com Code of Ethics. The organizations need revenue streams, but they're also very protective of their clients and we ensure that they receive services from the most qualified providers.
Brian Hughes: What do you think about some of the new fintech startups like Credit Karma or NerdWallet? How are these companies changing consumer advocacy and debt relief?
Howard Dvorkin: Those sites are great and have valuable advice and tools. When I got started in this business if you wanted to learn about personal finance, in general, you had to go to the library. If you wanted to learn about your own credit information, you had to make phone calls from a landline or write letters and wait for a response in the mail. Today, there are literally no barriers to solving your debt problems.
Brian Hughes: If you could go back in time and change one thing about your initial approach to your business, what would that be?
Howard Dvorkin: I would have started Debt.com a decade ago; the need was definitely there!
Bottom line: For many entrepreneurs, personal brand growth often takes a back seat to business brand development My conversation with Dvorkin reminded me just how important both are to an entrepreneur's success. And I can't emphasize enough how much I agree with Dvorkin's advice to "show don't tell" and to become an industry expert. Be the authority on your niche and let your customers and clients sell your business in their own words!
Popular in the Community