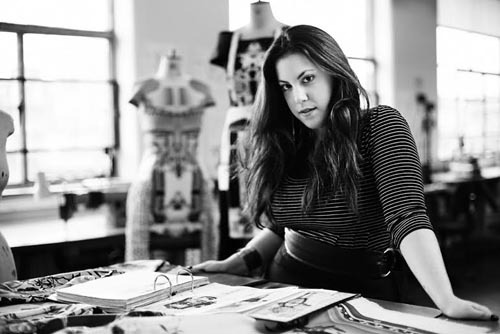 When it comes to prints no one is as daring or fearless as Mary Katrantzou what with her bold gestures and unexpected pairings. Her voice and her aesthetic is so singular and so clear that fast fashion companies often look to her for inspiration and/or imitation.
Below, Katrantzou talks about, of course, prints, the launch of her new website, and her harshest critic.
When I wake up... I normally make myself a cappuccino and check my emails at my desk before the day of work begins!

Before I go to bed... I always make sure I go through what I need to do the next day, that way I'm not awake all night thinking about it!

A well-dressed man/woman... never follows a trend. They have their own style and work the season's pieces around their own look. They wear the clothes and don't let the clothes wear them.

Women should always... wear fashion with confidence.

Men should never... be afraid to look as stylish as their female counterpart.

The best thing that's been said about me... was after my A/W13 show at London Fashion Week, the collection was a big step for me as it was basically rinsed of colour, I was nervous about the reaction but Suzy Menkes wrote in the New York Times that it 'set the tone for the season'.

The biggest misconception about me... is that I am a maximalist because of all the color and print I use. I am actually more of a minimalist at heart.

If I weren't doing what I'm doing today... I would be an architect.

My legacy... I hope, will be a part of how great British Fashion is, and that people are open to individuality and experimentation. Print has established itself in our times to be more than a trend. I hope that my work has allowed women to dress in a way that they couldn't dress before, indulging in fashion to define their taste and aesthetic. My work is about perception more than it is about print. It's about allowing women to wear the beauty found in design, in a subversive way.

A great idea... was the internet. I wish I had invented it!

Botox is... destroying natural beauty. The most beautiful older women I know have aged naturally and are glowing. That said, I believe beauty is in the eye of the beholder and everyone should be able to make their own decisions.

My mother... is my harshest critic but I love her for it. In this business you need people that are going to be honest with you and challenge your opinions.

The future... is exciting for me at the moment. We have just launched our website and the next step will be a store hopefully.

Happiness... is relative to the individual.

There's a time and place for... relaxation, and I wish I knew where and when it was!

In the end... it will all be alright, and if it is not alright, it is not the end! One of my favorite sayings.
Portrait of Mary Katrantzou by Alex Sainsbury. All photos with permission from Mary Katrantzou.
Follow me on Twitter and Instagram: @bluecarreon