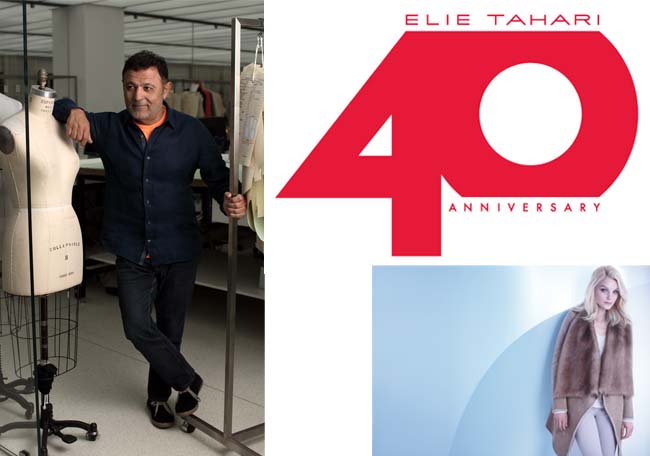 The fashion designer Elie Tahari celebrates his 40th anniversary in the industry this month. In fact, September 4 was inaugurated as Elie Tahari day by Mayor Michael Bloomberg in honor of the designer's anniversary and contributions to fashion.
Taking a few minutes off from his celebrations and preparations for New York Fashion Week, Elie Tahari talks about his life's mission and legacy and how despite his fame and the ubiquity of his line, he is still being mistaken for a woman.
When I wake up... I feel grateful for the day whether it is sunny or cloudy.
Before I go to bed... I reflect on the day and always try to be thankful for my blessings.
A well-dressed woman... Her outfit is never complete without a well-dressed attitude.

Women should always... wear clothes that are quieter than her, that way her true beauty can shine through.

Men should never... be afraid to wear color. I wear pops of neon almost everyday.
The best thing that's been said about me... is that I have helped someone because that is what I believe I was put here to do.
The biggest misconception about me... is that I am a woman! People see the name Elie and think that it is a woman's name. Once I was in an elevator with a woman and she was carrying my shopping bag I said, "I see you brought some Elie Tahari Clothes" and she said "I love HER designs".
If I weren't doing what I'm doing today... I would have been an architect. I have worked with so amazing many, architects -- Piero Lissoni, Christian Liagre, their work has helped inspire a lifestyle and I have seen influences from their work manifested in my collections. My spring/summer 2014 collection was inspired from the architecture of Brasilia, which the famed Oscar Niemeyer created.
My legacy... I want to be remembered for the caliber of person that I am and that I strive to be. At the end of the day fame and money mean nothing. It's how you lived your life that matters.
A great idea... can pop into your head at any moment, I always keep a note pad handy to jot down ideas.
My mother... The most amazing woman I know!
The soundtrack of my life... anything from the disco era although lately I have been listening to Bebel Gilberto keeping in mind with my inspiration of Brasilia.
The future... looks bright with endless possibilities.

Happiness... is my children.

There's a time and place for... fun and a time and a place for work. Work hard play hard!
There is too much... negativity in the universe, I wish peace and tolerance for the world.
In the end... I just want to do good for the world, discover truth wherever it is.
All photos with permission from Elie Tahari.
Follow me on Twitter and Instagram: @bluecarreon