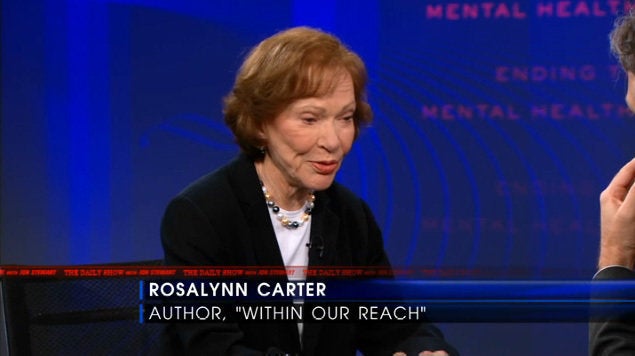 Former First Lady Rosalynn Carter has been an unrelenting crusader for people suffering from mental illness (which I refer to here as brain disorders). For more than 40 years she's been working on promoting awareness of the issues, public policy, making health care insurance coverage for these brain disorders comparable to traditional health care coverage, and reducing stigma and discrimination against the people who suffer from these brain conditions.

I spoke with Rosalynn Carter about stigma and treatments.
Much of the stigma related to these brain disorders was created because of our nation's past history of institutionalizing people with these illnesses. As a result, Rosalynn Carter's efforts have focused on educating people on these disorders in order to reduce the stigma associated with our nation's health practitioners having gone to such extremes as removing people from society simply because their symptoms were misunderstood.
Stigma in these modern times has not changed much. In fact, Rosalynn Carter said it may even be increasing. It is difficult for her to understand why the stigma still exists today when at least one in four adults in the United States is diagnosed with a mental health condition, she said.
Through The Carter Center, Rosalynn Carter has focused on strategies to reduce stigma and discrimination.
As with any form of prejudice, the answer begins with education.
Rosalynn Carter stressed the need for internists to be trained to recognize symptoms, make the diagnosis, treat the condition, and know the resources in community for referral and support. However, she found, after enormous efforts, that medical schools were resistant to incorporating this type of coursework into their curriculums, and there is no umbrella organization that can make it a requirement.
The Carter Center for Mental Health created its Primary Care Initiative to tackle this problem. It is an especially important initiative, because many primary care physicians are not well trained on diagnosing or treating these brain disorders. Indeed, according to the Carter Center, depression is too often misdiagnosed and only one third of patients treated for depression in the primary care setting have any type of meaningful improvement in their condition. (This may be due to ineffective treatments. See JAMA article.) At the root of this problem is stigma among medical practitioners, despite the improved understanding of "mental illnesses" being biological brain disorders no different from any other brain disorders.
As a result, people who suffer from these brain conditions continue to feel the stigma and are embarrassed to seek professional help. Rosalynn Carter would like to see medical centers expand into one-stop shops, where various practitioners would practice so that consumers don't feel stigmatized getting treatment, and, of course, she wants to destigmatize brain disorders. She added that there is a need for more community centers at which to get treatment. (Georgia, she noted, has a Medicaid-paid peer pairing program -- those treated helping those getting treatment -- that's successful.)
The media is another area where Rosalynn Carter focuses, because the media has contributed to stigmatization of these brain conditions. Too often journalists and reporters refer to the symptoms of these brain disorders as "bizarre" and other derogatory terms. To combat this problem, Rosalynn Carter created The Rosalynn Carter Fellowships For Mental Health Journalism to educate journalists.
On an individual level, stigma can be reduced through interpersonal experiences, Rosalynn Carter said. She would like to see neighbors getting to know neighbors and co-workers getting to know co-workers with these disorders. After seeing that they're okay and that they're raising families, she hopes the stigma will fade. She also believes it helps when celebrities reveal that they have been diagnosed (and treated for) a brain disorder (as has Emmy-award winning Patty Duke. Look for my interview with her in my next blog posting.)
Related