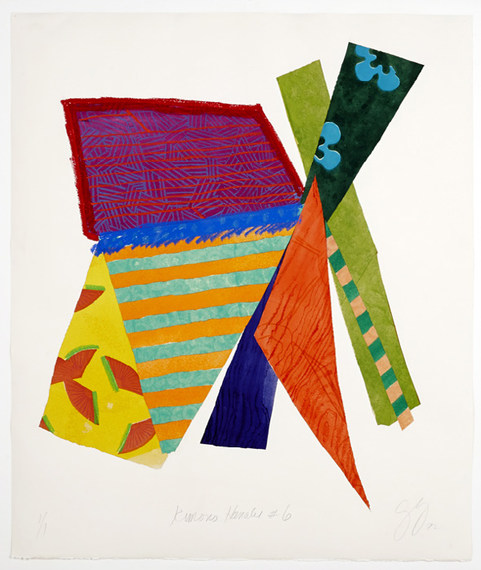 Gloria Garfinkel, Kimono Hanabi # 6 (1992), etching collage, image: 34.5 x 28 inches, paper: 40 x 34 inches
Gloria Garfinkel's art can be seen as a celebration of life where vibrant colors, dynamic shapes, viewer participation and the pure joy of creativity rules the day. Then there are other works that bring forth the frailty of nature's balance in all its majestic splendor. This scope of interest suggests a broad experimental approach indicating a person who looks for inspiration in distant or divergent lands where the cultural and geographic divide is extreme.
DDL: It looks like the work chosen for this particular exhibition focuses almost entirely on how Japanese culture informs your colors, shapes and designs. I see there are a number of individual series so lets start with the freestanding painted aluminum sculptures collectively titled Hanabi. It is obvious here that you are combining numerous eye-catching patterns that are based on many things including geometry and nature. Each piece has a fluidity, a sense of movement that defies the static nature of the materials. Are these about traditional or ceremonial dance?
GG: The title HANABI for the maquettes and other works from this period means 'Celebration' - celebration of almost any kind. When most people think of a celebration, color becomes an important part of its scheme. For me it is not about traditional nor ceremonial dance. It is quite possible theater has a place as an image... the costumes, the acting, the movement across the stage, the makeup and the theater itself. All of it contributes to a special image to be worked into a special piece of art... woodcuts, paintings, poetry or the aluminum maquettes.
Japanese artists, poets, writers of novels, soldiers and actors all make art who then inspire others. Museums are the new contributors of ideas... in passing through the gift shop of the MoMA I came upon a post card with the image of chrysanthemums done by Hiroshige. This led to a series of paintings, etchings and monoprints.
DDL: There is a most definitive link structurally, between the Hanabi sculptures and the Flip series as they both imply and inhabit three-dimensional space. With the Flip works there is that additional aspect, a participatory component whereby the viewer is an active participant in the 'creation' or formation of the work. From what little I've garnered from my brief stay in Japan, this participation of the viewer is in contrast to the reserved politeness of the Japanese people that can generally be characterized as formal, at least from adulthood and beyond. On the other hand, one of the most important aspects of Japanese culture, in my mind, is how art is respected in all its forms from the design of woman's purse to the most esteemed painting in a museum. With all this said, are these Flip paintings meant to inspire us to create or is it a way for the general viewership to find a more comfortable way to simply interact with art beyond thought or conversation?
GG: The Flip & Turn wall sculptures were the next step from the Hanabi. Many of my earlier pieces had a way of allowing a viewer to see the 'inside' of the work.
One even had pieces of mirror to catch the eye -- several others have doors that one can open to see inside.
It is true the Japanese viewer has a different outlook about viewing art. Yes they are reserved and polite especially in a crowded salon, but my experience is that they also have a curiosity that allows them to ask questions of an artist. This has happened to me several times. I had just such a viewer who came to my studio. I was in the middle of carving wood for a print. This viewer was eager to touch the wood. When I asked if he would like to cut some lines he almost jumped with joy. He took the cutting tool and remarked he no idea it was so difficult. I explained the whole procedure leading him to comment on Hiroshige's poetry. It was a delightful two hours.
DDL: Even though I see patterns and geometry in the Ginko Kimono and the Kimono Hanabi etched collages of the late 1980s and early 1990s, there seems to be a far greater leaning toward an organic appearance. Is this a result of the materials and media you use, or is it more about the inspiration behind the work that gives these two series that softer, albeit more impulsive appearance?
GG: The Ginko Kimono etchings came to me in 1989, and the Kimono Hanabi collages in 1992. I was also considering at this time, outdoor sculpture using similar images to the etchings, monoprints and paintings on canvas. It's difficult for me to say exactly where the inspiration comes from -- clearly they are all of a piece.
The patterns and geometry (never thought anyone would see the geometry) are in my brain - the same with the colors. Everything up there wants to be used and eventually it all comes together with different media.
Everything I see every day is a part of my thought process and I use most of these thoughts without thinking... very odd. Who knows what might have happened had I forgotten a shape or color.
DDL: One last question if you don't mind -- all of your work has a rather high level of contrast whether it comes from complementary color, opposing shape or combative patterning. With the Kiku etching series, especially with #4 and #5, I see the contrast comes with suggested dimensional topography and surface texture against a bold flat field -- it's almost as if you are taking a bunch of thoughts and inspirations and wadding them all up into one mass then floating it in space like a meteoric vision. Is this a suggestion of confusion or connectedness -- or neither one?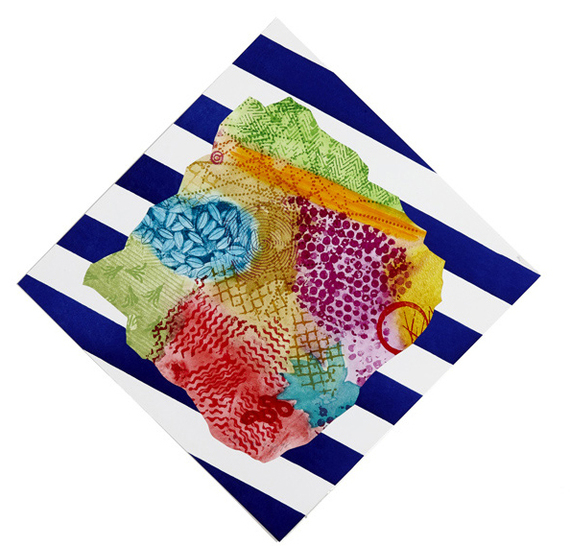 Gloria Garfinkel, Kiku # 4 (1997), etching, two layers on Somerset, texture white, handwork, 16 x 16 inches
GG: The Kiku series (monoprints) were sitting there waiting to be found. I was working with Mohammad Khalil (master printer and my teacher) when a shadow entered the studio and an image was born. From that visual experience, I made a set of 12 monoprints. The connectedness here is being ready to use what is clearly handed to me -- a shadow on paper.
Popular in the Community