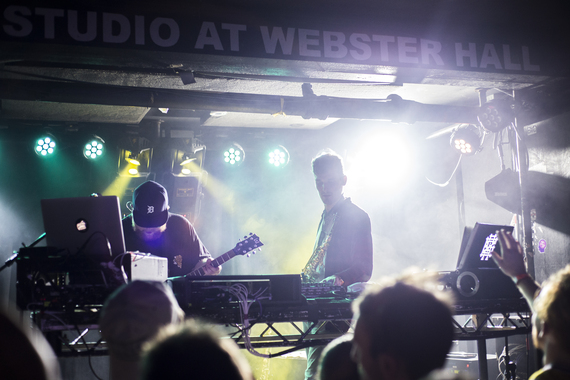 On the day that GRiZ announced the specific, yet accurately titled, "My Friends and I Decided to Come to Your City & Play Some Super Rad Small Shows While I Write My Next Album" Tour, I knew that I was going to have to be quick on the draw to earn myself a spot inside the event. Within minutes of the release I was furiously typing away on my keyboard hoping to reach someone who could get me through the door. It's not everyday that a producer who just sold out Red Rocks comes and plays a ~250 capacity venue like The Studio at Webster Hall. This was going to be intimate, and this was going to be phenomenal.
The entire tour sold out in a matter of seconds.
Thankfully, it seems as though luck was on my side. Not only did I get in the door, but I was able to sit down with Grant Kwiecinski (GRiZ), and talk to him about this small venue tour, the new album, and some of the steps he's been taking recently to improve the experience for his fans.
Shawn: So, what prompted you to do this small venue tour? It seems a lot less formal and more like you're just having some fun.
Grant: F*ckin' nailed it. Writing this album, there's a few places I needed to be -- collaborators I'm working with -- and I was like "cool well, we're not touring in the spring, but I want to play some shows," and I wanted to see what this music feels like to play out, y'know? So what we did was built these kinds of shows around the studio sessions we were doing. Just kind of seeing how it feels to play the songs live, man. It's a super rare opportunity to be able to do that and I wanted to create that for myself. Man, super selfishly, I love playing these shows. There's nothing like it.
Shawn: So then, why Webster Hall? Was there something specific about this venue that drew you here?
Grant: I didn't know it was such a big deal to play the Studio at Webster Hall, I mean it's not like a big deal, but I didn't know that all these amazing people played here. Spoon, Broken Bells, Vampire Weekend, Green Day, y'know what I'm saying? That's sick! It was just the right fit.
Shawn: You joined the ranks of some big names who are combating scalping. Can you elaborate on why this is important to you? Why now? Why didn't you get involved with it any sooner?
Grant: So, it totally stifles... it creates a level of complication I guess you would say. If I'm like a super good person, and I want to buy four tickets because I know that eventually some of my friends would like to go, ok word. That's fine. If I can't go to the show then I'll just give the tickets to my friends. But here we're requiring that if I bought the tickets with my credit card, I have to be here with my credit card and my ID at the door to be able to enter the show. Now, if I can't make the show, I'm f*cked, y'know? So it works, and like at the same time it kind of like screws people over.
Shawn: I wanted to follow up on that aspect, the real secondary market. The kids who are true fans and can't make it, and just want to resell the ticket at face value.
Grant: Yeah, you won't be able to do it. There's too much confusion going on with like, what people think I'm doing versus what I'm really doing. I spend way too much of my time trying to do the most righteous thing to ever have it be confused with anything else. I try so f*cking tirelessly to make sure that I'm giving the fans the most honest and real experience they could possibly get, and there's so many people that are just filled with bullsh*t. It's the genre filled with the most bullsh*t possible. Everyone wants to make money, and not have to put any work in. Make the most "banging" tracks, and get super f*cked up, and just be like "I'm the sh*t." They're not worried about the culture they're currently destroying by altering kids' perception of what music is, what a good time is, and a good experience is. So instead of being super wrapped up with that, I just like to address people and be like "hey, y'all, check it out. I want you to know that this is how I feel and this is what's going on."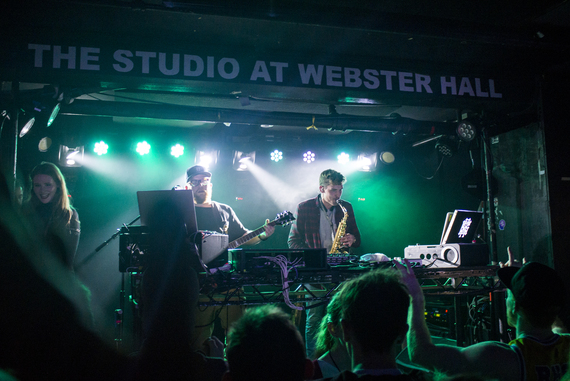 Grant: So being open, explicit, and honest with people, and talking fan to fan and being very directive. So this is the situation: we wanna say "f*ck scalping" and give it our 100% honest effort. We didn't start anything earlier because like I said, there's all these complications that go along with it. It holds up box office lines like crazy, and if you're doing it for ten-thousand capacity venues it's just not going to happen. And a lot of ticketing agencies just won't let you do it. So there's more ways to combat scalping for sure, but I think it just starts with relaying the message that no matter what -- homie fans, if you want to come to the show and it's sold out, don't buy scalped tickets. We're gonna play again. We're gonna play your venue, it's gonna happen.
Shawn: You recently made a post telling your fans you didn't want to see any phones, any cameras, anything like that. As a photographer, I appreciate things like that.
Grant: When you first start photographing a show, or being into photography, you might think it's cool to see people with their phones, like "it's so novel, everyone cares about this moment so much," but then it becomes... trite, y'know, and shallow. I think the best moments of my life have been spent without phones. Not "I think," I know.
Shawn: About this time two years ago, you and the GRiZ Fam weren't nearly this big, and now you're selling out Red Rocks in four days. What do you think has been the biggest thing fostering this growth?
Grant: "Keeping it real, mannn" [mimicking dragging a joint while laughing]. Honestly, that's it. I don't compromise. Not for my management, or what other people tell me. We do exactly what the f*ck we want -- almost exactly. Keeping it super invested, keeping it super real as f*ck. I've got nothing to hide about what kind of love we put into the project. Most of the people that work for me are my friends, and I'd like to keep it that way. I love what I do, and I do it 24/7, and it hurts my relationships very often, but it's worth it. Beyond the advice that I get from people all the time, I reinvest like eighty percent of the money I make in a year, back into GRiZ. It's not production, it's having a nicer tour bus for my crew, because I want my crew to be happy when we're touring -- it's a lifestyle, man. I have a happier crew, they throw a better show, everyone gels more, and I'm happy on stage, and the crowd is happier seeing that. And like I was telling the previous girl I was talking with; I feel like the whole show is -- from the start of the day to the end of the day, it's this whole experience. If you're like "this whole day felt right," and then you play a good show at the end of that sh*t you're like [leans back, sighs and smiles]. A show can turn your day around.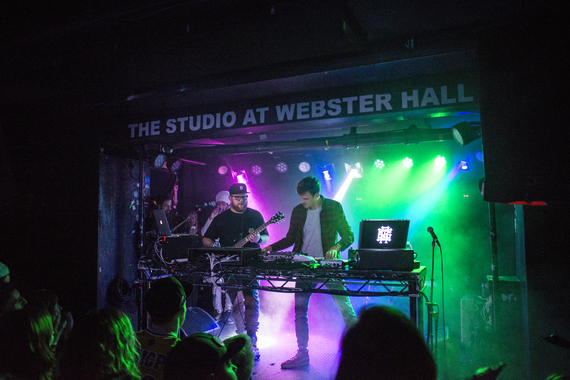 Shawn: So what can we expect from the new album? What were you going for this time around?
Grant: I'm just trying to write more songs. I don't know sometimes, and I'm like a super manic kind of dude, and it's totally within scope, but I get really, inspired on myself. I'll be like "this!? This is the craziest thing ever." Tomorrow: "This, is even crazier." I've just gone through the phases of making as much goddamn content as I can. I've got like twenty-eight demos man, and I've never been so overwhelmed with having musical things. So, after this month it's time to focus down and kind of chop through it. But I'm just like -- I wanna do new things, and I wanna do the old things, and I wanna do a blend of the things. I wanna take a step forward, and I also wanna make sure that step forward is the step that I want, and that I'm not being pressured by life. You try and get better at doing something, and a lot of the time it's because somebody told you that you needed to be better.
I try and create songs with purpose these days, like "this song was made because I wanted to do this with it." This song is just for you to sit there with headphones on and be like "I love headphones, and this song, and this moment, and I'm alone. This is my shit. This wasn't meant for anyone, this was meant for me." Adam Deitch [Drummer for Break Science and Lettuce, and co-founder of Royal Family Records] said it really good, he said "we're making music for all different times and moods of the day." From waking the f*ck up, to f*ckin', to breaking up, to taking a shower, to getting your hair cut, to eating food, to cooking food, to all these different experiences. As a human I'm not going to limit what I output to just one kind of baseline experience, so my albums going to sound super scatterbrained, and the f*ck over the place, but have a similar glue. Just trying to be really honest with what I'm doing, and happy with what I'm doing, and I think that will show the best results.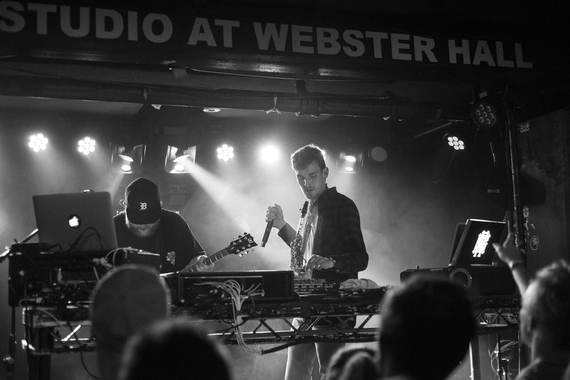 I had so many more questions, and Grant was willing to give me so many more answers, but soundcheck began and he had to get ready for the show. We parted ways, and I went across the street to grab a couple drinks while waiting for the show to begin. I couldn't stop thinking about this person I had just interviewed, and if the level of energy he had shown in just a conversation with him was any indicator, we were all in for a treat when he got on stage.
The opening band of the night was Exmag, a groovin' electro-funk group that seemed home-grown on hip hop. They were the perfect music to move to while preparing the eager audience for what was to come next. They brought out a couple people during their opening set, embodying the party they were there to promote. GRiZ himself even made his way out to lay down some saxophone, but remained in the background while Exmag truly shined.
Pushing through the crowd was like trying to shove a basketball through a chainlink fence. I'm pretty sure the only thing that got me any mercy from the people in front of me was my constant uttering of "excuse me," "I'm so sorry," "I'll be gone before you know it," and the camera held above my head. Eventually I got a spot right near what I guess would be called the stage in this tiny room, just in time for GRiZ to be taking his place.
This room was far too small for the size of not only GRiZ's music, but the presence on stage that exploded throughout the set. The personality and stage show exhibited throughout the night would give James Brown a run for his money. Grant truly exemplified a talent with the saxophone, as well as an ability to connect with the fans in the crowd. He was hands down one of the most genuinely happy-looking people I've seen perform on stage, and I could see the passion he emitted in our conversation embodied in the funky beats and howling saxophone melodies that seemed to flow effortlessly.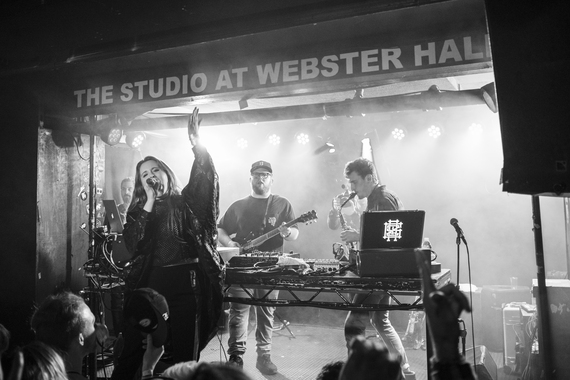 Joining GRiZ for the entirety of the show was guitarist and friend Muzzy Bear. The level of chemistry between these two performers was unmatched in any electronic performance I'd seen before, even the obvious improvisational moments were so flawlessly executed that it felt like every note was rehearsed and pre-determined. Beyond that, the vocal accompaniment from frequent GRiZ collaborator iDA HAWK was out of this world. Good god does that woman have an unbelievable set of pipes! She was charismatic and smooth, soulful and intense. She would appear in the middle of a track, mesmerize the crowd, and then disappear as quickly as she had emerged; a funky pixie with blues in her soul.
Between the three of them, the amount of talent packed into that tiny little room on 11th avenue was immeasurable.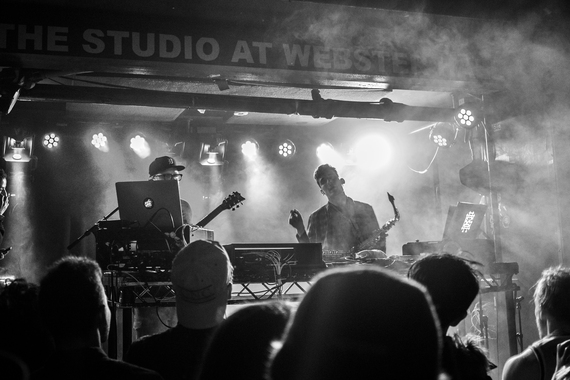 There are awfully big things coming from GRiZ. I'm beyond honored to have gotten to talk with him, and I truly can't wait to hear what this next release has in store for us. Until then, I'm sure me and the rest of the GRiZ fam will be anxiously waiting on the edge of our seats.
Calling all HuffPost superfans!
Sign up for membership to become a founding member and help shape HuffPost's next chapter