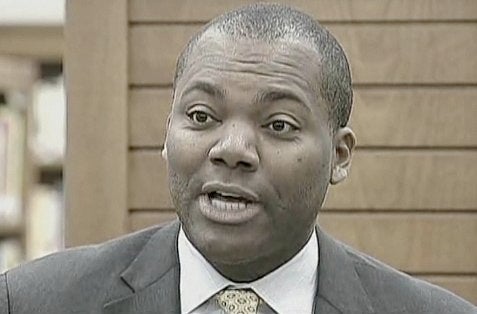 From a journalist's standpoint, the most refreshing news to emerge from Catalyst Chicago's recent interview with incoming Schools CEO Jean-Claude Brizard was his promise to be transparent. The in-depth, shoe-leather reporting and analysis that is our hallmark can only be accomplished when administrators have a green light to talk freely about their work, and when principals feel free to give writers access to schools, classrooms and teachers.
If Brizard makes good on his pledge, it would contrast sharply with the administration of former CEO Ron Huberman. Brizard's commitment should be heartening to the public, too, since an administration that is transparent with the press is likely to be the same way with parents and others invested in understanding and supporting school improvement.
The incoming CEO's comments about transparency came at the tail end of our interview. At the outset, he spoke about his plans for a "listening tour," a series of meetings with small groups of parents, community activists and others to get their input before drafting a long-term plan for the district.
"Schools belong to the community," Brizard said. "It's important to talk to the people who live there."
Grassroots and community activists have heard that sentiment before. Many of them have no trust whatsoever in the central office and firmly believe that politics and expediency will trump what's best for kids every time, regardless of who's in charge at Chicago Public Schools.
Transparency and "listening tours" would be a start at mending fences and building bridges between the various groups -- parents, activists, educators, the business community, politicians and the general public -- that care about education and must play a role in school improvement.
What a difference nine months can make.
Back in September, as the school year got underway, Mayor Richard M. Daley stunned Chicago with the announcement that he wouldn't run for re-election. Someone new would take over at City Hall and, by extension, at 125 S. Clark St., the headquarters for CPS.
Now, Mayor-elect Rahm Emanuel is days away from his inauguration. He's brought in a new School Board that includes prominent civic leaders and a schools CEO with a background that seems exactly what many community activists and parents have clamored for.
Brizard is not a City Hall transplant in the Daley mode -- he's not even from Chicago! He's an educator, the first schools leader in years to come from the teaching ranks. He's a former high school principal and so would understand the seemingly intractable challenge of fixing failing neighborhood high schools. He's a person of color who understands the struggles of immigrants -- Brizard's parents fled Haiti during the regime of "Baby Doc" Duvalier, leaving him and his siblings behind until they could bring them to the U.S. when Brizard was 11.
Brizard's background, however, didn't do much to allay the initial suspicion about him -- his stormy tenure in Rochester, the rocky relationship with Rochester's teachers union and some community groups, the controversy over graduation rates under his administration and even his decision to come to Chicago, which riled School Board members since it meant breaking his contract.
Yet from his interview with Catalyst, it's clear that Brizard is dedicated to education and has a broad agenda. He and Emanuel have promised to usher in a longer school day and year (Brizard said, "I'd like 200 days a year, if I could do it"), although it's unclear how they plan to pay for the extra time given the district's projected $820 million deficit. He favors per-pupil budgeting to create more resource equity among schools, but concedes that imposing it would be tough since schools with veteran, highly paid teachers stand to lose under such a plan -- which went nowhere under previous administrations.

He spoke passionately about the need for sustained, high-quality professional development for teachers, and for principals too, since "no one wants to work for a lousy principal." He wants to scrap what he calls an "antiquated" teacher salary scale in favor of one based on performance -- a move that is sure to spark fireworks with the Chicago Teachers Union -- and peer evaluation. He plans to meet regularly with small groups of teachers and said, "Teaching is an art. It's not a science. And the art of teaching belongs to professionals."
As for charters, Emanuel wants them, and Brizard wouldn't have gotten the job if he didn't agree. But he insisted that charters must "have to hold themselves to a higher standard -- that's why we give them freedom," and says he wants to institute an "urban planning" approach that would put charters where they're most needed.
Turnarounds, too, will continue to spring up. On this front, Brizard came down squarely on the side of more, not less. He favors turnarounds that bring in new staff to change the culture of a school, rather than "transformations" in which all or most of the staff remain in place. Brizard calls this "fixing the airplane as you're flying it."
Most importantly, Brizard understands that there's no such thing as a magic bullet to improve education. "This is hard work, difficult work," he said.
Whew. A lot to follow in the coming months -- especially given the budget deficit that is biggest hurdle to any agenda.
But one thing is crystal clear: Chicago schools are teetering on the edge. Push them too far one way, with too much top-down decision-making and neglect of neighborhood schools, and parents and community folks will give up on them.
But let them lean too far the other way, without making tough calls on issues like school closings and accountability across the board (and that includes charters, no matter how much the business community favors them), and they'll stay stuck in the status quo.
If either scenario happens, it's only a matter of time before we see headlines in Chicago echoing this one about a recently released study:"Nearly half of Detroit's adults are functionally illiterate."
Try maintaining a "world-class" city with that statistic.
REAL LIFE. REAL NEWS. REAL VOICES.
Help us tell more of the stories that matter from voices that too often remain unheard.