Paterson is a Jim Jarmusch film in its most denuded form. The story of a bus-driver named Paterson (Adam Driver) who is happily married to a happy woman (Golshifteh Farahani) in Paterson, New Jersey, nothing out of the ordinary happens. The film goes through the days of the week with this couple, and each day the same things happen. The bus-driver goes on his route in sunny Paterson and meets the same grumpy colleague. He visits the local bar and has laconic conversations with the same love-smitten young man and avuncular bartender. He walks his dog Marvin, a bulldog with a comic face. Throughout, he carries a notebook and jots down poetry. In the meantime, his wife cheerfully bakes frosted cupcakes at home.
There is a poetic rhyme and reason to this quiet ordinariness. There is pleasure in the repetitive shot of the mailbox that every day the dog knocks down, and Paterson, every evening, re-adjusts. The film is a sublime tribute to the quotidian, and Paterson is Jim Jarmusch's stand-in, taking down notes: observing and enjoying all for what it is. The opening shot is the couple framed in peaceful bliss on the bed. The shot returns--in true harmonic form--at the end.
I asked Jim Jarmusch what "harmony" meant to him.
"I am a kind of pseudo-Buddhist. I do tai chi, read a lot of Buddhism and for me harmony has something to do with the idea that all things are one thing, and [in essence] are harmonious."
He added: "I love variation and repetition in poetry. I love repeated things, whether it is in Bach or Andy Warhol. I wanted to make a film of little structure: a metaphor of each day. Every day is a variation of the day before."
Throughout our conversation in the sunny garden of a Cannes hotel, the director spoke with heart about poetry, demonstrating a wealth of knowledge about the American canon, from the New York School of Poets to the American modernists. He even shared a story about spending a late night in Italy with actor Roberto Benigni, in a passionate jam about Robert Frost and Wallace Stevens.
He also noted that he "was very interested in synchronicity."
"Before we cast Nelly to play Marvin the bulldog, I wasn't even aware of how many bulldogs were around. A synchronistic thing: you mention something and you see it everywhere."
His film is a celebration of poetic harmony, the synchronicity of every day. It is "a quiet cinematic poem", to quote the director. Throughout, the protagonist not only writes poems (composed by poet Ron Padgett.) but he cites his favorite poets, such as fellow Paterson native William Carlos Williams, famed for his philosophy-poem that "so much depends upon a red wheel barrow glazed with rain water besides the white chickens."
Williams' poetics is emblematic of Paterson's own approach--as well as that of the director.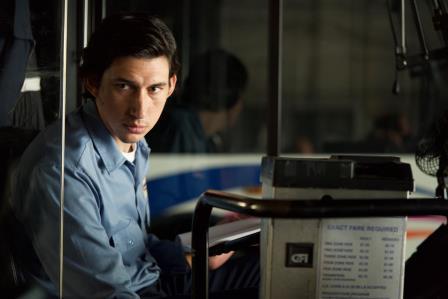 "Williams said there is 'no ideas but in things,'" noted Jarmusch earnestly. "You derive ideas from the details of real things. His is a poetry of small details, things in daily life.
He gave the example of his arrival to Cannes this week:
"When I was getting into the car to go to the airport, the driver wanted to go through Brooklyn and Queens' back streets. I was possibly going to be late, and I had no worry. I was watching people doing little things, a man fixing his door, a child kicking a ball, a couple arguing on a corner--and suddenly I felt the world is perfect. [Now in my sixties] I feel more of a resignation to accept the world as it is."

He added that his film was "intentionally slight: an antidote to big violent intense victimized women films."
Not every viewer is going to take to this "quiet" film. Unlike Jarmusch's earlier works, such as Stranger Than Paradise and Dead Man, there is no edginess. No abrupt black-outs. No darkness.
Paterson's is one of the most idyllic marriages I have ever seen.
Even the actress Farahani who played the wife was in awe of the idyllic love:
"They are not miserable because they are living whatever is happening at the moment, putting it into art and creating. Making cupcakes and making curtains. They have such a great empathy and love for each other. I learned that from Jim that it is possible."

"It is a portrait of a very tender love of people who accept each other for who they are. Only Lovers Left Alive was very much the same. The pure form of love is letting people be who they are. It's a Buddhist thing to be accepting."
He made a face. "Rather than judging all the time."
Jarmusch still had judgements, he admitted.
"There are things wrong in this world. The way people treat each other. For us human beings, time is limited on this planet. There are too many people and nature is soon going to rectify this. It is going to be difficult and tragic. We are already in the 6th mass extinction of species. We have to be very grateful for very small details of life. Like this moment here. Here we are talking about a film and it is just a ridiculous thing."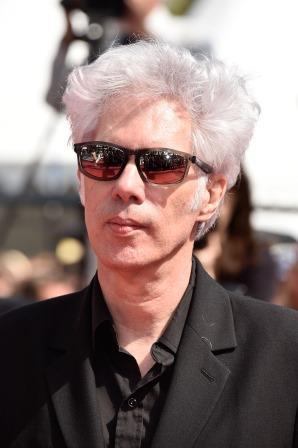 As for his white hair--one journalist could not resist this question--Jarmusch openly shared his history with being snow-topped:
"When I was a teenager my hair started getting white. A girl in high school behind me [in class] laughed. 'If you painted your parents' house last summer,' she said. 'You still have the paint in your hair.'
He laughed. "Then when Stranger Than Paradise came out, a critic said 'what a pretentious jerk: he dyes his hair white, and he wears black.' I almost wanted to dye it black, but then I would be criticized for that! The upshot: Don't let anyone judge you for your appearance."
Jarmusch has two films at Cannes this year: one is "Paterson" in Competition; the other is a documentary about Iggy Pop called Gimme Danger, spurred by Jarmusch's friendship with the rock star who asked Jarmusch to make it seven years ago. It happened "by synchronicity" that the two films finished at the same time.
"Another example of harmony," Jarmusch joked. "Everything is interconnected."
"Both films are about the idea that you in your life can choose your path," he added. "You can choose what you do in your life."
"In Paterson, the wife is not a clichéd housewife. She is someone very illuminated within just the confines of her house; she is very creative and expressive and chooses who she is. Paterson is a man who drives a bus every day, but he chooses to be a poet. When we are lucky, we have the chance to choose our own path. Both these films celebrate this."
Calling all HuffPost superfans!
Sign up for membership to become a founding member and help shape HuffPost's next chapter