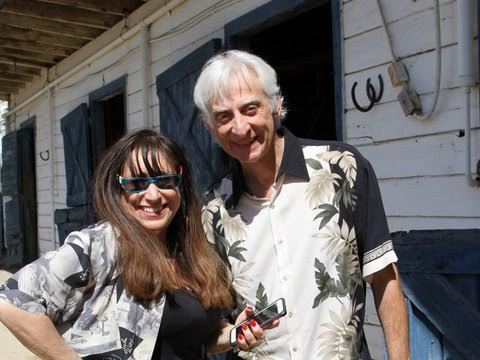 Marilyn Anderson & Richard Rossner, the film's writers
All photos here courtesy of Marilyn Anderson & Richard Rossner
October is National Bullying Prevention Month, when communities unite nationwide to raise awareness of bullying prevention through events, activities, outreach, and education. Aligned with this - a new family film, 'How to Beat a Bully," has just been released on Google Play.

It's a "Home Alone" type comedy with an anti-bullying theme. So many stories of bullying are distressing, upsetting or sad, the filmmakers wanted to create a story that is fun and entertaining and, in a positive way, share the message to help stop bullying. The movie has plenty of comedy, yet it highlights a subject that is a serious one for many children, tweens and teens today.

The story revolves around a 12-year-old boy who moves to a new town and gets picked on by school bullies. In order to protect himself, he uses his brain instead of his fist, and comes up with an idea that not only stops the bullies, but gets them to be his new BFFs. Along the way, there are humorous adventures, in which he gets his dad in trouble with some bad guys, who want to do more than bully him.

The movie was written by Marilyn Anderson & Richard Rossner and was awarded the Dove Seal of Approval for families, ages 12 and up, although younger children and adults will enjoy it, too.
In addition to traditional distribution, the producers plan to make the film available to anti-bullying organizations, schools, and churches for special screenings in order to promote a dialog that increases awareness and positive steps to put an end to bullying.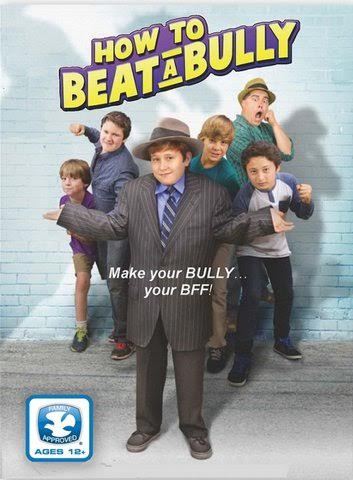 The movie's poster.

How'd you get the idea for this movie?
RICHARD: This is going to sound strange, but I honestly don't remember. We wrote the first version in 1993. Marilyn and I had just teamed up. We had seen "Home Alone" and thought that family movies had huge potential. We wrote another screenplay for the family market, and then had this idea. It was irresistible. The idea was so funny to us that we had to write it immediately.
MARILYN: We wanted to make it a story between a boy and his dad. Of course, being a single woman, I know so much about being a boy and being a dad. We wanted to have them deal with the difficulties of moving to a new town, the dad having a new job, and the boy needing to make new friends. We knew this would make them both face obstacles and we wanted to make it funny and authentic at the same time.
Could you describe your process as a team for writing it?
RICHARD: I don't know how other teams write, but I have a feeling our way of working is unique. We sit down and spend endless hours procrastinating. Oh, wait, that's what everybody does. The unique part is that we work out the whole story, then we begin the specifics by going through each scene and working out it out in detail. Then, we will each take a pass at the scene. We then each read our version and smoosh the best of each into one complete scene. I'm always amazed at how well this process seems to work. I have some strengths in my writing, and Marilyn has other strengths. Somehow, our two styles seem to enjoy the smooshing process.
MARILYN: Yeah, I really love smooshing, but Richard has a wife. He calls me his other wife. The two of us really enjoy working together. Years ago, we would always get together in the same room to write. But now, since we don't live close by, we do it on the phone or back and forth via email. To write a script, first we break the story together: discuss the characters, who they are, and what they want, what makes them tick, and then put them in situations. Then we block out the story and smoosh a lot.
Could you describe what you went through, and for how long, to get it funded?
RICHARD: That story could be a film in itself. When we started, we weren't represented. Then, on the strength of this script, we landed a very prestigious boutique agency. We were thrilled. Our agent sent the script out, for what was called at the time "The weekend read." Monday he called us and told us to fasten our seat belts - 14 producers and 3 studios wanted it. The next two weeks were amazing. We were preparing for a bidding war. Then...one by one...for one reason or another...studios and producers dropped away. Here's a typical example of what happened: A producer at a major studio was dying to do this film. He took it to the studio execs, and they said they loved the script, but they had to pass. Why? The studio had just had a major flop with a family movie. We naively pointed out that the flop was a terrible movie, and everyone loved our script, so it would be a success. We were told that management couldn't justify trying another family movie to their investors, so the door was slammed shut there.
MARILYN: Over the years the script was optioned 8 times by 8 different Hollywood producers. We've had big names, little names, and no names attached. Producers suggested different stars for the dad: Tim Allen, Jim Carrey, Adam Sandler, Jackie Chan and even Sinbad. (Which was really weird, because the neighbors were supposed to think he was an Italian guy named Canolli!) The same thing kept happening over and over: as soon as one option was up, we'd get a call from another producer who wanted it, saying "Is my favorite script available now?" So we'd option it again. Once to a big manager who told us he could sell it overnight. We even entered it in some screenwriting contests, and actually won 2nd place in two of them. (The project had a different title at that time.) Winning these awards was heartening because it's unusual for family comedies to place high; most of the time, more serious scripts and dramas win contests.
RICHARD: But then, live-action kids' films stopped being made by the studios in favor of high budget adventure movies and animated kids films. Finally, after 8 options - and no film getting made, we decided "no more options." That's when things started to happen. Marilyn reached out to an investor who loved the project, and wanted to finance it.
MARILYN: We teamed up with Dream Factory Entertainment who brought in another investor, and within 6 months we were cast and in production.
RICHARD: I still can't believe how quickly it all happened. It's one of those overnight successes that only took 20 years! It could be subtitled, "The Little Movie That Could."
MARILYN: Shhh, you know, as a woman, I never like to talk about how 'old' anything is.
RICHARD. Well, we're in good company. "Dallas Buyers Club" took over 20 years to get made and won an Oscar. "Gandhi" took 20 years to get made and won 8 Oscars.
MARILYN: Yeah, instead of describing it as "Home Alone" meets the "The Godfather," maybe we should think of it as "Gandhi" meets "The Sopranos."
RICHARD: Another thing that probably helped was when we changed the title. Marilyn suggested that since our theme of anti-bullying was now a hot topic, we should change the name to reflect the issue. The script now became known as "How to Beat a Bully."
On what platforms is the movie available? Will it have a theatrical release?
RICHARD: Right now the movie is only scheduled for digital release. We just went up on Google Play, and we expect it to be out on Amazon and DVDs soon and on iTunes and Vudu in early January. We'd love a theatrical release, but we may have to wait for a major studio to "discover" this gem and shoot it as a big budget film. (Hey, a writer can dream, can't he?)
MARILYN: We are also hoping to have some special screenings for groups and give part of the proceeds to charities, schools, children's hospitals or anti-bullying organizations.
Have either of you had personal experience with bullying?
MARILYN: Oh yes! In high school, I used to get hit by a tough girl every time she passed me in the hall. I put that in the script as something that happened to the mom. What I didn't put in is that once I was at a drive-thru burger place, and a girl actually punched me in the face when my window was down. Strangely enough, that girl recently friended me on Facebook! I don't think she remembers what she did - but I do!"
RICHARD: We've both been bullied. Hey, we're Jewish. We're smart. Neither one of us looks like Cary Grant -- and I include Marilyn in that. I had a guy in 7th grade call me Melon Head. We used that in the movie, too. What's interesting to me is that when I bring up the issue of bullying, almost everyone seems to have a story where they were picked on. It makes me wonder if everyone was bullied, who were the bullies?
As your first movie, what kinds of challenges did you face and how did you deal with them?
MARILYN: A big challenge was that originally our script was structured to be a big budget studio movie. So we wrote it with lots of locations, characters and stunts. It was a more complicated story with even more twists and turns than it has now. When we decided to make it a lower budget Indie film, the challenge was to make it a smaller movie, but still keep the fun and cleverness of the story and characters.
Could you describe what you're going through to market and distribute the movie?
MARILYN: We have a domestic distributor, Indie Rights, which launched it on Google Play and will be putting it on other digital platforms. The Dove Foundation awarded us with a family-friendly recommendation for ages 12 and up, so that's an important factor for us. To market the movie, we're using social media and also contacting various media outlets. We're hoping to get some interviews on radio and TV. So many stories of bullying are sad, unhappy or distressing, we feel that our film is an opportunity to open a discussion of bullying, yet provide a fun and entertaining story for kids and parents that promotes the idea, "It's better to be friends than bullies."
RICHARD: I thought the hard part of the film business was getting the movie made. Turns out, that is the easy part. Once the film is made, you have to get distribution. The industry is going through a major transformation with the digital revolution. Everyone is scrambling. Theaters are mostly showing superhero, big-budget spectacles with A-list stars. We had no celebrities, so the film is harder to promote. Lots of people told us to just be happy it was made and move on to the next project. But Marilyn and I had a different vision. We know the issue is an important one, and our film can be used to do some good by using comedy to approach the serious subject of bullying and start a meaningful conversation for kids and adults. And with the digital revolution and social media promotional avenues opening, we don't have to rely on traditional distribution outlets. The only rub is ...we have to do the marketing ourselves. So now we're learning all we can about what it takes to make social networks aware of the film. We're writing press releases and brainstorming ideas every day. This has become a full-time job. But we have great belief that it can succeed commercially and be helpful in raising consciousness about the issue of bullying, through a clever and entertaining story.
MARILYN: Plus, we hope to do some special screenings to tie in with charities, schools, and anti-bullying groups so they can share some smiles and laughs, yet then have the conversation about ways to help stop bullying. Also, we'd like to give part of the proceeds to these worthy organizations.
How did you find the cast for the movie?
We held casting sessions in Hollywood. Since we didn't have a big budget, we couldn't go for big stars. We held a slew of auditions and saw a ton of actors. We read them over and over, and then did mix and match sessions, because we needed to find a family that felt right together, as well as kids who worked well together. We feel blessed that we found excellent actors for all the roles. The kids are terrific, as are the adults.
RICHARD: The auditions were a fascinating process for me. I was an actor, but I hadn't really been on the other side of the casting table. It was enlightening. I mean there actually were actors who tried out for the film who couldn't speak or read English!
How did you find the movie's director and the others who worked on it?
MARILYN: When we teamed up with Dream Factory Entertainment, headed by Robert Dudelson and Stephen Langford, they had recently done a few other family films with producers, Sofia L. Monroe and Paul Rocha, and director, Doug Bilitch. Dream Factory brought them on to work on "How to Beat a Bully" and they all did an amazing job. For the music score, I reached out to an Emmy-award winning composer, Misha Segal, who I knew from a networking group. Then a friend put me in touch with the popular band, Reverse Order, which was a semi-finalist on America's Got Talent. They are involved in doing a national tour of schools with an anti-bullying concert, so they were thrilled to contribute three songs to the film.
RICHARD: The only person I opened the door a crack for was my son Chase. He had just graduated as a music major from Santa Barbara City College. He was starting out on his music career, so I told him that I may never have the same kind of access to the executives on a project that I had on this one. If he wanted to take the time to write a song, I would bring it in to them. He wrote a wonderful song that is in the end credits. Trust me, if the producers didn't like it, it wouldn't be there. So my son has a song he wrote in a film the first year out of college. Not too shabby.
Any plans for next projects together or individually?
MARILYN: As a writing team, we just completed the script for a romantic comedy that is set to shoot at the end of the year or beginning of next year, "Cold Feet - A Wedding Tale" to be directed by Arthur Allan Seidelman. We have several other feature screenplays together that we're trying to set up. I just wrote, produced and am starring in a new Web Series to be launched soon, "How to Live Like a MILLIONAIRE... When You're a MILLION Short. I'm also writing the book to go with it.
RICHARD: My wife, Rahla Kahn, and I have a company, The Power of Play. We were both original Groundlings, and we use improvisational exercises and techniques to help people deal with major life challenges like cancer. We also do this work to help corporations. I've got a screenplay about how this work started when we began working with mentally ill adults. That film has a lot of humor in it, too. I guess that's who we are and what we do - living life through a lens of humor!

Are there foreign markets for comedy films like this?
MARILYN: Yes! Absolutely. We've already licensed "How to Beat a Bully" to France, South Africa and Latin America and we will be at the American Film Market (AFM) in November with our foreign sales agent, Blairwood Entertainment. Bullying is an issue everywhere - and kids and families are everywhere - so we'd love to sell it all over the globe.
What have you learned from making this that would cause you to do things differently next time?
RICHARD: The most important lesson is the one you always hear. I hate clichés, but this one seems to be more of an operating principle than a cliché - if you believe in what you're doing, never give up.
MARILYN: I'd make the decision to go out and "just do it" sooner. So many others had made promises to get the movie made - but it was when we decided to do things differently, that things actually took off.
MARILYN: Mainly, we would try to cast at least one name actor in one of the leading roles. Frankly, we can't imagine having anyone better than the cast we have, but we've learned that distributors want names in the films, and without them - it's really difficult to get a traditional distribution deal. So we would definitely try to cast some names.
RICHARD: I think we'd also like to have a little more say-so in some of the creative decisions that get made in the editing room. I mean, the editor and director did an outstanding job, but every once in a while there is a line that was cut that I know in my bones would be a big laugh - and the only ones who hear it are me and Marilyn in our minds when those scenes play through.
Are there any product placements? Product tie-ins?
MARILYN: There are no specific product placements in the film, but what we are hoping is to get some sponsors who want to help spread the word to stop bullying. This could be a company that cares about kids and families that wants to provide outreach to the community, share the message to stop bullying, and possibly help us give away DVDs to children in hospitals, schools, at-risk youth, or anti-bullying organizations. Also, the father in the film is an insurance agent, so we think it would be terrific to work with an insurance company as a sponsor.
What feedback did you receive on early versions of the script/film and what kinds of changes did you make as a result?
RICHARD: People always loved the script, but any creative people who get involved have their own ideas and preferences. We've heard lots of ideas over the years. In the original screenplay, the gangsters had real guns. The issue of kids and guns made one producer ask us to get rid of the guns.
MARILYN: So we took out the guns - and it was interesting how we now had a film with gangsters - who never use guns. It ended up being funnier that way! Also, when we decided to do it as an independent film, we had to revise and streamline the script. So those were changes we had to make because of budgetary considerations. At one point, they wanted to add a dog, because dog pictures were doing well. So we added a dog, and found one to be in it. Then, they decided not to use the dog, so we took him out again. That dog is back in the unemployment line!
Any films in the same genre that you admire or influenced you?
RICHARD: "Home Alone" was a major inspiration. Any intelligent comedy that can speak to adults as well as children influence me. "Shrek" and other smart family comedies keep me on my toes. But I also was influenced by a lot of old television comedies, like "The Honeymooners," "Sgt. Bilko," and "The Dick Van Dyke Show."
MARILYN: Yes, we both loved "Home Alone" and wanted it to have that flavor. We also liked "Diary of a Wimpy Kid" and "Liar, Liar"--and feel "How to Beat a Bully" has a similar tone to those. As far as those other TV shows Richard mentioned, I'm much too young to be familiar with them!
Any thoughts about adapting this into a TV series?
MARILYN: We'd love to adapt this into a TV series. We think the family we created and the actors playing the roles are so likable that they could step right into a series. Of course, kids grow so fast that now our 8 to 12-year old kids look older than when it was filmed last year.
RICHARD: There are a lot of projects that we see spinning off from this film.
MARILYN: Right. We're writing the novel version of "How to Beat a Bully" now. And that's fun for us, because we can go back to the more complex story that we had in the big budget version of the screenplay. It will have more details, more twists and turns, and even more fun.
RICHARD: We also have a sequel in mind.
MARILYN: We already have a terrific idea for the storyline. In fact, at the end of "How to Beat a Bully," we have a tag that leaves it open ended for an "OMG" - where the kids can get involved in a new story. And we'd love to do the big budget version of the script we originally wrote, and have it done by a big studio with big stars! A big budget remake!
What was the most challenging part of making this movie?
RICHARD: I think it was the timing. All the names and buzz and the interest all those years ago couldn't get it made. Then...out of nowhere, an indie company, investors and a terrific cast came together. You can't plan that.
MARILYN: The challenges never stop - they just change. At first it was writing it and making it clever, fun and funny. Then it was getting it funded. Then it was making it on a budget and having it look wonderful. Now, it's getting the word out about it. This is the real challenge. Big studios have big budgets for publicity and promotion. We don't have that. The truth is, you can have the best product in the world - but if no one knows about it, it doesn't matter. So the publicity and promotion is the biggest challenge of all. And with no publicity department or budget, we are taking on the task ourselves - which seems to be a 50 hour a day job that never ends. And we both have other projects we're trying to do at the same time. We need a staff of 10 and the budget to pay them. But for now, it's just us. The funding was for the actual production of the film, so we have to do our own marketing, publicity and promotion. There's never enough time or money.
What was the most enjoyable part of making this movie?
MARILYN: We had an amazing team on this film, and learned so much in the process. As writers, we hadn't been involved in the day-to-day challenges and problems that come up in making a film. When we lost a location, I went out and found a new one that was even better than one we had before. I also found a stable as a location - and 2 horses - that make an appearance in the film.

RICHARD: I'll be honest with you - I had a very emotional moment during one of the casting sessions. We had paired up a couple of actors to read a scene...and there I was...listening to the words that Marilyn and I had sweated over, and beat our brains out over the last twenty years...and here were strangers reading our words and giving life to the characters that had only existed in our minds. It was very powerful.
MARILYN: I also like that the cast is multi-generational; we had actors from 8 to 80 years old. Even our production team was extremely diverse. We had Millennials and Baby Boomers; Caucasians and African Americans; a Jewish producer who's married to an Asian woman; a black producer who's married to a Jewish woman; several married people and several single individuals, and a gay couple who are going to be married. We think this film represents diversity - both on and off screen - and shows how we can all work together and turn out an awesome product. And that speaks to the bullying issue, too - that people have to learn to appreciate their differences and individualities - and embrace them.
Any advice to first-time movie makers?
RICHARD: Try something easy, like becoming a brain surgeon. Of course, if you've got to make movies, then go do it. And don't let anyone tell you otherwise.
MARILYN: Never give up, because you never know when the next person you meet is going to be the one to help get your project made. Also, stop waiting for others; find a way to get out there and do it yourself! If one way doesn't work, try a different route. And if all else fails, just tell the investors your dad is a hit man for the mob!
Was this a labor of love with everyone working for free, or did anyone get paid?
It was low budget. Not no budget. Everyone got paid. Except the Exec Producers who will start getting paid only after the film recoups its budget and after the investors get paid back.
Richard and I are both members of the WGA and it was done WGA.

We would love to have some people help us with advertising and marketing, but no, we have not found anyone who will work for free at that.... except us! With no budget left we not only put in tremendous amounts of time but some of our own money as well. If you know of any people who will help us with publicity, marketing or social media... please send them our way!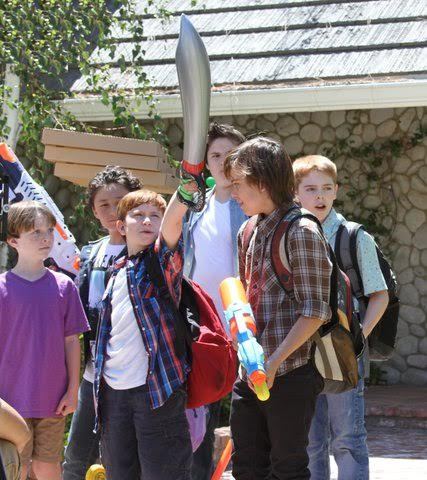 Teaming up to defeat the bullies.
Even entering film festivals cost money.......people don't realize there are fees associated with them... and entering a bunch costs a bunch of money... and they get flooded with entries. Think college applications; every time you enter a festival, it costs a fee. And unfortunately our film isn't the kind of film that usually appears in Festivals. It's a light comedy... and again , has no name stars... although we think some of our actors will definitely become stars. Both the child actors and the adults were amazing... and many are working in other film and TV projects now.

What this little film shows is that there's no time limits on things. You never know when something.. or someone... is going to take off. Our 8 year old and 12 year olds were tremendous talents. Our comic gangsters, late 20s and 30-40s, were hilarious. The parents were awesome... the gossipy mothers a hoot, and the oldest members of the cast
playing Uncle Don and nosy neighbor Riley were laugh-out -loud funny.

Who knows, any of them could get a TV series tomorrow and suddenly.... fame. ( It happened with Albert Hague in the show FAME who played Mr Shorofky in his golden years. And of course no one knew who Corey McCulkin before Home Alone. I'm sure there are more current examples also.)

Oh yeah, and Richard an I both have little parts in the film. Although as actors, we did work for free. But we were the only ones. All the other actors were paid.

And unfortunately, again, this is where having a name star would help. Perhaps if we could find a star to come on board... either as a producer or spokesperson against bullying...who likes comedy. Or if we added a scene in it with a guest star, then that would help. But again be a substantial additional cost. It's certainly what we've learned along the way: Star power helps, no matter where in the process it comes in. We'd love to find a star or celeb who sees the value of a light comedy to help spread the word to help stop bullying. We'd love, love, love to find them... add a scene with them...or put them in the sequel!

Many stars and celebs have come out against bullying. We'd love to have them join our team!

We also hope to take the theme song, How to Beat a Bully, that plays over the end credits and that Richard's son Chase wrote... and make a music video with it. We'd love to get a music star to record it... or even have a children's choir record it... but again... that's also something that needs funding. Unless we win the lottery... then we make the music video... and the sequel to the film. With stars, too!

Marilyn Anderson & Richard Rossner wrote the screenplay for "How to Beat a Bully" and are currently completing the novel. They just wrote a romantic comedy feature, "Cold Feet - A Wedding Tale" to be directed by Arthur Allan Seidelman.
Marilyn Anderson has written for numerous TV shows, sold screenplays and had a romantic comedy movie on Lifetime TV. She won a LUMINAS Award for the Positive Depiction of Film & TV and was honored by the WGA as a writer of one of the 101 Best TV Shows of the past seven decades: "Murphy Brown." Marilyn is the author of a humorous relationship book, Never Kiss a Frog: A Girl's Guide to Creatures from the Dating Swamp, published in 10 countries. Her book, MUTTweiler: An AutoDOGography hit the #1 dog book on Amazon Kindle in its 2nd week of PUPlication. Marilyn also just completed writing, producing and starring in a Web Series to launch soon along with her book, "How to Live Like a MILLIONAIRE... When You're a MILLION Short."
Richard Rossner worked as a freelancer and staff story editor on several situation comedies and variety shows including "Full House" and the historic Live Aid Concert. He was an original member of The Groundlings and is a contributor to the online travel site, YourLifeisaTrip.com. Richard also works with his wife in their company, The Power of Play, where they help people deal with life challenges like cancer, using improvisational games.
Calling all HuffPost superfans!
Sign up for membership to become a founding member and help shape HuffPost's next chapter