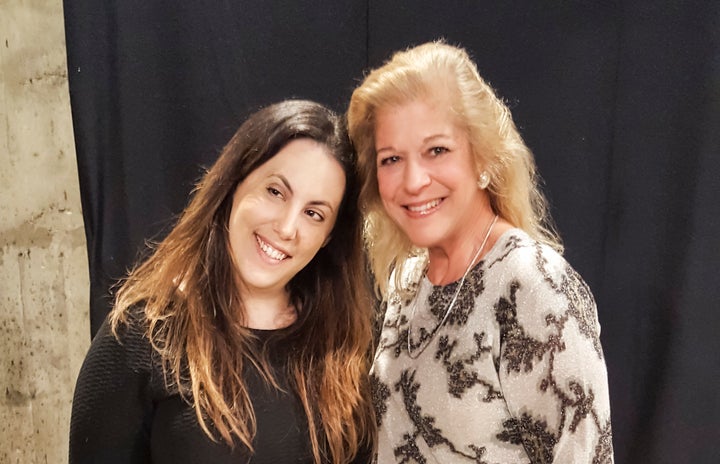 As I hobbled out of a grand hotel in the centre of Athens, I did not expect Fate to be generous to me.
Having just undergone a hip replacement and being unable to bend my left leg, I had managed to squeeze myself into my support tights and co-host the second birthday party of Huff Post Greece. This was then followed by a formal dinner where I ditched my crutches, tottered over slippery marble floors covered with equally treacherous kilims and managed to remain dignified and upright.
Just as I was basking in a glimmer of confidence, a glamorous girl with perfect legs the diameter of my arm approached, notifying me that hip replacement patients in the States could walk unaided after just five days!
Feeling vanquished and dispirited, I was attempting to hoist myself into my much too elevated car, when a lady with jet black hair and an energetic gaze approached me. Katerina Gouma had long been an esteemed authority on domestic lighting ranging from burnished Hollandaise chandeliers to pendant embossed lanterns. I had purchased many things from her vaulted emporium and had not seen her for twenty years.
She introduced me to her husband Mr Katrantzos and told me she was waiting for her daughter Mary to come home for Christmas.
I rapidly requested an interview to be told, of course, that Mary was very busy. I tried to convince myself during the four week wait that maybe the interview would never happen. But then I got a call and the result is below.
Fate or coincidence? If I had been able to walk faster and hop into the car, they may never have seen me.
EC – When I first saw your photograph, I was immediately struck by your face which radiates joy and exuberance! Fashion, to me at least, seems full of mannered and deliberately remote personalities, each inhabiting a preciously curated universe of their own. Your smile is so real. Where does that come from?
ΜΚ - I guess I have always been very open as a personality and in this industry it is the only relief that you can get. My team is all very positive and that is important. I have also always been very spontaneous and it hasn't changed. There are some times when I feel I have been too spontaneous! But it was something that was deeply instilled in me and something I have always wanted to protect.
EC – The second overwhelming impression I have of you is that you have a vast range of talent. You design your own collections, do creative ventures with Moncler, Longchamp and Adidas, design costumes for the NY ballet and Opera de Paris, and made a foray into short film… So many collaborations…
MK - Yes a lot. Actually now we have a different strategy. Exciting as they are, they take time away from the core which is the collections. At the time each collaboration was undertaken for a different purpose. When we did Moncler I didn't have any outerwear and I had never worked with down fabric. I was approached by the owner Remo Ruffini who is interested in silhouettes and I am so known for prints so the opportunity to work with him and to focus on form and volume for the M collection was so exciting. I have a lot of respect for him as he has already worked with Rei Kawakubo, Nicholas Ghesquière and Thom Browne was also designing for him.
As for Longchamp, Sarah Andelman who owns the store Collette in Paris connected me with them. We had never done accessories and the Pliage bag was a perfect canvas. It has the theme of East meets West. By the time we did Adidas, I had said we were not doing any more collaborations! We had a very small team and it really stretched us creatively but they were very persistent and it is an iconic brand I grew up wearing. I realized you can increase your brand awareness on a totally different level and we had never done sportswear either. The basis of each collaboration was my very inquisitive nature!
After I said we wouldn't do any more… then I did the costumes for the New York City ballet, for the choreographer Justin Peck, whom I first met when he was 26 and it was amazing to see how he inspires the dancers and I was so impressed by his maturity. Then with the Opera De Paris, John Baltisari was doing the sets so it was not an offer to turn down.
These collaborations take you out of the commercial reality of what we do every season and It is so different to design for movement and with another creator.
EC - Opening Ceremony's fashion show took place on stage at the New York City Ballet featuring Justin Peck's new ballet Times Are Racing with the dancers wearing the collection. What do you think?
MK – Amazing to combine the two. When I design costumes, I dove into his world, now Justin has entered the world of fashion with choreography that permits the clothes to be worn and shown.
EC – When did you start to draw? Did your parents keep any of your first drawings?
MK - I started to draw early on but there was never an indication that my career would be in fashion.
My mom always had lots of magazines around the house like Architectural Digest and World of Interiors. I remember tearing out different sheets and creating worlds of my own making small collages.
In my late teens I started painting and drawing. Initially I was the same as other kids but when I started doing two dimensional designs that had to do with pattern, I realized that it was something I was good at and I found it deeply meditative. I had a blanket, which my mom still has, which was completely destroyed because I drew on it all night on my bed and painted on it.
EC – Your mother was in interior design, your father one of the most prominent manufacturers and retailers of sports apparel in Greece, did this influence you?
MK - I had two parents who were entrepreneurs in their own right who worked from 7a.m. to 10p.m. and that definitely installed in me a drive and an ambition I didn't know I had. My mother closed her decorative lighting shop and retired but she still does occasional projects. I don't think you realize how strong these parental influences are and how you come to form that aesthetic early on.
EC – And your father founded and owned the landmark Athens department store Katrantzos Sport?
MK – I was not lucky enough to witness that as when I was in born the store had already been burnt down in an arson attack and my father had started building Katrantzos Security.
When I went to London a lot of people mentioned Katrantzos Sport to me and I saw how important it had been. In interviews my father is always mentioned as a textile designer which he is not, but he did create that store. And there is a connection. When we worked with Adidas, I discovered he had been the first one to bring it to Greece!
EC – Fashion was not your first calling though. Architecture at Rhode Island School of Design was.
MK - I thought so. I was brought up in Greece where fashion was never an industry and you didn't have the influences you would have if you had grown up in New York or London. Architecture was a more pragmatic choice as I thought I would return to Greece to live. I had always wanted to go to Central St. Martins but back then it was an arts school and my father could not accept that I would not get a university degree. So my decision to go to Rhode Island carved out a path into interior architecture but then I made a decision to do a three month course at St. Martins as an exchange student and I immediately realized that what I wanted to do was surface design and that led to my Master's degree in fashion.
EC – So you left to study textiles and fashion at St. Martins and completely changed direction?
MK – I was at Rhode Island for a year and I met my boyfriend of fourteen years when I came back for the summer to Greece. I returned to Rhode Island and all I could think about was going back to Greece! My boyfriend, who is Greek, was doing his Master's at Imperial College in London so I moved to London after six months at RISD to be with him and to do the St. Martin's course.
Yet at the beginning I hated London and St. Martins… I was questioning my future and the fact that I had moved there for my boyfriend! You were very much left to your own devices at St. Martins while RISD had been so structured and organized.
EC – And your parents supported you?
MK – My mother was not against this, my father was. He hates me telling this story but when we were arguing he wrote my mother a letter, he likes to preserve things in print, saying she was responsible for their child being a failure.
EC – I find it very endearing and human when you said in an interview that one never loses one's insecurity. Do you ever have a moment of panic where you fear you will have no inspiration?
MK – Yes of course, every season and I have learnt to live with it. The fear never goes away. There must be self-doubt. You must be aware of what is happening around you, how you filter it and how you project it through your creations because you must be sync with your time. When you are arrogant, you become complacent. That has never left me and I realize it is what drives me but I am also brave with certain decisions so it is a dichotomy.
EC – Did you have a mentor?
MK – Louise Wilson, Course director of the Fashion MA at Central St. Martin's. She was so witty and intelligent and actually so difficult that you had to become prolific to provide something remarkable. She had an incredible eye. I felt something clicked at some point and she saw something she felt was authentic. She spent a lot of time honing that and pushing me to a place I had never been before where I felt insecure as I was very shy as a person.
EC – If we look at your career in stages, it starts out with your signature bold prints of pieces of jewelry on black dresses. An idea which came from your back ground of applied design. Then the next leap was, instead of prints, to create layers and combinations of laces and brocades. The 2017 autumn winter based on the movie "Fantasia" is visually so rich… An optical feast.
MK – I feel that in my collections over the last couple of years there was an arch negating print and now coming back to embrace it again. In the past I had moved away from it because it had reached saturation point, in a sort of rebellion. However last season I decided to fully embrace it again. It was an attempt to coin what really is the brand but in a more abrupt form.
The summer 2017 collection with its Greek vases and silhouettes was very digitally printed but it missed texture. This collection is everything that has become the brand, a rich expression in different fabrics and inclusion.
EC – This Fantasia collection is yet another collaboration? This time with Disney?
MK – It did not start out like that and was not planned as another collaboration. I borrowed inspiration from Disney and connected with some characters such as the centaurs on the blazers but you cannot bring in too many elements as it would contaminate the purity of the landscape and the mood.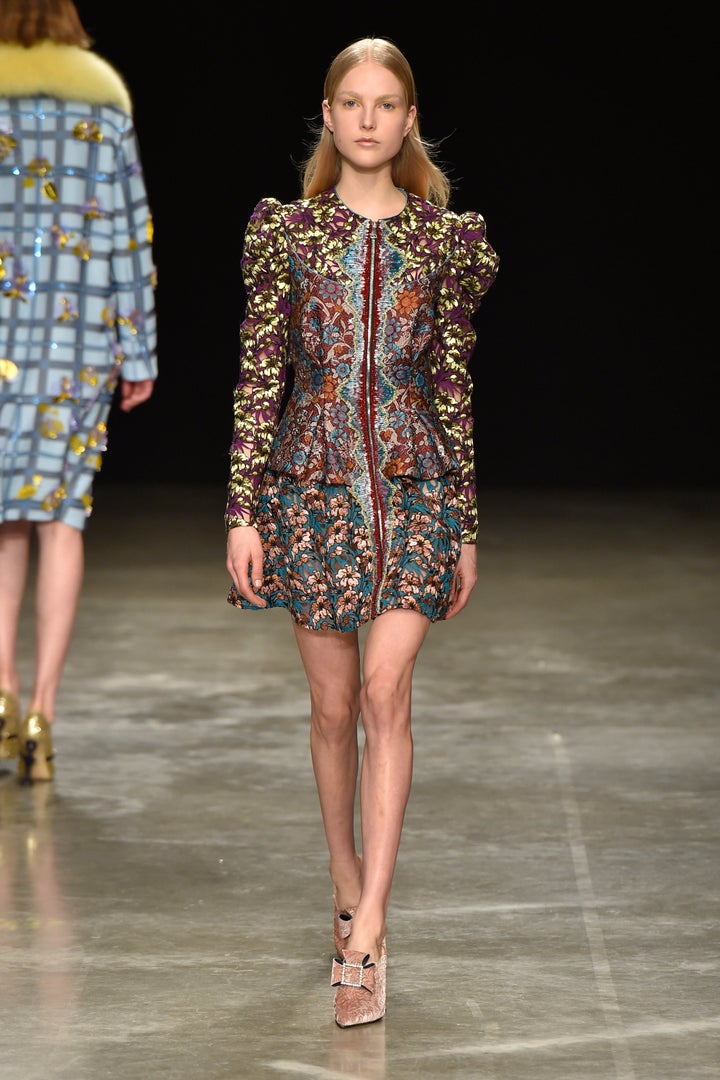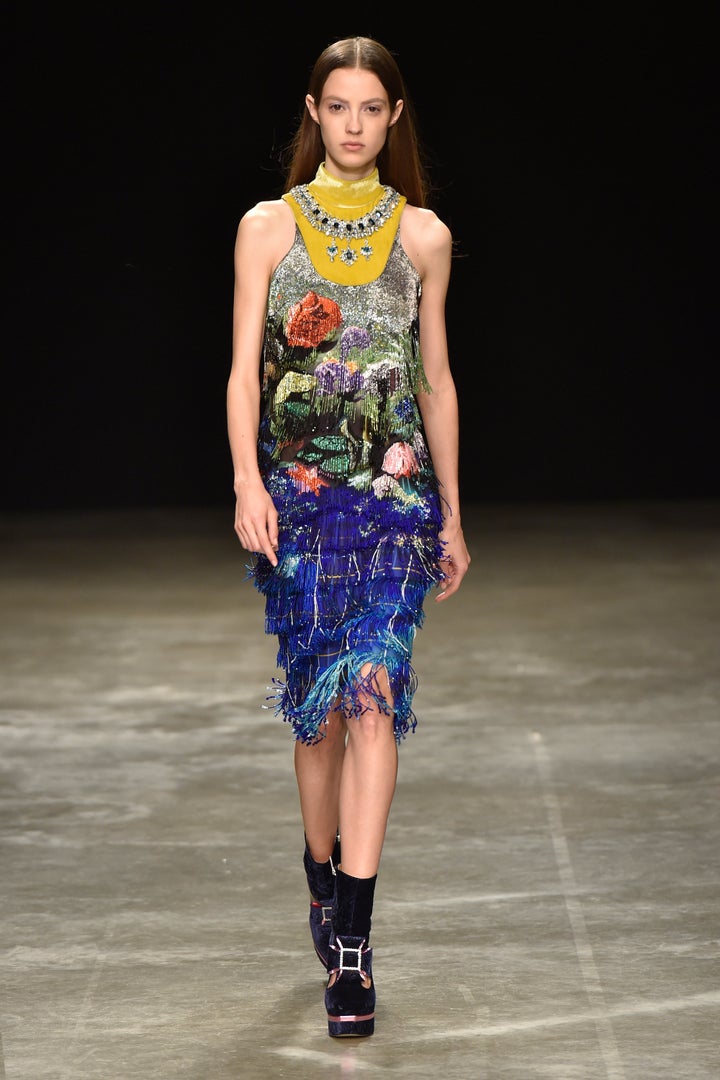 EC - Would you ever go minimal, monochrome? That look is so alien to the vivacity of your imagination.
MK - In the collection we do have a lot of the silhouettes that we have done in the past where the focus is more on the cut in monochrome. I think there is a divide between the aesthetic of my prints and the purity of my shape and form. It is not minimalist but definitely monochrome.
EC - For each collection is there always, or ever, one central moment of epiphany, sitting in your office, sequestered … drawing it endlessly before it gets refined? Let me peep into that creative brain…
MK - It comes in stages and it also shifts and it does evolve a lot. There is a running joke between my friends that I am secretive and never give out the theme of the collection. I tell them the collection is about dance and then it turns out to be about Pangea, a super continent that existed millions of years ago surrounded by an immense sea, Panthalassa.
I am open to how a collection grows. I might initiate something, then it gets passed on to printing. It will change when it gets engineered into pattern and through that focus, you still do get some "aha" moments and you see that where you started is not where you are going and it opens up different doors to explore.
EC – Your mother said you came out of your room twice while visiting Greece for Christmas. How much daily discipline does designing take?
MK - I try to discipline myself in different ways and have become more decisive because you realize it is very easy to burn out because of the pace. As your company grows, your ambition shifts and it is difficult to control that and there are more demands. I am more protective of my time now when I am away. In fashion we don't really have any time off. During my time in Greece I don't want to do anything. I am very content doing nothing!!!
When I first started, I realized something has to give, my social life, my career, my relationship. At that time it was my social life because it gets paired with everything you do socially for work.
EC – So did you cut back on your personal social life?
MK – When I started I had no social life of my own thankfully or regretfully possibly, as my boyfriend is in medicine, he is also under pressure so it made us have to detach ourselves from anything social. That also happened because we are here in London and most of our close friends are in Greece. You tend to live in bubble and lose touch with reality. When I first started my company, I had to attend events and found the effort draining. Now I take the social side more lightly and have found a balance.
EC – Are your clothes made here in North London at your headquarters? Do you have any Greek seamstresses? Greek women sew very well.
MK - I have never had a Greek seamstress and have never come across one even though a big part of my team is of Greek origin! We had done a lot of our production in small units in London but now we have moved almost all of it to Italy. As your range expands to more outer wear, tailoring and knitwear, the expertise and quality that the Italians have is unparalled. In London you cannot find that degree of specialization. In Italy they take the product from A to Z so they will do the pattern side of it, the sourcing and the production and that avoids you losing time and control.
EC - Would you ever design for men?
I haven't designed for men officially only some pieces for men friends. It is something I want to do but I want to do it in a thorough way.
In order to do men, you have to have very established women's wear, accessories too and have the team to do that separately. At the moment I don't have a menswear designer and am not trained in menswear in order to be able to take on the challenge on my own.
EC – Gender is becoming amorphous in fashion as it is in society – more and more. Designers such as Grace Wales Bonner design unisex luxury outfits. Vivienne Westwood is also. Raf Simons just showed his new collection for Calvin Klein with male and female models. Would you do that? Perhaps this is an iconic depiction for the fashion universe… can it also be a reality in life.
MK - It has become the reality. Selfridges has a huge section on their shop floor where it is gender fluid. Women's wear designers always take inspiration from men's wear and vice versa but I feel that as many designers are combining men and women's it makes that connection more permanent and visible. Designers who talk to a very young generation have the possibility to interface that much earlier on.
When I started most of my collection was focused on the dress but we have pieces of our outerwear or shirts that I have seen men wear so it happens even if your intention is not to offer it in that way!
Much bigger brands are doing that as well and it is the way the industry is heading for many reasons. Fashion as an industry at the moment is being challenged and every designer is trying to find their own path. The fashion schedule is up in the air, also how people present is up in the air. There is a big dialogue and it is very indicative of how people buy and dress today.
EC – Some people don't have a real live show at all and just show on line.
MK – A huge part of our business, about 20%, is on line not only through our own website but through on line accounts such as Matches, Net a Porter, e.t.c. The sell through has always been very high because my product is very visual. We ourselves don't have a huge offering on line but we are re platforming and launching it in March in a bigger way.
EC – Among all your ventures, have you considered going into homewares? Rick Owens, Fendi, Calvin Klein and Giorgio Armani design furniture and Donna Karan and Versace have designed objects such as pillows and plates. Your prints would lend great flair and colour to interiors. Your thoughts?
MK - I love interiors and even though we have been approached, I did not want to do it as a collaboration because I feel it can be a pillar of the brand in the future.
EC – At your first show in 2008, you had designed a collection of the actual large jewelry pieces emblazoned on black jersey dresses. Reed Krakoff who is a luxury clothing brand, has just become Chief Executive Officer of Tiffany. Would you go back to jewelry design?
MK - Yes that is more imminent. At that stage of my career, I was creating the jewels for the shows in my mother's factory in Peristeri, an area of Athens, and working with workmen in their sixties who couldn't see perfectly, didn't care about measurements because they were used to doing lamps and tables out of glass!
EC - Your collaborations with Adidas, Longchamp and Moncler … creatively is it easier to attach your signature on to someone's product rather than starting from the inception?
MK - It is easier in that you have a template. At the same time when you are working with a huge company like Adidas the restrictions create a whole new framework to function within and that can be difficult. It is a different kind of challenge and your job is to disrupt that given template. Whereas with your own collection, every season you are building something new and not having a framework and sometimes that is difficult.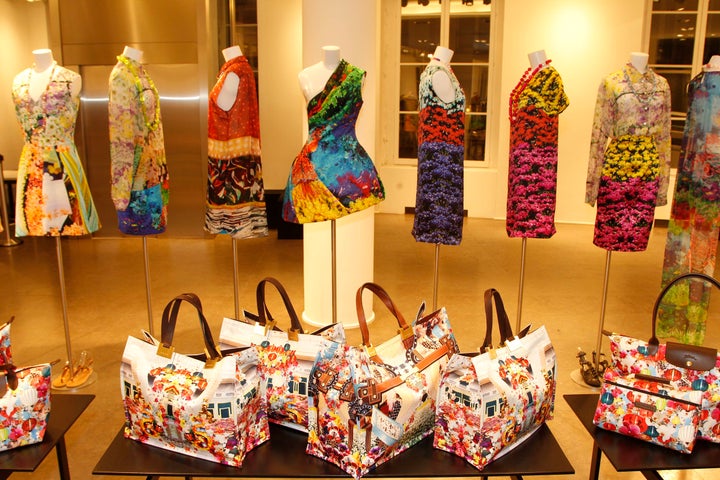 EC - You have an enviable client list: Barneys, Neiman Marcus, Bergdorf Goodman, Harvey Nichols, Selfridges as major department stores and signature boutiques such as Browns, Matches, Collette, 10 Corso Como, and innovative websites like Net a Porter… You are very attuned to selling and you also have your own e-commerce site. Where does that business dexterity come from?
MK - I think the work ethic comes from my parents and the rest I learned because I enjoyed it. I have always been involved in all the decisions and agreements. When I didn't feel creative, I would spend time on the business side, the media element, what collaborations we do, even chasing payments…
Understanding the business gives you control and that allows you to be more creative.
EC – you said you would only have a store where you had a fully blown accessories line.
MK - Yes that is the plan. We are raising capital to be able to start retail and to build an accessories line. Our shoes were always a collaboration with Gianvito Rossi, this season we are branching out on our own which is a natural progression as the shoes are so much part of the show – whereas bags need more time. If we have an opportunity to open a store before the accessories line is fully developed, then the ready to wear collection can hold the store for a short period of time.
EC – Do you do haute couture?
MK – We started doing it now. Because ours is a small atelier it becomes quite complicated timewise to do bespoke pieces. We just did a dress for Eugenia Niarchos' 30th birthday and she is so creative herself that it was more of a collaboration and it actually inspired some of my next collection.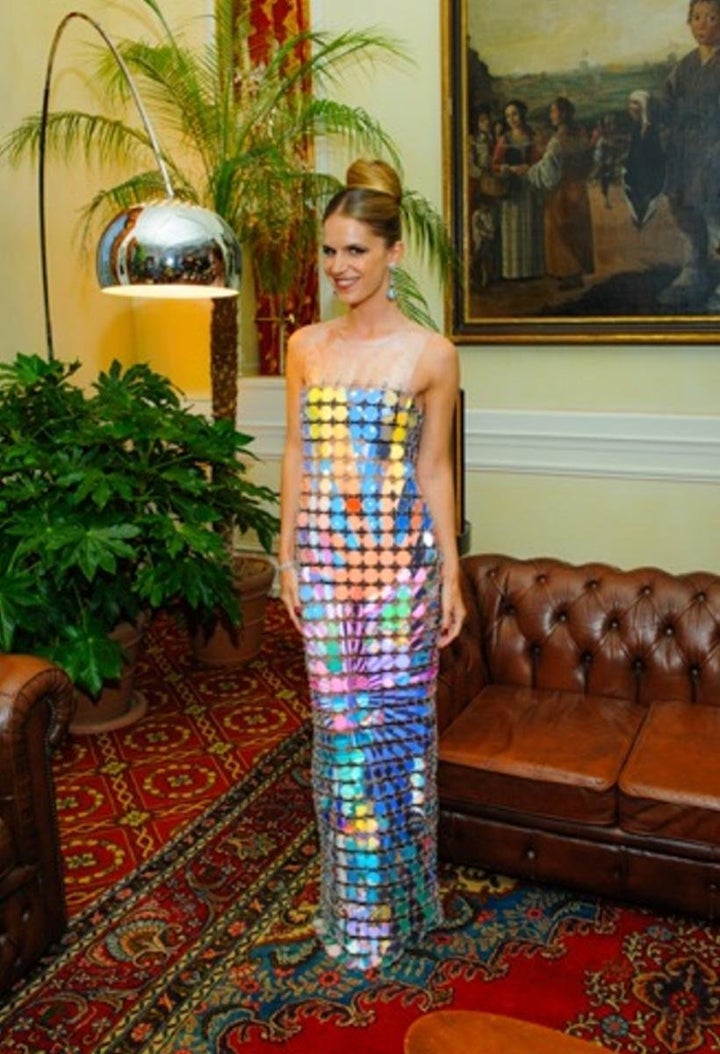 EC – Do you think women have to be daring, young and thin to wear your prints?
MK - No I don't and I think that was the first surprise that I had. Many people thought at the start that my brand was very niche and would remain so. I realized as I travelled and met my customers that it is very democratic. I did personal appearances and different trunk shows in the US and a mom would come with her daughter and her mom and all three generations were buying different pieces and even last week at Harrods a mother and daughter fought over a coat … they decided to share!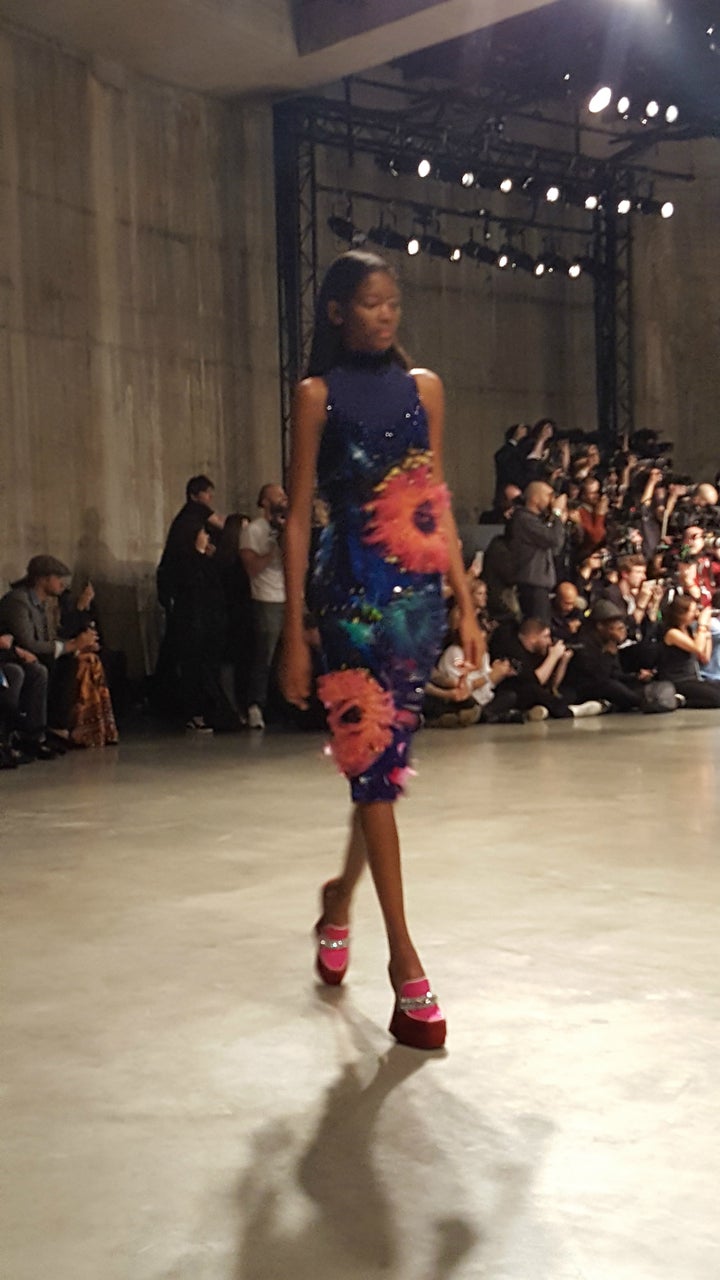 EC – How do you view women designers?
MK – There are many more of us than ten years ago. Women were always an important part of the team but now there are more women directors of houses. Fashion itself is far more democratic now, more diverse gender wise and indeed racially. Women in business have to be tough to make the right decision but this toughness in a woman can be exaggerated whereas in a man it is accepted. People do not expect you to negotiate that aggressively. In patriarchal countries the men you deal with do not expect to close the deal with a woman. Sometimes I have to step back from the front line and achieve the deal from behind the scenes. I think women in the industry should push more.
EC - Do you think that we as women are subjected to looking a certain way because the world of fashion dictates that? I myself wrote a book on women who carry their fat on the lower half and I know personally how that shape has always influenced my fashion choices.
There is diversity on the runway but is it enough? Is there space for more racial and size diversity?
Would you ever use larger models, even plus size ones?
Thin still seems to rule, in 2017, however far we think we have come.
MK - No, I don't think there is enough diversity and I think there are different levels of racial discrimination on the catwalk. Even though the issue is starting to be addressed a lot more and people are called upon it a lot more. A few designers have included plus size models on their catwalks but there are not enough of these models at the agencies so that there are not enough of them for them to feel confident with the other girls. There have been shows where we have brought iconic models from the past who are now older but you also have to have enough of them so that they feel comfortable with the younger girls. It is not that easy.
EC – I don't ever see thin going away as the standard.
MK – Thin is the ideal standard and on the catwalk you are presenting your ideal woman to your audience though I have seen designers like Mark Fast a knitwear designer who in one of the shows we were doing together had plus size girls and there was such huge press around it because at that time no young designer was doing that. Then it backfired because people saw it as a gimmick.
Ashley Graham is a plus size model who is widely used because she has an agency who supports her and she has a huge Instagram platform. If more larger models carved out a career path as she did and were in demand, then more people would use them.
EC – Our society is obsessed with social media and the posting of every event, however insignificant, pictorially. Are we being devoured by it? Do you feel a victim of it?
MK - I am still a victim of it, mostly of Instagram. As a creative person I take a lot of pictures especially when I am abroad but at the same time I see myself less and less active and there is a certain fatigue that happens.
It is not going away but it will shift and a new platform will come but social media as a phenomenon is so much part of this generation! It created a very connected world which should be a plus, at the same time the triviality of what consumes our brains on a daily basis, is not that healthy.
EC – What advice would you give to people coming from countries like Greece with sickened economies, for them to pursue dreams and realize their talent? Should young people who want to work in fashion or the wider arts compromise by taking more materially practical jobs to make money or pursue their dreams, no matter what?
Did you have to make that choice?
MK - I was fortunate enough that I had the possibility to stand my ground and stay in London when my father wanted me to return. He paid for my MA but gave me no further money. I started my own business with sponsorship from NEWGEN, a sponsorship fund created by the British Fashion Council and I was lucky that it took off so soon as it could have been years before it was profitable and self-sustainable. After my first collection, I sold part of the company to the Centre for Fashion Enterprise, which gave me a free studio, legal advice, free machines and cash sponsorship. Actually my parents supported me for the first two years by paying my rent.
It is difficult for me to speak because my timing and how my career projection unfolded allowed me that independence. Sooner or later you always compromise but you must fight against that as long as you can.
EC – What is your opinion of the fashion scene in Greece? As a market? As a place for designers to flourish?
MK - As the whole fashion industry is in flux, discussing it in Greece is even a more complicated and difficult because people struggle in fashion everywhere. It is a difficult environment, not an easy one right now so coming out of Greece has an extra set of difficulties but that does not mean it is impossible.
If you want to build a truly global business, it is important if not to base your company abroad, at least to be able to travel enough to meet the buyers, to meet the press, to stay relevant and that requires you to make more of an effort and spend more money so I guess you have to own the national side of it before you can build an international business.
But there are designers who I know like Urania Gazeli who does beautiful clutch bags who as far as I know lives in Greece but is international so it is not to say it doesn't happen, it's just that the effort and determination are bigger.
EC – You must work very hard, how and where do you relax? Fashion is a notoriously fickle and mean spirited business. How do you protect yourself?
MK - I don't see it as mean spinted but as highly competitive… In London the British Fashion Council has helped designers not only financially but also to have a certain camaraderie between them. Because we have travelled together, sold our collections together, we have been nurtured together as a group and we stand alongside each other in department stores and that creates a bond where you try not to be competitive with each other, not to take on somebody who has worked somewhere else.
I know it is not true of every Fashion Week but I found it to be true for London.
EC - Who do you trust the most?
MK - Family… my parents and my partner…
EC – The same one? Why is he still the boyfriend and not the husband? Is it more fun not to be married?
MK - No, no, I want marriage and I have told him and I have made it very clear to him this year. When you have lived with somebody all these years, it is like a marriage in a sense and we got so busy with our respective careers that we couldn't find the time to organize our wedding and now we have started talking about it with a timeline.
I do want to get married and I like the celebration that happens. I want my parents to be there for it and I think it will happen very soon … the ball is in his court!
EC - Finally who are the icons who wear your clothes, who really make you smile? Who you most like to dress?
MK - There are a few women and at different moments in time and they have been meaningful in different ways.
When I first dressed Michelle Obama, it was a big moment because I have huge respect for her. I think it is the demeanour of every woman, how she wears you, what she represents and that was a big moment. I love it when you have a woman who is deeply attracted to your work and comes to you repeatedly, that is more important than a celebrity wearing a dress once on the red carpet.
Developing those relationships with certain women is so important and women who are so different to each other. Taylor Swift wore a dress of mine which couldn't have been more different to the dress that Michelle Obama wore or Lady Gaga wore or Beyonce wore.
Equally the late Zaha Hadid wore pieces of mine and she always wore black so that was different a departure for her. So it is always extremely flattering to see a woman who is receiving respect for her own achievements to wear your clothes and to know she feels beautiful and confident in them but it also is a huge privilege to see the diversity of the different women you do dress. It influences the way you design, you start thinking of all the different women who have worn your dresses.
EC – Dare I approach the subject of the Trump ladies at the inauguration?
MK – Well… I made a decision not to post anything about anything because when I do post something…? you get too many comments
I was posting about the Greek referendum or Brexit, people told me to stick to what I know best.
EC – But Melania Trump is something you know about?
MK - She is pretty and she has a great figure and your job as a designer is to dress women and not to bring in issues about who we dress and what stance we take politically as a company.
EC – You would be prepared to dress her?
MK – Usually with the First Lady, it is very complicated, but if that person goes and actually buys one of your pieces, because they cannot be gifted pieces, it is a positive thing!
I think sometimes more meaning is placed on certain things in fashion and it can be political but I never saw it as that.
It is much more democratic in my view if someone feels attracted to your work and they feel beautiful in it, that is what you are here to do and that is your job.
EC – What would encapsulate sum up the Mary Katrantzou woman? Potent? Dynamic? Fearless?
MK - She is a confident woman, she has an appreciation of design, of the arts, of creativity, I think there is a cultivated wit in my work that is not just a straightforward print, you are buying into a narrative in a way.
The woman I dress obviously likes the story – telling side of it and I think she is a confident woman. Every woman who I have met is very sure of herself and who she is.