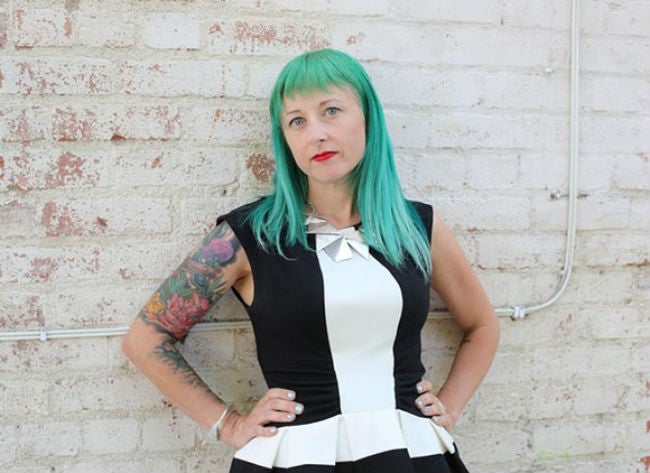 In the early 2000's, a woman monikered herself Missy Suicide, and created a website called SuicideGirls. The idea was to feature beautiful women who didn't look like the models in fashion and media, in a pin-up girl setting.
Over 15 years later, SuicideGirls is a multi-media empire showcasing female beauty in all its forms. With a burlesque tour on the road in the U.S. , I had the chance to speak with Missy, and get the lowdown on SuicideGirls.
First let's take care of the basic question: What is a SuicideGirl?
Missy: She's a girl that doesn't fit in with regular beauty standards. She often has piercings and tattoos and more. But really, it's about the attitude of creating her own definition of beauty and sharing that with the world.
When did you create the SuicideGirls, What inspired the group's beginnings, and is there a meaning to the name?
Missy: I decided to start the group in 2001 as a place where…I had a group of friends who I thought were the most beautiful girls in the world, and I felt they weren't being celebrated because they were different than the images created in fashion and the media. I wanted to create a place where they could be appreciated for being themselves.
As for the name...the girls all commit "social suicide" for not wanting to fit in. So they're "SuicideGirls," which is a term used in Chuck Palahniuk's book Survivor.
The cornerstone of the SuicideGirls is the website which features these women in various stages of nudity. Do they have control over how much of their body they show? Has there ever been a SuicideGirl with no nudity?
Missy: The original idea for the site was to give these women a place not only to express themselves physically, but also control how their sexuality is depicted. In order to be a SuicideGirl, they have to be nude. The photo shoots start out fully clothed and they get nude from there. They have do have to show breasts and bum. The rest is up to them. The idea is to brazenly declare your love of you body and yourself.
As someone who is very comfortable in their own skin?
How do you find women willing to participate?
Missy: Back in the day, I took out an ad in the paper, and I had friends of friends wanting to do it. It was a little more haphazard. Now with the website, it's easier. We get over 50,000 applications a year from women from around the world wanting to be SuicideGirls.
Have you ever had plus size SuicideGirls, or is it more about the tattoos, piercings, and colored hair?
Missy: Yeah, we've had girls of all shapes and sizes on the site. We've featured girls with vitiligo and various physical disabilities. We try to be all inclusive because the whole point was to include those outside the media norm. It's about declaring your own unique beauty.
It seems that you have utilized technology from the start to help SuicideGirls grow. How do you think the concept has evolved over the years with the explosion of social media?
Missy: It's definitely made it easier to connect with people, both fans and those who want to be SuicideGirls.
SuicideGirls was one of the first social networks, even before Facebook and Twitter, and it's started as a place for people who felt like they just didn't fit in. Even today it's a place where people can go to talk to other like-minded people.
Right now the website receives over 5 million visitors a month, and we have over 5 million Instagram followers, not to mention other social media channels.
So would you say the SuicideGirls site is more of a community, rather than just a place to look at pictures of the girls?
Missy: Oh yes, for sure! You come to the site for the photos, but you stay for the community. All the members keep blogs on the site, there's message boards, and they can interact in groups...we've had members of the site get married and have babies. It's more than just the photos.
We have over 20,000 SuicideGirls and over 250,000 hopefuls. We post photo sets of the day and members can leave comments, and the girls will respond.
The SuicideGirls are very interactive with members of the site, including their own blogs. And everybody is supportive of one another. We've been lucky in that we've had very little trolls...which is unusual for a site that posts naked photos. (laughs)
What is the process for becoming a SuicideGirl?
Missy: The girl applies through the website, and then is walked through the process by our model coordinators, who tries to hook them up with a photographer in their area. They are given some guidelines on how to shoot a set in our style and what we're looking for.
If they submit a set of photos that meets our guidelines, then it gets sent to member review, where they can view and comment on the photos. If it gets exceedingly positive reviews, then it'll become a photo set of the day.
If the reviews say things like "great poses but you don't seem comfortable" or "the lighting was off," then we ask if they want to try again, and they don't have to have those photos up on the site forever. They retain the copyright on the photos they submit, unless we buy it as a site of the day, then it becomes ours. We try to make the process not so intimidating.
We don't want anybody to regret their decision to be a SuicideGirl.
Besides the website, some of the SuicideGirls are currently touring with a show called Blackheart Burlesque. I understand this show has a strong geek element - can you tell me about that?
Missy: When we decided to go back out on the road, we knew we needed to up our game. Some of the girls were into cosplay and going to comic-cons, and it seemed like a perfect marriage of sexy burlesque with the fun of cosplay and pop culture.
We usually do a show at the big San Diego Comic-Con and it tends to be a bit longer because we try out our new numbers and see how the audience reacts. If it gets a good response, we take it out on the road and see how it goes.
Have you ever tried any themes or ideas and just went, "Nope, not happening"?
Missy: Yeah, for sure! There have been a lot of them. (laughs) We did a Fifth Element number that had super beautiful choreography, the song was great, the outfit was recognizable, but it just didn't work because a lot of people didn't get the reference.
So you've got the website community, the Blackheart Burlesque tour, you've done TV specials on Showtime, and appeared in arthouse books...what is next in the evolution of SuicideGirls?
Missy: I would like to do another comic book this year. I'm also writing a memoir right now, which is turning out to be a much harder process than I'd anticipated. I'm hoping to be done with that by the end of the year. Beyond that, who knows? When I first started SuicideGirls, I never thought I'd be playing myself on a primetime TV drama. (Missy and several SuicideGirls guested on the "Oedipus Hex" episode of CSI: NY in 2006). You just never know what the future will hold.
To check out the SuicideGirls for yourself, head on over to SuicideGirls.com, where Missy also has her own page. I thank her for taking the time to speak with me.
Related
Popular in the Community