Each year Art Dubai, the leading international art fair in the MENASA (Middle East/North Africa/South Asia), presents its Marker program. The program focuses either on relevant and significant themes or else geography. Marker 2014 will be curated by the artist collective Slavs and Tatars. (They will also have a show of their own, "Language Arts," at The Third Line in Dubai.) Its geographical focus will be Central Asia and the Caucasus. Featuring five booth exhibitions (and the work of about 20 artists) as well as education and research programs, it will broach issues of faith, identity and language.
Slavs and Tatars invited five art spaces to participate in this year's program. The spaces feature state institutions, galleries, and artist-run initiatives. These spaces are ArtEast (Bishkek, Kyrgyzstan); Asia Art (Almaty, Kazakhstan); North Caucasus Branch of the National Center for Contemporary Art (NCCA) (Vladikavkaz, Republic of North Ossetia-Alania, Russia); Popiashvili Gvaberidze Window Project (Tbilisi, Georgia); and YARAT Contemporary Art Space (Baku, Azerbaijian).
Slavs and Tatars conceived a "regime of portraiture" that would include faces, places, and traces that ranged from mid-twentieth painting to contemporary drawings and sculpture. This they did via the creation of a chaikhaneh or Eurasian tea salon that will be the starting point for stories that extend far beyond portraiture to the politics of identity.
JS: You obviously began this project long before the region became the focus of global news headlines. What besides your collective's own focus on the interplay between Slavs, Caucasians, and Central Asians attracted you to the art of Central Asia and the Caucasus in the first place?
S&T: Well, it depends on your perspective. We'd argue Central Asia and the Caucasus have been the focus of global headlines (or the equivalent) for well over a millennium, with its relatively remote status in the 20th century being the exception not the rule. Whether it's the Islamic renaissance that produced Ibn Sina (the global canon of medicine until the 18th century), Al-Khwarezm (the founder of algebra) or Al-Beruni (modern day astronomy), the coveted silk route, or the Great Game between the Russians and English, this region was to the 19th century what the Middle East is to the 20th and early 21st.
As artists, we've been interested in excavating, redeeming, resuscitating certain thought patterns, behaviors, and ideas associated with the region but were never particularly interested in the art, until the invitation to curate Marker.
JS: What were your criteria as you narrowed the number of art spaces down to five?
S&T: We were keen that the selection of spaces speak to the very varied nature of the arts infrastructure in the region-so we have an online archive (the Astral Nomads project of Asia Arts) on an equal footing with a physical bricks and mortar state institution (NCCA, Vladikavkaz)-that is the result ironically of expediency, of a dearth of proper institutions or a market.
JS: How many spaces did you initially consider?
S&T: To be honest, we did not set out to invite spaces or even artists per se, but rather were driven by our interest in work which disrupted the preconceptions one might have with this region. So that is why you will see very little overt Soviet iconography: if people are familiar with the Caucasus and Central Asia, then it's as satellite regions of the USSR. We are not whitewashing the Soviet influence but rather are more interested in the long view of history.
JS: Did politics and religion affect your choices?
S&T: The context of the Gulf was a compelling reason for us: it is safe to say we probably wouldn't have accepted an invitation to curate art from Central Asia and the Caucasus for a venue in, say, London or Berlin. The Caucasus and Central Asia and the Gulf share a relatively recent history of nation-building: 1960s and 1970s for much of the Gulf and the early 1990s for the former Soviet sphere. But perhaps most importantly, the Gulf has a compelling imperative to consider the role of these regions in the development of a pluralist, even modernist Islam. As mentioned, it can be argued that the Golden Age of Islam happened not in the Gulf or only in Baghdad or Cairo but equally in Bukhara, Khwarezm, and Samarqand. Or more recently in Tashkent and even Tbilisi where the moderate modernists such as the Jadidists inaugurated crucial reforms in educational policy. Or Baku home to half the world's oil supply before World War II and the discovery of oil in the Middle East.
JS: Do you believe that the Marker work shown at Art Dubai, in the context of global culture, is "historically neutral and spatially meaningless"?
JS: Is there anything political about a "regime of portraiture"?
S&T: In so far as regime implies a ruling or prevailing system, yes.
JS: Would you please elaborate on how you can up with idea to frame the work within the idea of a chaikhaneh or Eurasian tea salon?
S&T: There's often been an emphasis on seating in the spaces we produce as artists, whether our Beyonsense at the MoMA or Friendship of Nations: Polish Shi'ite Showbiz at Sharjah a couple years ago. but also the idea is that ideally, this project is supposed to become a departure point for larger discussions. As you know, we are not interested in art as an end in itself. It has to speak to the larger issues facing us. We are shameless about the instrumentalization of art in the services of something else, and for us work should be instrumental to larger discussions around ideas and questions of faith, identity, nation building, preservation of history and so on and so forth.
Since this region seems remote not only to the western world but also to the Middle East, we decided to start with the basics. If a place remains unknown, impenetrable or a blind spot, then we should begin by familiarizing our audience - meaning the Gulf, mainly, in the context of Art Dubai - with the notion of representation and figuration in this region within the space of the teahouse. Representation is of course a fraught concept, not only in Islam: we tend to look to it order our universe only to find ourselves rebelling against this very order.
JS: In light of both the work you've done for Marker 2014 as well as the overall efforts put forth by Art Dubai, what do you think are the benefits of regional art fairs like Art Dubai for artists, collectors, galleries, museums, and the viewing public?
S&T: Art fairs are perhaps the exemplary modernist accelerator in so far as they establish and extend new networks within pre-existing ones. Our chaikhaneh or tea salon aims to slow down the tempo, this frenzy somewhat, offering visitors a space to contemplate the works, to engage with others. If you look at the instability across the region at large, though, Dubai's role and Art Dubai is a perfect case in point, serve as ideal and urgent venues of exchange between those from the region or interested in it. Sadly, you simply couldn't organize a similar scale event today in Beirut, Tehran, Cairo or Damascus, for a number of very distinct reasons.
JS: Do you believe that art fairs can truly further the discussions of the role of art in contemporary society? How?
S&T: Art Dubai is unique amongst art fairs in its editorial emphasis, as platform for an exchange of ideas as much as of works or objects. The fair's emphasis and investment in the Global Art Forum is a perfect example: the people we've met in Dubai during the fair the past couple years, from UN policy thinkers to writers, dentists to artists, are a testament to the discursive energy that can result directly or indirectly from a fair.
JS: If you step back a moment, do you believe in a global culture or is culture best understood as a mosaic of regional artistic contributions?
S&T: To quote Hamid Dabashi: "Every home has its abroad."
JS: Showcasing the region under the auspices of Art Dubai, what's the single most important message you want Marker 2014 to broadcast, not just to the Middle East art world but also to the world at large?
S&T: If you look at how the Muslim world is defined today, it uses an old cold-war leftover of an acronym, MENASA (Middle East North Africa and South Asia). If the Caucasus and Central Asia were included in this moniker, it would do wonders not only for accuracy but for the celebration of pluralism and complexity sorely missing from the juggernauts of revolutionary Shi'ism or Gulf-based Wahabbism.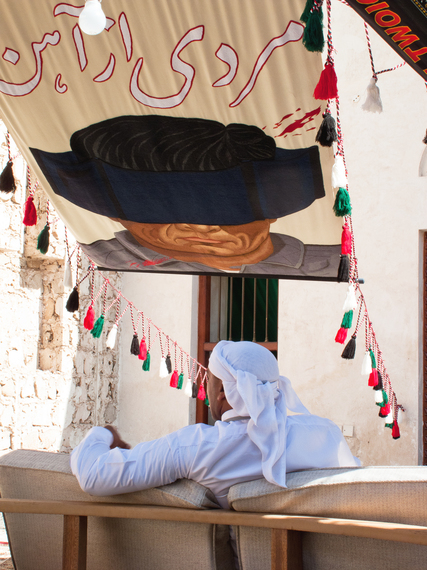 Friendship of Nations: Polish Shi'ite Showbiz (installation view), 2011. 10th Sharjah Biennale. Photo courtesy of Elizabeth Rappaport.
Calling all HuffPost superfans!
Sign up for membership to become a founding member and help shape HuffPost's next chapter