Get ready world. SOFI TUKKER will make you get on your feet and sweat it out this summer. Starting tonight, the duo is going on the road and taking the dance party with them. From Chicago to Louisville, fans of dance music are in for a treat over the next few months. I recently got to chat with Sophie Hawley-Weld and Tucker Halpern about the release of their new EP Soft Animals and upcoming show at Baby's All Right in New York City.
Hey Sophie and Tucker! Thanks for doing the interview. How did you two meet?
Tucker: We both went to Brown but didn't actually meet until our senior year when we were both playing at an art gallery.
Sophie: I was playing acoustic bossa nova music in a trio and Tucker was the DJ that night. He came early and saw what we were doing and ended up remixing one of my songs on the spot...We have been working together ever since!
Tucker: Her songs were beautiful but painstakingly slow, so I had to spice it up a little and it ended up sounding really cool.
That's how magic is made. What made you both decide that you wanted to get involved in music?
Sophie: Making music has always been important to me. I started writing songs in the 6th grade--badly, but happily. Dancing and moving and singing and making music has always made sense to me as a way of being. I didn't know whether it was a viable career path but I tend to be idealistic.
Tucker: I always loved music but it was a passion that I had put to the side for my whole life. I dedicated most of my life to basketball, and that was my plan until my junior year of college when I got ill and was bed-ridden for eight months. In those months I wanted to be productive and I taught myself how to produce music on my computer. When I went back to school I started taking all my classes in music and DJing a lot.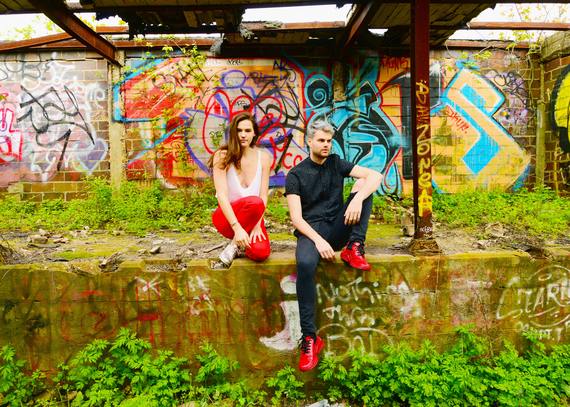 It seems like the dream has become a reality for both of you. Very cool. Being New York based, what are a couple of your favorite things to do in New York City?
Tucker: My favorite thing about New York is my friends. I love them. When we get off tour my body tells me to sleep for days, but all I want to do is be out in New York because I miss it when we are traveling. Anywhere with house music and my friends and I'm happy.
Sophie: New York is the best. I love my home, cuddling with my roommates, being with friends. When we are back, we spend a lot of time dancing around the city. Miss Favela is one of my favorite spots. I spend a lot of time trying out new yoga studios around the city too...Shoutout to one of my home away from homes "Strala!" One of the great things about the city is that every time we are back, I feel like it's a new world and a new adventure.
My sister Jillian is an excellent yoga instructor. You should take a class with her at studio ANYA Sophie! The music video for "Drinkee" makes me want to put on my dancing shoes and shake my money maker. It's the perfect song for the summer! What was the process like shooting the video?
Tucker: We filmed it in a warehouse in Bushwick and there was a rave next door that was still going on when we arrived on site at 7am. It lasted till the late afternoon so we danced throughout most of the shoot even when the camera wasn't rolling. It was a fun day...We got to bring our friends in as extras and everyone working had great energy and was on top of their shit!
Squad goals indeed. For those readers out there that only speak English, what is the message behind "Drinkee?"
Tucker: The song is purposefully not about the meaning! Our message is for people to get lost in the repetition of the words like a chant and move their bodies. The lyrics are a poem by the Brazilian poet Chacal. Sophie met him while studying Portuguese poetry at Brown. He's the best.
What is your creative process when putting together a song? How do you two compromise to find a happy medium where you both are happy with the final product?
Sophie: We do no compromising. If we both aren't fully in love with it, it goes in the trash. We realized early on that there's a place where our minds (that come from totally different influences and musical knowledge) meet. Right where that happens is SOFI TUKKER.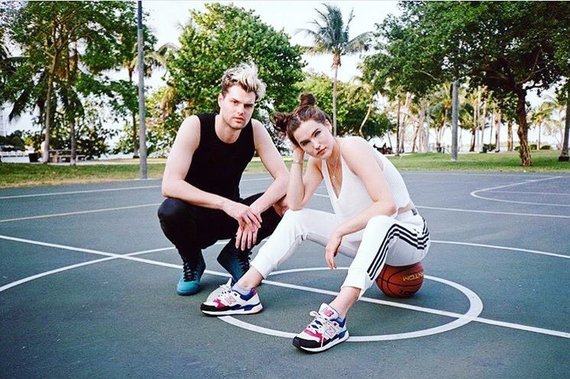 I know the release of your EP Soft Animals must have been a special moment for you both. Can you describe what it felt like putting it out there for the world to listen to?
Sophie: It felt great to finally share a larger body of work and show different sides of ourselves all at the same time...When we only had one or two songs out, we felt a little strange because people only had a small piece of the story. We have been performing a lot of newer songs as well lately and can't wait to continue sharing and expanding what we do and who we are!
Who are a couple of your favorite dance artists that you would like to work with in the future? Who did you guys listen to growing up that helped shape you as artists?
Sophie: Our musical influences have come from totally different places.
Tucker: I didn't know any of the music Sophie was inspired by and she didn't know any of the house music that inspired me. We've taught each other a lot. Stromae is probably the dance artist we both look up to most and would love to work with! We just played a show in Milan with Grimes and she blew our minds. Love her.
I saw Stromae perform at Madison Square Garden a couple of months ago and it was one of the best shows I've ever been to. I would love to see that collaboration! "Awoo" is such a fun song. Speaking of other artists, I know Betta Lemme is also featured on the track. How did you guys wind up working together? It seems like the perfect fit to me.
Tucker: Betta is a good friend of ours in New York. We were all hanging out one day, not intending to make a song. Sophie and Betta were fooling around at the piano and I started making a beat to it and we were like... shit, let's record this... and "Awoo" happened. It came together really fast, we even have a video somewhere of the first time we all played it live before it was recorded. The dance we always do with it came on the same day. We were just having fun.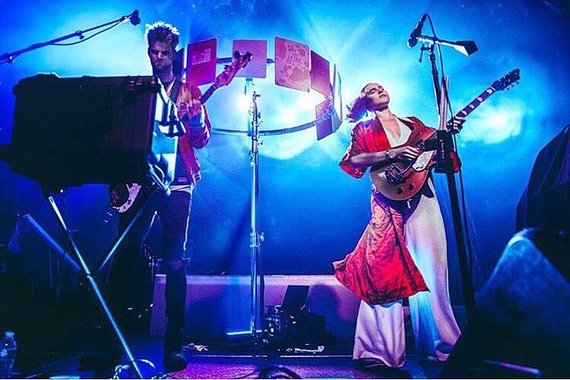 That's what friends are for. I dig the vibe of "Hey Lion." The beat is straight up fire! Who exactly is this lion that you are singing about?
Sophie: I don't want to get into the specifics but I needed to stand up for myself that day.
Respect. I'm thinking about getting a couple of tattoos in the future so it's no surprise that "Moon Tattoo" is one of my favorite songs from you two. What is the meaning behind the song?
Sophie: It was a full moon the day we wrote it and I had painted a string of full moons on my clavicle in celebration. I am fascinated by the moon...I'm still trying to seduce it.
(Tucker rolled his eyes at Sophie's answer.)
What can music lovers expect from your show at Baby's All Right on July 30th? I know I am so excited to be there and see you two do your thing.
Tucker: Wear comfy shoes, don't eat too heavy a meal beforehand, and stretch. We don't want you to pull any muscles.
With an amazing EP released and a sold out show in NYC, where do you two go from here?
Sophie: We feel like we are just beginning...Every time we get in the studio or on the stage, we discover something new about who we are and what SOFI TUKKER is. We have such a long way to go but we are loving the ride.
Where can fans check out your music and follow your journey?
www.sofitukker.com
https://soundcloud.com/sofitukker
https://twitter.com/sofitukker
https://www.instagram.com/sofitukker/
https://www.facebook.com/sofitukker
REAL LIFE. REAL NEWS. REAL VOICES.
Help us tell more of the stories that matter from voices that too often remain unheard.