Michael Tilson Thomas and the San Francisco Symphony present four performances of Mahler's Symphony No. 2 in C minor "Resurrection" beginning Wednesday, June 29 through Saturday, July 2. Along with the SF Symphony Chorus, soprano Karina Gauvin and mezzo-soprano Kelley O'Connor are featured in Mahler's transcendent work. Kelley returns to Davies Hall in February 2017 for The Gospel According to the Other Mary, an opera composed for her by John Adams. She is also featured on the SF Symphony's recording of Beethoven's Mass in C major. Karina Gauvin's last appearance with SF Symphony was in January 2012 in a compelling multi-media presentation of Debussy's Le Martyre de Saint Sébastien. The event included mezzo-soprano Sasha Cooke, narration by Frederica von Stade, and a dance video featuring Damian Smith and choreographed by Myles Thatcher - both with San Francisco Ballet. Karina's debut with SF Symphony was in 2011, Mahler's Symphony No. 2.
"Something's coming," said superstar soprano of Baroque opera, Karina Gauvin. "I'll be doing it again in July in Colorado with conductor Yannick Nézet-Séguin and the Philadelphia Orchestra. Twice in the same summer! It's a very meditative piece. You're sort-of mucking around for a while, but at the end is a very big apotheosis. It's a re-birth energy that's surrounding us right now. I really think this piece has to be taken in that way."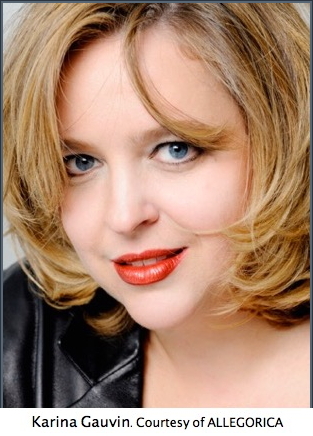 "Elizabeth Schwarzkopf was famous for saying it was one of the most difficult things to sing because you have to rise out of the murkiness - like the angel voice at the end. It's all about control and having to connect with something. You have to connect with the universe, to be on a straight line. When singing Baroque repertoire - what I've been accustomed to in these past several years - if you're going through a role throughout an opera, there is a progression. Often for the soprano, all the juicy bits will come at the end. You've been through a journey with the first two or three acts and now you are ready to blossom. With the Mahler, it's an instant blossom - like an accelerated video of a flower blooming. For me, the soprano part in the Resurrection Symphony is definitely that - this image of rapid blooming. And you have to be ready for it! That is the big challenge in this piece."
Karina occupies a particular corner of the classical world - where a modern classical singer can sustain a career in 18th century opera and never sing a note of Puccini or Verdi. Karina worked with Alan Curtis, famed Baroque musicologist, conductor and harpsichordist. Does she ever venture outside this arena to sing the popular or "standard" repertoire of 19th and 20th century Italian, French and German operas?
"Funny you should ask! It has been pretty much this steady fare. During the last ten years of [harpsichordist, musicologist] Alan Curtis' life, I was his go-to soprano. He would say to me, 'You are the ideal Handelian soprano.' I worked with him on so many projects, recordings and tours. For many years I've been hearing that I should be gearing myself toward 19th century repertoire. The furthest I've gone is the role of Vitellia in Mozart's La Clemenza di Tito in Paris at Théâtre des Champs-Elysées. I'll be doing it again in November at Teatro Real, Madrid. So, I am slowly venturing into another realm. Two weeks ago I sang the title role in Gaspare Spontini's Olympie. It's a rarity - an early 19th century opera. Spontini also wrote La Vestale which Maria Callas sang. It's the beginning of the grand French operatic style. The production was done in co-operation with the Festival Palazzetto Bru Zane - a research center in Venice. They are actually unearthing a lot of 19th century French works. Olympie was the big center piece of that festival and it was recorded. It will be available soon. It was a big thing!"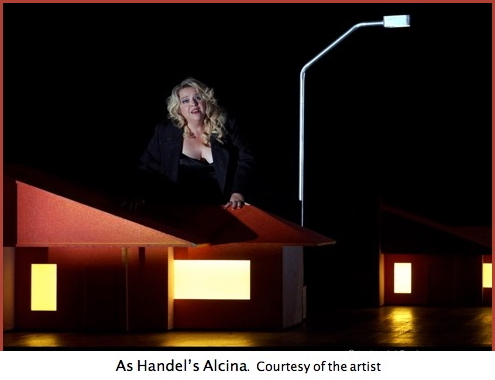 I admitted to Karina my early obsession with coloratura sopranos, particularly Beverly Sills and popular French diva Renée Doria. Each of them recorded Massenet's flamboyant Thaïs. That admiration / passion led to the study of their complete repertoire, including Sills' pivotal recording of Handel's Giulio Cesare. The day before our interview, I was glued to Karina's videos on YouTube. My new 18th Century heroine! "Where have you been all my life?! Did Baroque opera just fall into your lap?"
"When I first ventured out, when I finished my studies at the Montreal Conservatory - my teacher did not want me to join any opera ensembles. She felt my voice was still a little fragile and I agreed with her. The best way to work my voice was to go out and do a lot of concerts. The Baroque repertoire suited my voice very much. So, it was a marriage made in Heaven. If you are constantly wanting to sing something other than what is suited to your voice, that's when trouble strikes. I enjoy the Baroque repertoire very much, all the florid singing. Next June I'll be at Boston's Early Music Festival [André Campra's Le Carnaval de Venise] in the full Baroque style with fluffy dresses and lots of feathers. So, I swing both ways."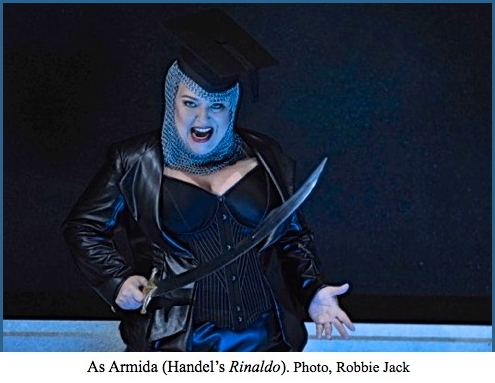 "It's make-believe. It's fun to be able to do both the modern and traditional versions. But to do it right is hard work - getting the breath to do those phrases, all the expression, the coloratura - all these things that Alan Curtis instilled in me and all the singers who worked with him. As the research on Baroque technique increased, so did the richness of what people heard in the performances. I've sung so many Baroque operas in concert version. In Europe, it's a craze and the halls are filled."
Calling all HuffPost superfans!
Sign up for membership to become a founding member and help shape HuffPost's next chapter