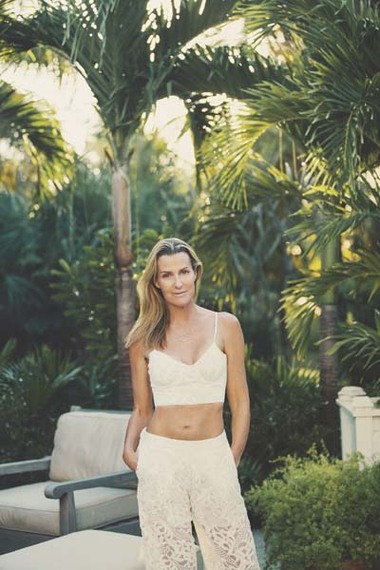 Who wouldn't want to be invited to India Hick's slice of paradise in the Bahamas? Just look at her Instagram feed and you'd be begging for a golden ticket to her world replete with hammocks, yoga on the beach and as in the case last Christmas, a dinner for 70 people under the stars and palm trees. But don't let the island life mislead you into thinking that India's life is all about R&R because as India says, she may "live near the beach, but I don't want to lie on it." She is constantly producing collections for her jewelry, bedding and decor lines. She also has a bath and beauty collection with Crabtree & Evelyn. She's written books, does royal commentary on television and runs a boutique.
Below, India talks about her unique name, family life and her idea of happiness.
When I wake up... I look to see who I've just slept with. Could be David (Flint Wood), a dachshund or a child.
Before I go to bed... I start making lists for tomorrow.
A well-dressed man... is incredibly sexy.
Women should always... remain independent.
Men should never... tell you you're the oldest women they have ever slept with. As David did the other day. What a rotter.
The best thing that's been said to me... "I want to stay with you." My foster son told me, after his mother died.
The biggest misconception about me... is that my parents were a couple of hippie's who dreamt up the name India during some kind of acid flashback.
If I weren't doing what I'm doing today... I'd be very, very bored. I may live near the beach. I don't want to lie on it.
My legacy... I could not claim to have one. My grandparents were Viceroy and Vicerene of India by my age. I've got to get a move on.
A great idea... is almost always an impossible one.
My mother... is the center of my life. Engaging, enchanting, and witty she has had a uniquely vantage window onto many important moments of the middle of the last century.
The soundtrack of my life... Happy Birthday To You. I have five children. It always seems to be someone's flipping birthday.
The future... is always bright, as long as my family are happy healthy and safe.
Happiness... a big old bag of licorice.
There's a time and place for... internet shopping, and its not late at night. The last time I shopped after midnight two sets of sofas turned up instead of two sets of covers.
There is too much... dog s**t in our garden.
In the end... we are simply dust.
All photos with permission from India Hicks.