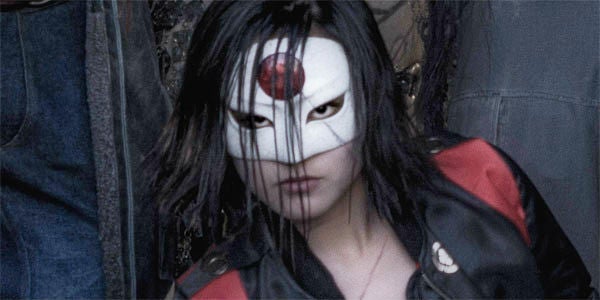 This summer's hit blockbuster Suicide Squad is available today on blu-ray and DVD, and a few months ago, I had the opportunity to interview actress Karen Fukuhara, who plays Katana in the film.
Born to Japanese immigrants in Los Angeles, Fukuhara had her first big break as a host of the Disney Channel show "Movie Surfers," and she also had TV opportunities in Japan. Her role as Suicide Squad's Tatsu Yamashiro (a.k.a. Katana), a Samurai assassin with a sword that traps souls, is her big screen debut.
Here are the highlights from my conversation with actress Karen Fukuhara:
Q: I read that you are a first generation American, as both of your parents were born in Japan. How did that influence you growing up?
Karen Fukuhara: My childhood consisted of a mixture of American and Japanese culture. I would go to regular school during the weekdays, then go to Saturday school to learn all subjects in Japanese. I grew up in a Japanese household while immersing myself with American friends, education, traditions, etc. outside of my parent's home. Almost every summer break, I would visit my relatives in Japan. I would stay for 2-3 months, sometimes attending schools in Japan because their summer vacations are much shorter than American schools.
Q: What made you decide you wanted to be an actress and how did you get your start?
Karen Fukuhara: I started acting in middle school when I was cast in a TV show called Disney's "Movie Surfers." Long story short, through this experience, I met a casting director who introduced me to a management who eventually got me the audition for Suicide Squad.
Q: When did you start studying martial arts and how far did you get?
Karen Fukuhara: Started in middle school, and competed throughout high school. I got to my brown-stripe belt in Kyokushin Karate, one step before black! I need to go get that black belt.
Q: What was the audition process like for the role of Katana?
Karen Fukuhara: Very secretive! I had no idea what I was auditioning for, aside from my sneaky Google searches. I loved that they incorporated martial arts and sword fighting in the audition.
Q: I read that Suicide Squad director David Ayer wanted the actors to do as many of the stunts as possible. How much physical training did you have to do for the role, and did you train with the other cast members or by yourself?
Karen Fukuhara: Training and rehearsals began a month and a half before shooting. We did trained in fitness, martial arts, and for me, sword fighting. Martial arts training was done in a group setting.
Q: In the movie, you wear a mask covering the top part of your face. Did it impede you at all in the action sequences, or did you find it helped you get into character?
Karen Fukuhara: The mask was made specifically for me, so the fit was great. However, it didn't give much breathing room so I was sweating bullets during the action scenes! Katana's mask and wardrobe helped get me into character every day, so I am thankful for how thoughtful Kate (the costume designer) was in creating the look.
Q: This first movie had to introduce a lot of characters, so we didn't really learn a lot about Katana. Do you hope her backstory is showcased more in the Suicide Squad sequel, or are you hoping Katana gets her own spin-off film showing how she came to be who she is?
Karen Fukuhara: Most definitely! I'd love for her backstory to be seen. She has so much depth and history with her husband and Soultaker, it'd be a shame never to see it on screen. It would be cool to have a Katana stand alone film followed by a Suicide Squad sequel, because then more of what she does in SS would be understood (for the non-comic reader fans!).
Q: Being in a superhero movie comes with the perks of having collector statues or action figures of your character. How does it feel seeing your likeness as a doll or statue? Have you collected any of the Katana merchandise yourself?
Karen Fukuhara: IT'S AWESOME!! How many people can say that they have a mini replica of themselves?! I have a shrine at home.
Thanks to Karen Fukuhara for taking the time for this interview, and thanks to the folks at Spooky Empire horror con for helping to arrange it.
Fukuhara is currently filming an action thriller called Stray, due out sometime in 2017. You can also find her online as @KarenFukuhara on Instagram and Twitter, to which she posts regularly.
Catch her in action in this Suicide Squad character promo video from Warner Bros. Pictures:
Calling all HuffPost superfans!
Sign up for membership to become a founding member and help shape HuffPost's next chapter
This post was published on the now-closed HuffPost Contributor platform. Contributors control their own work and posted freely to our site. If you need to flag this entry as abusive,
send us an email
.