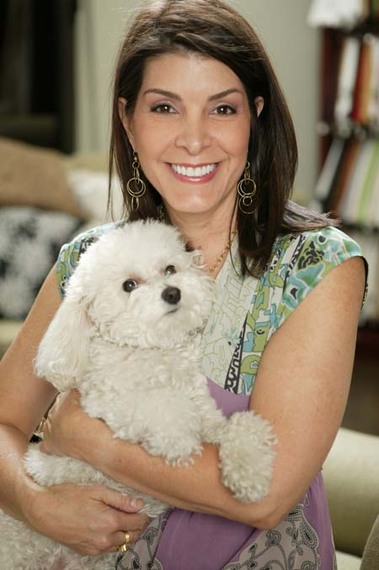 Kim Seybert started her career as a fashion designer but it is in the home industry, particularly in tabletop accessories, which she really made her mark. If you care about table settings, chances are you own something from Kim Seybert, be it a beautifully embroidered placemat, a beaded napkin ring or one of her elegant melamine plates. Seybert brings unparalleled fashion and glamorous style to table settings. Below, I talk to her about her idea of happiness and the one thing women should strive for.
When I wake up... my dog Sophie snuggles with me.

Before I go to bed... I must read something.

A well-dressed woman... should dress age appropriately.

Women should always... keep some independence.

Men should never... be afraid to be vulnerable.

The best thing that's been said about me... is that I have a "big" heart.

If I weren't doing what I'm doing today... I would have five kids and be a stay-at-home mom.

My legacy... is being one of the pioneers of "fashion for the table" and elevating the art of setting the table to a new level.

A great idea... is simple and timeless

Botox is... only good in moderation.

My mother... had a great sense of style.

The soundtrack of my life... Someone Like You by Van Morrison.

The future... is full of exciting possibility.

Happiness... is laughing until you cry!

There's a time and place for... being silly and acting like a child.

There is too much... unnecessary sharing of personal information.

In the end... what is important is living your life with character.... honestly and fairly.
All photos with permission from Kim Seybert.
Follow me on Twitter and Instagram: @bluecarreon