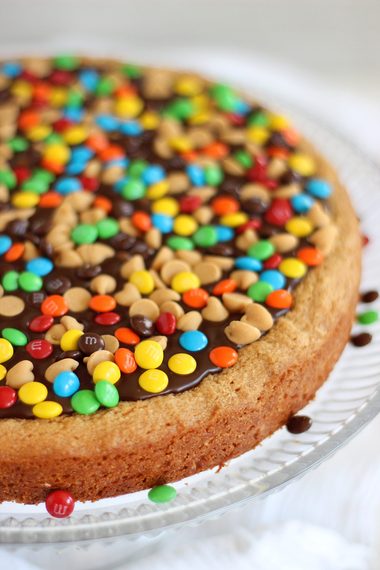 This chocolate peanut butter cookie pizza is amazing! The crust is ultra-thick. It's the thickest, softest, and most peanut buttery cookie crust you can find. It probably qualifies as a bit more than a cookie pizza crust, and maybe these are more like cookie bars, but whatever – I'm going with 'super thick cookie pizza'. K? That was my original idea, and I'm sticking to it!
And here it's giving us a super thick and chewy peanut butter cookie pizza.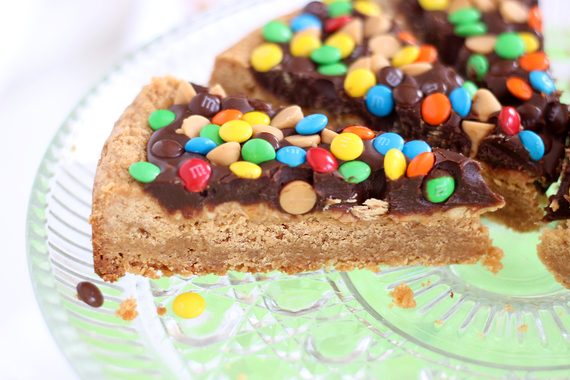 What's perfect about how this cookie crust bakes is that it makes a nice little well. It puffs at the edges, and is slightly flatter in the center. It provides exactly the right dam for trapping in a pool of melted peanut butter and chocolate ganache to top it with!
I used creamy peanut butter in the crust, but crunchy for the topping. Why? Well, I ran out of creamy peanut butter. It's a rarity to run out of peanut butter at all in my house, but if we do, it's usually creamy. I'm definitely more of a crunchy gal myself – at least, when it comes to eating it by the spoonful, and so I never risk running out. We carry way more crunchy PB in this house than creamy!
The crunchy peanut butter worked out nicely though because the peanuts provide some texture and crunch!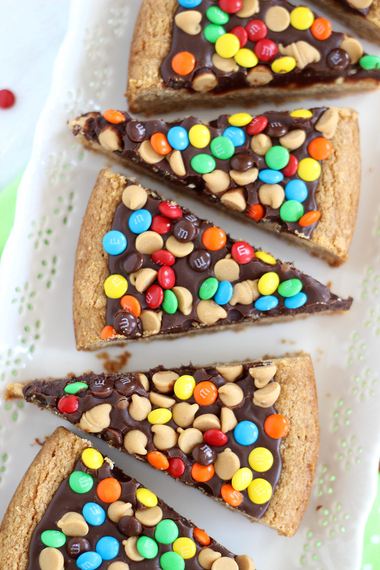 Next up is a layer of rich and creamy chocolate ganache. You can make the ganache easily in about one minute's time in the microwave. It's incredible combined with the layer of peanut butter!
When you're sprinkling on the M&Ms and peanut butter chips as the topping, don't worry too much about precision! I used about half cup of each, but use as much as you like.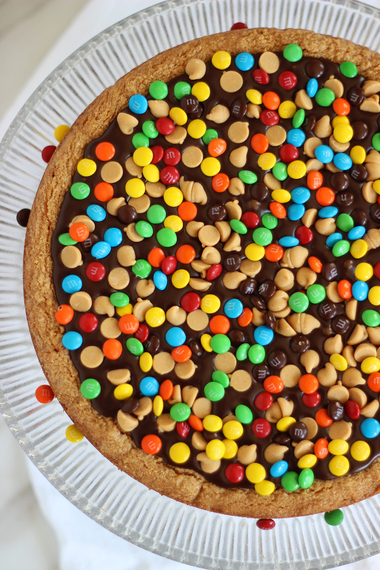 I wanted them to cover nearly the whole top of the cookie pizza so that there are M&Ms and peanut butter chips in every bite. This fantastic chocolate peanut butter cookie pizza is simple to prepare, and is wonderful and decadent treat!
Sarah has an affinity for shiny golden objects, hence the name of her blog: The Gold Lining Girl. Peanut Butter's the one thing she'd take to a desert island, so it's only right that she's our Peanut Butter Fanatic!