Firefighters in the Spanish city of A Coruña took a stand and thumbed their noses at authority on Wednesday, refusing to break down an apartment door to evict a woman in her eighties.
HuffPost Spain reports the city's firefighters refused to kick in Aurelia Rey's door after activists and supporters had rallied near her home to prevent the eviction. The firefighters were later seen supporting a sign saying "Stop Evictions" from their truck.
Rey, 86, has been living in her apartment in the center of A Coruña since 1979, El País notes. The octogenarian survives on a monthly pension of 356 euros -- a third of which she pays in rent. Rey's closest relatives live in Buenos Aires.
El Correo Gallego reported that Rey was offered two different social housing units, but declined them, as they would force her to move far from her current neighborhood. Surrounded by supporters, Rey told reporters on Wednesday that she was "tired" but "well."
Wednesday's incident was the third attempt by officials to evict the woman.
On Thursday, the firefighters union of Catalonia expressed its support for the firefighters who handled Rey's case in A Coruña, saying it will no longer aid in evictions. EFE reports that in a statement, the union stressed it will only force residents' doors in cases of emergency, "as the law dictates."
The growing number of evictions has been one of the most painful results of Spain's burst housing bubble and economic crisis. According to numbers reported by the Associated Press, more than 350,000 Spaniards have received eviction notices since the beginning of the crisis in 2008.
Despite a government promise to end evictions of families in need, a worrisome number of Spaniards have chosen to commit suicide rather than be forced from their homes. Last week, four Spaniards facing eviction took their own lives. The Associated Press explains that evicted homeowners in Spain remain liable for huge payments, even after eviction.
Before You Go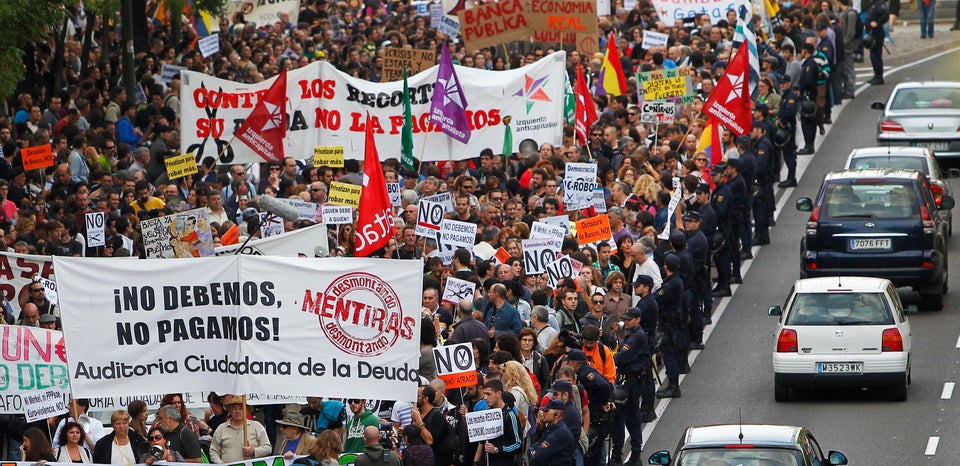 Spain Anti-Austerity Protests
Popular in the Community