Class is on with Countess Luann de Lesseps from the hit Bravo series
The Real Housewives of New York City
. On May 19th, Countess Luann stopped by
AOL BUILD
to chat about life in the reality TV world of Bravo series
The Real Housewives of New York City,
her upcoming marriage, and more!
Nurse Luann
Luann went to nursing school in Connecticut. She is a nurse. She was scouted to model when she lived in Connecticut; this venture led to her first trip to New York City.
Broadcaster Luann
"I started as the Vanna White of Italian television. I didn't speak Italian, I was spinning letters ... A producer said 'if you learn Italian you could go really far', so I learned Italian"
Bilingual Luann
Next, Luann learned French. Luann was skiing in Switzerland with her then-boyfriend when she met her soon-to-be-husband at a dinner party. They got married 2 weeks later and unbeknownst to her, she became a Countess. The de Lesseps are behind the Suez Canal and other infamous infrastructure.
Taking Meetings
Countess Luann had prior broadcast TV experience which she was looking to put to use in the United States. Therefore, Countess Luann was "taking meetings" that fated summer in the Hamptons when she met the Zarin family.
Meet The Zarins
Meanwhile, in the Hamptons, Countess Luann and her 21-year-old niece were at a party. She noticed a man buying her niece tequila shots at the bar. Naturally, Countess Luann wanted a shot, too... and that's when Jill Zarin came over and saw her husband Bobby Zarin with these two women. The rest is history, or shall I say, her story.
Watch Countess Luann tell the story below:

After further discussion with Jill Zarin, the two had more in common than Bobby Zarin buying them tequila. Jill Zarin had a daughter, Aly around the same age as Countess Luann's daughter Victoria de Lesseps. Jill had already been in talks with Bravo to appear in a reality series Manhattan Moms and thought Countess Luann would make a strong addition to the cast.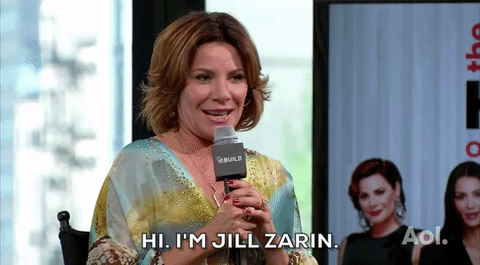 The cast was paid $10,000 for the first season of The Real Housewives of New York City.
"This Season on The Real Housewives..."
This season on Bravo series The Real Housewives of New York City, tension is brewing between Ramona Singer and Countess Luann. When asked about whether Ramona was invited to her recent birthday party, she informed the live studio audience that it was a surprise party in which she had no guest list input.
Would Ramona Singer be invited to the wedding? That answer may depend on the upcoming The Real Housewives of New York reunion.
Countess Luann's Upcoming Wedding
After wishing and hoping and redoing her summer house, she has found love once again. In February 2016, LuAnn accepted the marriage proposal of Tom D'Agostino Jr. She maturely acknowledged the wonderful times she shared with her ex-husband, Count Alexandre DeLesseps, throughout the course of their marriage.
Will the wedding be televised? At first, Countess Luann said no. Then, after hesitating, it seemed like this topic was up for discussion. Countess Luann took a survey of the audience, asking if they thought the wedding should be 1. Private 2. Televised on Bravo. The crowd roared for the latter option. Take note, Andy Cohen.
When asked if she will still be a Countess despite the new marriage, she responded "Once a Countess, Always a Countess."
Countess Luann: The Designer
Countess Luann has a new clothing line, The Countess Collection. The Countess Collection is available now on evine.com. She will have a fashion show for the line on June 2nd. Countess Luann is also coming out with a bridal bedding line. When asked what was different about bridal bedding, she replied with a "regular dress vs. wedding dress" analogy.
Countess Luann: The Singer
A woman of many talents, Countess Luann is also a recording artist. You may be familiar with hits like "Money Can't Buy You Class," and "Chic C'est La Vie." Despite the song lyrics, Countess Luann informed the live studio audience that "Class is about how you treat people."
Have you heard her most recent single "Girl Code"? Countess Luann's beats are all about empowering yourself and other women.
Countess Luann: The Actress
Countess Luann will be appearing in Season 2 of hit Hulu Comedy Series, Difficult People. When asked how the role came about, Countess Luann shared a story about her connection to Julie Klausner, the creator of Difficult People. Prior to (finally) being given her own TV show, TV recaps were one of Julie Klausner's many projects. Klausner gained notoriety for her Vulture Real Housewives recaps. In both her writing and her podcast, Klausner has made it very clear that Countess Luann is her favorite housewife.
Countess Luann got word and said "I have to meet this woman."
"I met her for breakfast and she asked me to be on the show. I was so thrilled because I love scripted and I love comedy. That show is coming up in July and I play one of [Julie Kessler's] friends."
Calling all HuffPost superfans!
Sign up for membership to become a founding member and help shape HuffPost's next chapter