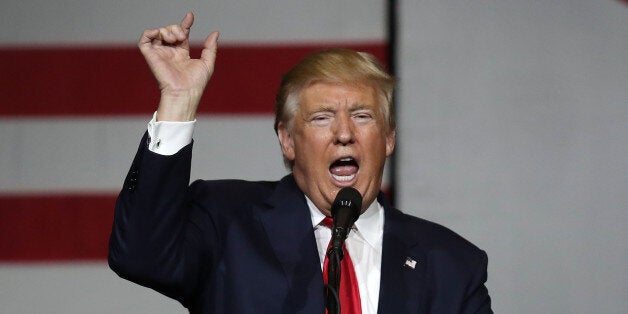 As the country looks toward November 8, it is important to remember that there actually is something more important at hand than the results of the presidential election. The biggest issue at stake is the health of our democracy, which rests on the ability of millions of Americans -- no matter who they voted for -- to accept and to unify around legitimacy of the electoral process and its outcome.
We are living through a very real world demonstration of the notion that words have serious consequences. The conspiracy theories being spun by Donald Trump and his supporters since his speech in West Palm Beach last week are not new. Whether intentional or not, Trump channeled age-old, anti-Semitic tropes when he invoked a conspiracy "controlled by a small handful of global special interests" or Secretary Clinton's so-called collaboration with "international banks that plot to destroy US sovereignty to enrich her donors."
Do others hear a dog whistle? A desecrated American flag left outside a synagogue in Tampa this weekend scrawled with a message blaming the Jews for media bias and open borders could be an indication that indeed some hear the signals.
And yet concern about such odious rhetoric transcends the Jewish community. Indeed, we have seen all types of minorities denigrated over the course of this campaign. But even if only one group was singled out for continuous demonization and constant ridicule, it still would weaken our entire democracy and affect our whole society.
Intolerance grows and spreads when it is given the warm light of day. Today, it has oozed out of "alt-right" websites or obscure Reddit threads to land in the Twitter feeds of tens of millions of people. Over time, it seems that we become desensitized to it, even numb. I even admit that ADL has stopped responding to every problematic statement or tweet we come across because, if we didn't, it's all we would do.
And yet perhaps even more challenging, we increasingly are hearing unsupported but proliferating claims that our election process is itself "rigged." Such claims carry tremendous risk. They potentially could trigger very dangerous reactions that could shake our democratic culture and way of life. Indeed, this political season already has been blemished by spasms of violence, whether directed at protesters at rallies or the recent firebombing of a local party headquarters.
Make no mistake: a strong democracy where rule of law and due process are respected and even revered is what makes it possible for people of all faiths and backgrounds to not just live in peace, but thrive, in America. That is why it pains me to see not just the demonizing of Jews or other Americans, but also the poisoning of the public square.
In the face of such hazard, silence simply is not an option.
As a nonprofit, we do not advocate for any candidate to win. Nor do we seek to judge or intuit what is in any public figure's heart. But we are duty bound to raise concern about the poisoning of the public debate. Undermining respect for the foundational American ideals -- like freedom of the press or due process -- that have sustained this republic for more than 200 years potentially jeopardizes decades of social progress and our very societal fabric.
Regardless of whether or not Trump wins the election, he can make a significant contribution to the public good in the coming weeks by rejecting this harmful rhetoric. Americans hunger for leadership that summons our better angels. No matter how tough campaigns may get, it is incumbent on those seeking office - especially the highest office in the land - to do so in a way that enhances our democracy and our society rather than tear both apart. This is not only the responsibility of elected officials or political candidates.
We at ADL call on people of good faith -- representing all religious traditions, all ethnic groups, and all political persuasions -- to call out slurs aimed at our fellow Americans and to condemn heated rhetoric directed against our democracy. But this call to action is not limited to the speeches of public leaders. We must heed the call even with our friends and followers on social media and with our colleagues and acquaintances in private conversations.
More importantly, November 8th isn't an end. It's just the beginning of difficult, painstaking work that must take place in the days and weeks, months and years ahead to refute the demons of anti-Semitism, racism, misogyny, and illiberalism that have characterized this race. We will need to address these ills head-on and to utilize the very same technologies that have allowed them to spread like viruses in recent months.
In the same manner that people pull together to repair a community after a natural disaster, the American people must prepare to pull together after Election Day. It will require all of us to heal the damage done to our country by this man-made perfect storm. It is work that will not be accomplished by any single organization. It is a task that is not the sole responsibility of any single political party.
Regardless of how you look, how you pray, or how you vote, this is a job that all Americans will need to undertake, together. Hand in hand, we can climb out of the debris of this election to rebuild and refortify our shared society. There is no alternative.