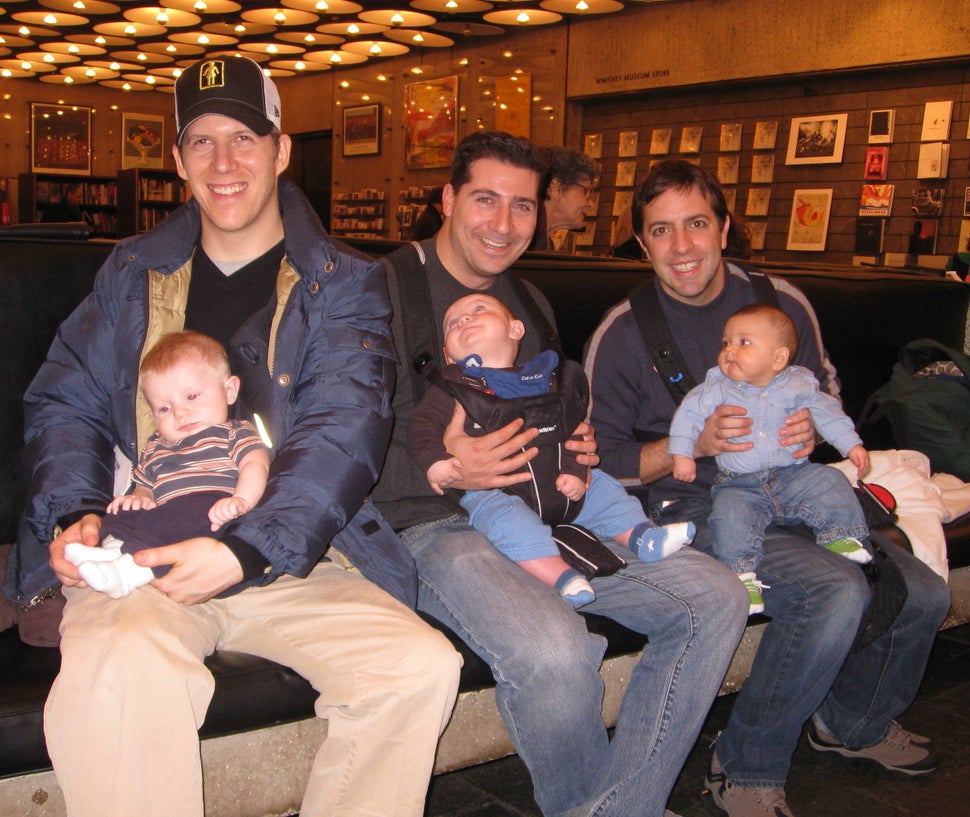 While all of these cultural shifts are occurring, the resources for fathers have not developed fast enough. That's why we partnered with Brawny paper towels to share the story of two dads by the names of Lance Somerfeld and Matt Schneider who have been on a mission to fill that void. In 2008, they started City Dads Group, an online community that offers meet-ups, education and support for expectant fathers and dads in cities across the country.
The impetus to create such a community evolved out of Matt and Lance's personal experience. Both were former teachers at P.S. 86, the largest elementary school in the Bronx. When Matt's wife got pregnant with their first child, Matt decided to take advantage of the Child Care Leave Of Absence, which enables teachers to take up to five years off with a guarantee that they can return to a position. Lance followed suit two years later.
"Really, it just made the most sense," Lance recalls. "I love working with children. What better person to be a role model and mentor, and to really kind of hone my time, than with my very own child."
Like Matt, Lance decided to take the plunge and stay at home as the primary caregiver. "I had zero experience handling a newborn and was terrified, but excited to take it on. Our son came a month early and I never looked back." It's been 9 years since Lance has been out of the traditional workforce. But he's truly been working his tail off ever since.
Becoming a new parent was tough. "It's perpetually living with the idea that you are imperfect. My ego took a lot of hits. In the sense that, when you take something on, you want to get good at it. And parenting is just something that you can never quite get your arms around because, once you feel like you're in a good place, another shoe drops and a new phase begins."
Without a doubt, parenting takes patience, strength and resilience. It was the winter of 2008 and Lance was isolated in a tiny Manhattan apartment with his newborn son. He was grateful to have Matt as his support network.
"We would get together once a week and it was cathartic to speak to someone who wasn't an 'expert' but more of a 'veteran'… Just to be able to get those perspectives...Things that moms' groups talk about all the time but - with no community - dads hunger for."
Even though she was back at work, Lance's wife was able to attend new mom lunches and to join Mommy & Me programs. Lance described, "There's a whole army to help the new mom." He was only able to find one resource geared towards new dads at the time: a program at the 92nd Street Y called Park Bench for Fathers. The sense of community that Lance felt from the father's group and the lunches with Matt were the germination for City Dads Group. A self-described "people person, [Lance] thought, selfishly, wouldn't it be great if I had more of those experiences. And Matt did too."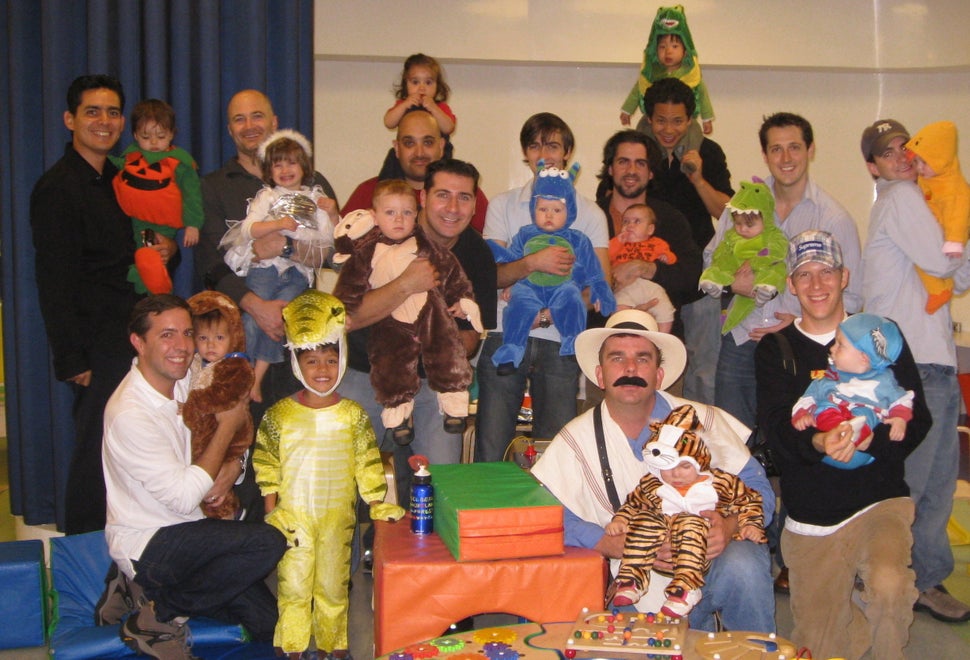 They started small. He and Matt and two other dads from the 92Y program would regularly make plans to meet up. Lance remembers a day at the Whitney Museum when the group decided to go down to the cafe for lunch. "You know, we were baby-wearing dads at the museum. And back, 10 years ago, that was a big deal. The comments, the gawking looks we got, you would have thought that we were out of the zoo."
Lance and Matt noticed the children's gyms around town that offered a dozen "Mommy & Me" classes featuring a buffet of activities, but nothing for dads, which just reflected the cultural offering. They decided to show up to free trial classes with half a dozen dads. "We really just wanted [to get] dads together to meet face-to-face."
Matt and Lance also wanted to create educational opportunities for the community, such as "New Dad Boot Camp." As Lance describes, "New dads have very few resources. The expectant dad has nearly none." So the group offers a one-time three-hour class where dads-to-be can learn about becoming a new parent. They also invite new dads to attend with their small babies, who Lance qualifies as "the real teachers." They encourage the group to pass the babies around so that the expectant fathers can get experience holding, soothing and changing an infant before they have their very own.
The small New York City group grew through word-of-mouth and by posting on meetup.com.
The original group name was NYC Stay-At-Homes Dads Group but, the largest learning for Lance and Matt in the initial months was that dads with all kinds of employment status were interested in joining.
"It just makes more sense not to pigeonhole ourselves to just be a stay-at-home dads group, we'd be a better resource and serving the community better if we served dads of all stripes."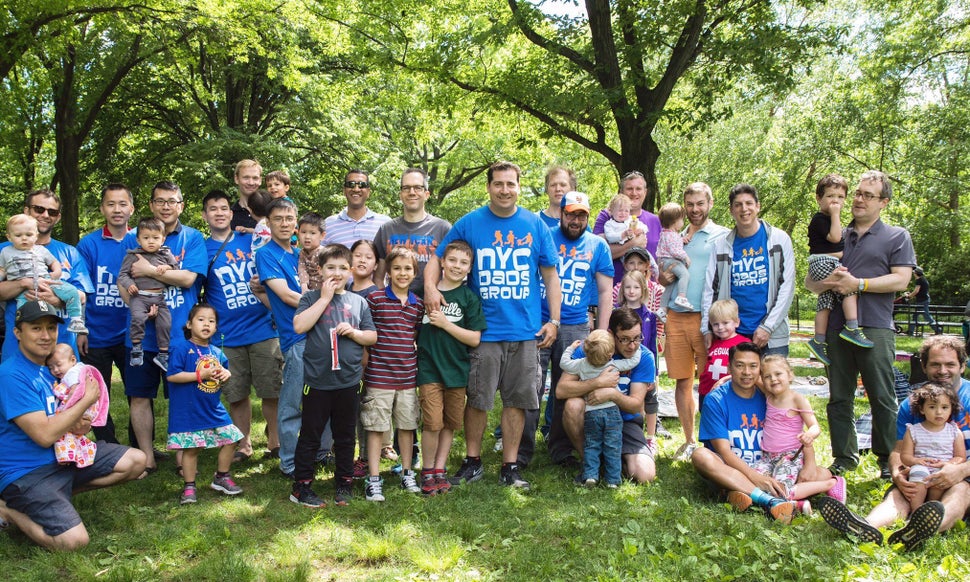 Members who moved to different cities wanted to create communities in their new towns. Matt and Lance were hesitant at first until they were approached by a brand who wanted to activate with the group in New York, Chicago and Los Angeles. With former members in both cities, they quickly assembled new groups in Los Angeles and Chicago and set the group up to receive financial support.
And so, the City Dads Group went national. They decided to focus on major cities because they felt that it was important to impart some of the successes and wisdom that they'd learned from their experience in New York.
"For us it's not important what the actual city [is], we invest in the people. We want someone like us who really has a shared vision for creating a really great resource and opportunity for dads to get together with each other… It's very important to us to be open to gay, straight, single, married, young and old. If a dad wants to be invested in the upbringing of his child's life, that's the kind of member we're looking for. That's really our only criteria when we have people join.
When asked about how the group and, more specifically, the new fathers have changed since the group began, Lance describes, "Several years ago a lot of guys were being pushed to sign up, these guys are finding the classes on their own."
More recently, one of the important subjects that many of the dads in the group talk about is the work/life balance and paternal leave. Despite the fact that many employers now offer paternal leave, many men don't feel as if they can take advantage of it.
"The culture of the workplace doesn't quite match some of the new policies that are out there… They're feeling vulnerability that if they don't get back to work that their position might be in jeopardy...My two cents is that, if you think about a 40-50 year career, when you look at the grand scheme of things, what is an extra week or two when you are only going to have one or two children?"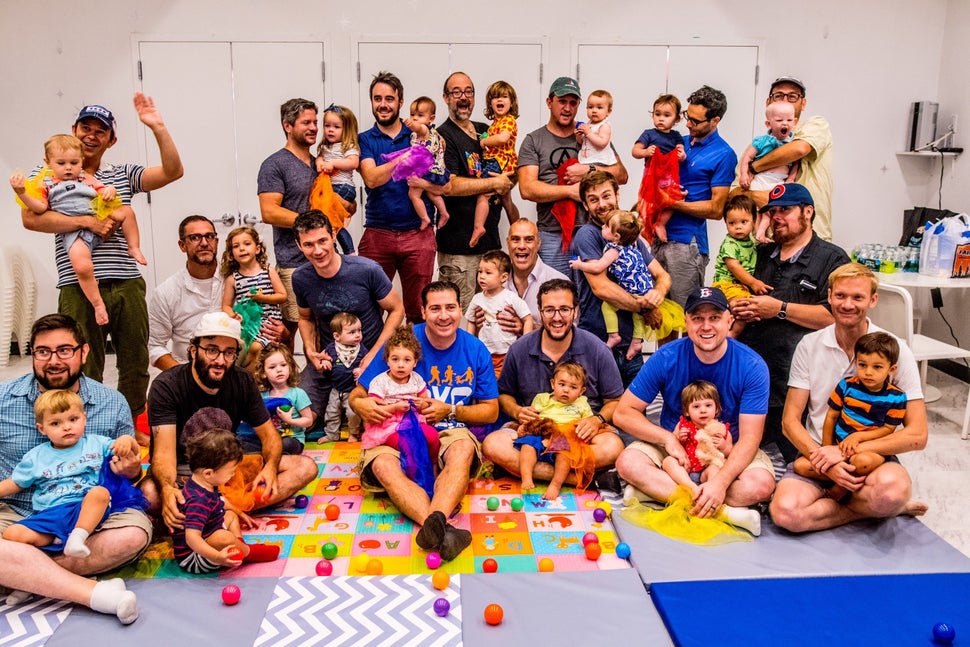 Now, almost ten years since its inception, City Dads Group is in 36 cities nationwide. The flagship, NYC Dads Group, has around 1800 members and, nationally, they have grown membership to over ten thousand members. The chapters can share resources, create synergies and learn from each other's programming. Lance and Matt are admittedly proud to give ten thousand dads a reason to get out of their home to meet up with other likeminded men.
"That's why we created this platform, this is really what we wanted to be able to give back to the community. This space for fathers. These guys who are thirsting for resources, these guys who are struggling as parents and needed a way to connect, both online and off. That's kind of our legacy."
While parenting is one of life's most joyful and rewarding experiences, it can also be filled with challenges. It takes love and dedication, but also some blood, sweat and tears. Brawny paper towels is proud to salute all parents who face everyday challenges with strength and resilience. Brawny is here to help for those occasions when life can be a beautiful mess.
Related