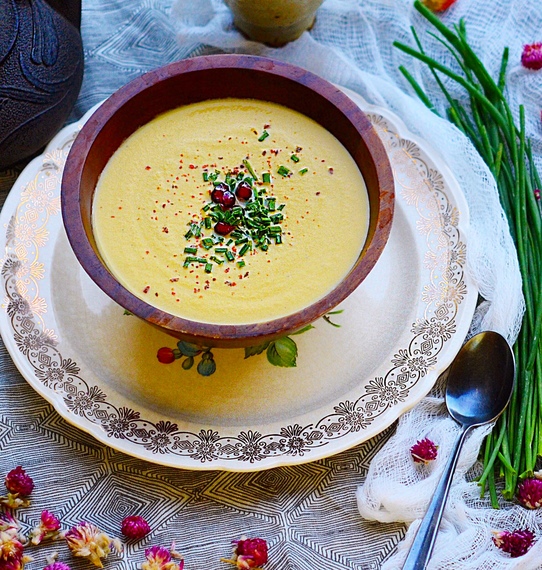 Thanksgiving is here, friends. Soon everyone is gathering around for the holiday feast, so what to serve those that don't partake in that big ol' turkey or anything with dairy? This creamy cauliflower soup is luxuriously creamy (sans the cream) and pairs well with Thanksgiving fare. Not a touch of dairy-- only plant-based goodness in a bowl. You can whip this up, no problem.
I made this the other night as a complete after thought. I had a head of cauliflower, vegetable broth, a few leeks, and a half an onion in my fridge. There was a can of organic coconut milk left in the pantry from my forays in making Thai curry, along with some mild curry powder that is my favorite go-to on anything I want curry spice on that isn't spicy-spicy (my kids aren't into spicy yet). The golden color of turmeric suits any head of cauliflower in a roasting pan, plus it smells incredible when the aroma of curry wafts through the kitchen. I had cashews on hand, well, because I love them, and they are very versatile for making creamy vegan anything-- soups, dressings, cream, etc.
My usual Thanksgiving soup is a pumpkin squash soup (and my roasted carrot soup also pleases a crowd if you're looking for more vegetarian soup recipes). This cauliflower soup is surprisingly creamy and adds an elegant touch to any fall/winter holiday menu. Dress it up with any other garnish you like: pomegranate seeds give a festive pop of color, a drizzle of gourmet hazelnut oil, a sprinkle of spices, or just a pinch of chives.
2 tablespoons olive oil
2 leeks, whites only, sliced
1/2 white onion, sliced
4 cloves garlic, smashed
1 large head of cauliflower, trimmed and cut into florets
4-6 cups vegetable broth
1/2 teaspoon ground coriander
1/2 teaspoon ground turmeric
1 1/4 teaspoons ground cumin
1/2 cup coconut milk
handful of raw cashews (about 1 cup)
1-2 teaspoons sea salt, plus more to season for roasting
mild curry powder
1/2 lemon, juice
1/2 cup finely chopped chives
Turn on oven to 400F degrees. Prep the cauliflower and place in a large bowl. Pour a generous amount of olive oil all over the cauliflower and toss. Season lightly with mild curry powder and sea salt, then spread out on a large sheet pan to roast. Place in the oven for about 25-30 minutes until lightly roasted and golden.
Heat oil in a large soup pot over medium heat, adding in the onion and leeks. Cook the onions and leeks with a sprinkle of sea salt until fragrant and translucent, about 10 minutes. I let mine cook on medium-low heat until they are slightly golden. Reduce heat to low, add garlic, and cook until brown, about 8-10 minutes. Splash in some sherry, allowing the flavors of the leek, onion and garlic to mingle.
Pour broth into the pot and bring to simmer. Add in the cashews.
Once the cauliflower has roasted in the oven, remove and add cauliflower to broth. Season with coriander, turmeric, mild curry powder, and pinch of sea salt. Bring to almost boil over medium-high heat, then reduce the heat to low.
Working in batches, purée the soup in a blender until smooth. Pour the blended mixture into a clean soup pot. Continue until all of the soup is blended. I use my Vitamix blender to get the soup to a silky smooth consistency. You also have to blend the cashews into the soup which takes an extremely sturdy high speed blender like Vitamix. There are many other blenders out there, but this one has lasted me over 6 years and I use it every day.
Pour in some coconut milk to smooth out any thick consistency, and warm the soup gently on low. Taste and add more sea salt, pepper, or spices if you'd like. Sometimes a little squeeze of lemon adds some acidity to brighten the flavors.
To serve, ladle the soup into bowls and garnish with chives and a sprinkle of spices on top. Garnish with anything else you'd like.