It took the heartbreaking image of a drowned toddler lying on a beach in Turkey to finally wake the world to a humanitarian crisis that has been long brewing.
The desperate migration of thousands of Syrians into Greece and across Europe is but an example of a larger trend of people fleeing or being pushed from their homes to escape violent conflict, persecution, extreme poverty or diminishing economic viability. In short, they are leaving to protect their lives and the lives of their families. And they take huge risks to do so. Witness the Syrian migrants left to suffocate in a truck in Austria, and the many victims of drowning, as refugees board rickety boats in Turkey or the North African coast for the harrowing journey across the Mediterranean Sea.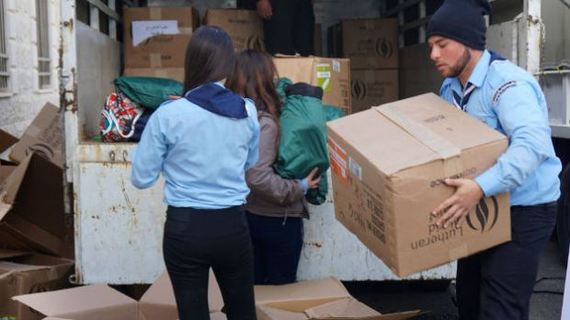 Photo by Loren Hyatt for Lutheran World Relief
We are witnessing a global level of migration not seen since the end of World War II, with nearly 60 million people displaced by war, persecution, disaster or extreme poverty. Nearly 20 million of these displaced are refugees who have crossed national borders -- 4 million from Syria alone -- and more than half of them are children.
The magnitude of this migration is beyond the resources of many of the receiving countries, and even for those like Lebanon who were initially hospitable to people from Iraq and Syria, the welcome is wearing out. The presence of so many may also exacerbate Lebanon's own divisions -just as immigration influx is heightening tensions in EU countries. Clearly, we must ramp up our international humanitarian response.
There are a number of pressures acting as push factors that are fueling this migration trend. Conflict is one of the most obvious. War and conflict in places like Syria, Afghanistan, Somalia and Sudan, that have ruined the local economies and caused untold suffering, are forcing millions to flee.
Economic inequality is another cause. The double-edged sword that is globalization has provided opportunities for entrepreneurs around the world, but it has also increased pressure on small-scale farmers who can't compete with international markets, fluctuating prices and increasingly expensive inputs like fertilizer.
Migration is also spurred by changing climate that affects crop production and increases the frequency and severity of natural disasters. Climate change disproportionately affects poor and marginalized people who lack the access to resources, information and decision-making power to adapt.
Although immigration is fueling passionate debate in the U.S. and Europe over how welcoming we can afford to be, the reality is that 86 percent of refugees resettle in the developing world, according to the UNHCR, the UN's refugee agency. These countries are even less equipped to handle the influx, creating a situation many times more challenging than what we in the developed world face.
This is why international humanitarian NGOs such as Oxfam, Catholic Relief Services and the organization I lead, Lutheran World Relief, are committed to working with local partner NGOs to create lasting solutions to poverty.
This is a crucial moment where addressing root causes of migration can begin to stem the tide. As a global community, we must find an effective means of resolving the global and regional conflicts that are driving so many from their homelands. We must foster sustainable and scalable development to lift those who are migrating to escape extreme poverty. And we must hold governments accountable to uphold the rule of law and create a space for civil society to flourish.
This is not cost free and we have to be willing to devote hard-earned tax dollars, more private philanthropy, corporate resources, and international and domestic political and policy attention. But it is a great investment. In my three decades of government service and now as the president of an international relief and development organization, I've seen how often a seemingly localized event, such as a food shortage, can lead to political instability that escalates into a regional crisis.
We are at a "hinge" moment in history in which a number of factors are contributing to people on the move. The situation currently facing Greece affects Europe more broadly, and will inevitably affect us in the U.S. as well. Increasing immigration is only a symptom of the larger challenges our world is facing, and the solution lies at the source, not at the national borders. Smart and effective development requires getting ahead of this phenomenon, coordinating within and across regions, and combining diplomatic, humanitarian and market-based interventions. We must address the "push" factors creating this situation, whether conflict, grinding poverty, or the worsening effects of a changing climate.
A humanitarian investment in the developing world is an investment in stability and security that is critical for the global community.
Related
Popular in the Community