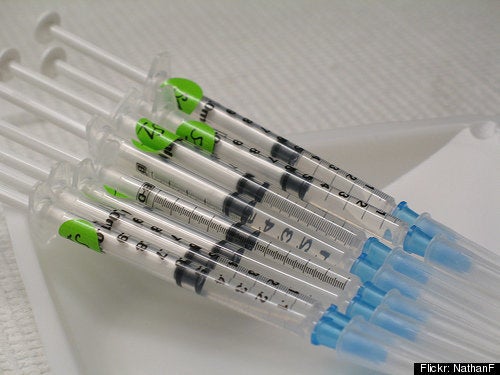 Since 1988, the U.S. government has prevented local and state public health authorities from using federal funds to deliver one of the most effective interventions available to combat the HIV and hepatitis C epidemics -- syringe exchange. One sentence in an appropriations bill strictly banned the use of federal money for such programs, and that one sentence has hindered our prevention efforts.
The decision on July 10 by a U.S. House subcommittee to remove that line was much welcomed -- and long overdue. And the decision on Friday by the full House Appropriations Committee to defeat an amendment that would have reinstated the language was courageous.
Now the full Congress must retain this needed language change and enable a more effective -- and cost-effective -- response to HIV/AIDS in America.
The HIV/AIDS research community has high hopes that it will.
During the past two decades, HIV/AIDS groups, including amfAR, The Foundation for AIDS Research and numerous others, have repeatedly called for the removal of the federal ban as we realized the kind of syringe exchange programs (SEPs) federal funding could support, and how effective they are in preventing disease transmission among injection drug users (IDUs) and their sexual partners. SEPs have also been endorsed by the World Health Organization, the American Medical Association, the CDC Director Thomas Frieden, numerous law enforcement officials, and former Surgeons General C. Everett Koop and David Satcher, among many others.
With the July 10 directive from the House Subcommittee on Labor, Health and Human Services, Education, and Related Agencies, and the Appropriations Committee's defeat of an amendment that would have reinstated the ban language, the full Congress now has the opportunity to base health policy on evidence that has told us for many years that SEPs are effective in reducing HIV incidence, do not increase crime or drug use, and are critically important bridges to drug treatment and other health services. Furthermore, SEPs take used syringes off the streets and help protect law enforcement personnel from dangerous injuries.
Injection drug use accounts for up to 16% of the 56,000 new HIV infections in the U.S. every year -- or nearly 9,000 people. They represent 20% of the more than 1 million people living with HIV/AIDS in the U.S. and the majority of the 3.2 million Americans living with hepatitis C infection.
But those alarming rates could actually have been much higher. A 2008 CDC study concluded that the incidence of HIV among IDUs had decreased by 80% in the United States over a 20-year period -- in part due to locally and privately funded syringe exchange programs.
Today, an estimated 185 SEPs operate in 36 states, the District of Columbia, and Puerto Rico, but many of these programs are failing to meet demand or provide other needed services for lack of resources.
With more flexibility to use federal funds for evidence-based programs, including SEPs, local governments and agencies will be better equipped to combat HIV transmission in their communities. We can expect this will lead to lower infection rates and it may also provide the government with better working data on how to continue to prevent the spread of the epidemic.
We hope, too, that an amendment to the House bill that would dictate to local officials that federal funds cannot be used for SEPs within 1,000 feet of an educational institution, park, playground, or youth center, in addition to other places, will not be included in the final bill sent to the President Barack Obama. Any such restrictions could severely hamper efforts to implement successful SEPs, particularly in urban areas. Additionally, such restrictions may achieve the opposite effect: SEPs, by design, help take used syringes off the streets and away from public areas. We hope this amendment will be removed during conference between the House and the Senate.
In taking these first several steps to lift the funding ban, Congress has also helped the President deliver on his promise to develop a comprehensive National AIDS Strategy that can bring down HIV incidence, an important goal that cannot be realized unless state and local health leaders are able to employ all the proven prevention interventions they can.
The President has also backed removal of the syringe exchange funding ban, both on the campaign trail and more recently through comments from White House staff. Our new Drug Czar, Gil Kerlikowske, himself a former policy chief, has also spoken favorably about the evidence for syringe exchange efficacy.
Our approach to combating HIV/AIDS has been hampered for too long by policy based on ideology instead of evidence. For the first time in more than 20 years, Congress has taken a crucial step in recognizing the strengths of evidence-based policy in the syringe exchange debate and has shown that it has finally gotten serious about ending the AIDS epidemic through proven methods of prevention.
In his Inaugural Address, President Obama stressed that he would help "restore science to its rightful place." With the recent action in the Appropriations Committee, Congress has helped him take one more step toward doing just that.
Popular in the Community