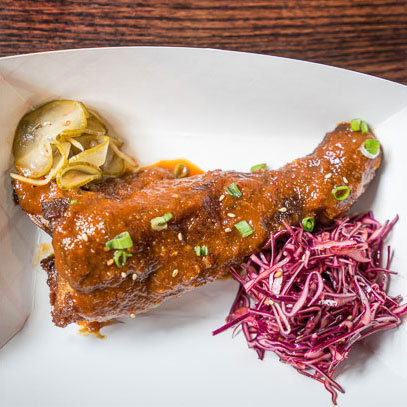 I've spent a lot of time on the road lately. When you are driving to and from, eventually you need a meal that does not come out of a vending machine.
You know you are in a culinary wasteland when you begin to look forward to finding a Cracker Barrel because at least they are capable of poaching an egg correctly.
I am not saying that there is no good food in the middle, just that there is far less on our major highways and that is not a good thing. I even sought out some of the Diners, Drive Ins and Dives that were 'Money.' and was consistently disappointed. Guy is not known for his love of vegetables, he did not get that gut from broccoli.
Service Plazas typically have restrooms that are clean, a Coffee Shop like Gloria Jean, and one or two fat food places. Using my GPS I would search for real restaurants within 10 miles of my stop, often to no avail. Where do they keep the vegetables in the middle?
My Priceline app would often give me a Quality Inn at the best price. Their big ad states a breakfast that is HEALTHY.
Clearly the CEO of this company considers white flour healthy. Make 'em yourself waffles, bread to toast, croissants and muffins, sweet rolls, bagels, 4 varieties of cereal, a few very sad ancient red delicious apples gathering dust, scrambled eggs if one is lucky and MARGARINE.
Even if you opt for that toast, they serve margarine and not butter and the worst of them only have Coffee Mate for coffee, no milk or cream.
Maybe my standards of healthy are too high.
However there was light on the horizon.
Though my time there was too short I had an amazing meal in Minneapolis.
This is the place I have described as the land of white people and white food where rosemary is considered 'spicy'. And yes, there are still those who cling to casseroles glopped with cream of mushroom soup, but my oasis was a little place called Pasta Bar where they make their own pasta and served me one of the best Linguine with Clam Sauce dishes I have ever had in my life.
Not only that but the State Fair had delicious Pig Tails served up by The Rabbit Hole in Minneapolis.
The first chain that pops up on the roadways with fresh, delicious, and healthy food....I bet they take over that landscape.
Is there anyone who can't wait for the next Taco John's 56 miles away?