This past Wednesday there was a revealing, and indeed, troubling exchange between political watchdog Andree McLeod and members of the Alaska Personnel Board, the government body charged with processing so-called ethics violations by the executive branch in the State of Alaska.
Some of the interchange was reported in a blog in the Anchorage Daily News by reporter Sean Cockerham, including profane language and threats directed at McLeod (a Republican who was once friends with Palin) by Personnel Board member Al Tamagni, Sr. But the ensuing coverage has focused more on the "melodrama" of the encounter than on the serious issues about ethics and the democratic process that underlie the verbal jousting at the board this past week.
During a public comment section of the meeting, McLeod, who has now brought six ethics complaints against Palin and members of her administration, forcefully addressed the board about its responsibilities and proper protocols: "Clearly you do not serve the public," she declared. When Chair Debra English attempted to silence her, McLeod refused to back down:
You have allowed the governor's office to use state resources to malign and vilify. Why? You've allowed them carte blanche for their own personal agendas. Why? Who do you serve? I'm going to keep going back to that. You should all be ashamed of yourselves. You should resign like Palin has. You do not serve the public. You are charged by the Ethics Act and the Personnel Act. You take an oath. You have not served the public...What is the cost of corruption? What is the cost of the culture of corruption that you are now complicit in?
It was an uncomfortable moment in the proceedings -- and it was about to get worse.
The board meets quarterly and has played a central role in the highly publicized ethics charges against Palin and her administration -- including one of the reports that exonerated Palin in the Troopergate scandal -- but there were only three members of the public at the meeting, held on the eighth floor of the Frontier Building in mid-town Anchorage. There was similarly scant public attendance at its meeting in May and at those that preceded it. Given what had been at stake -- and what remains at stake -- in Alaska government, the lack of public participation is conspicuous.
McLeod was not done with her charges. She chastised the board for providing the governor's Chief of Staff, Michael Nizich, with a copy of a confidential board report before it was to be released. (Nizich has publicly called for a "backlash" against those who have brought complaints.) The board, according to McLeod, did nothing to address the leak to Nizich nor his calls for retaliation against those who file ethics charges with the board. McLeod also asserted that the board had "maligned" another complainant for leaking a confidential board report without sufficient evidence. "What a joke you guys are," McLeod intoned. She grew more intense as she progressed.
McLeod was then interrupted by Chair English with an admonishment: "I don't think that's professional..."
"Unprofessional?," McLeod responded. "Give me a break, would you? Unprofessional is the way you've allowed all this to go on."
That's when board member Tamagni, a longtime Republican activist in Anchorage who owns a pension service in his day job, interceded in a demeaning tone:
Just keep bitching, Andrée. Just keep bitching...until you're all through...just keep bitching.

Remarkably, neither the board chair nor any member of the staff admonished Tamagni for using these vulgarities. McLeod responded with an emphatic "How dare you?," engaged in more heated back-and-forth with Tamagni, before declaring, "I can't sit here when I'm trying to hold my public officials accountable to allow a member of the personnel board to vilify and malign my motive."
Things deteriorated from there. Chair English then called for "security," indicating that it was being called to stop McLeod's "unprofessional" behavior. McLeod moved away from the table in order to diffuse the situation.
Then Tamagni got into the act again. He charged McLeod with having a "personal vendetta," though against whom, he did not say. He referenced his comment about McLeod "bitching" by stating, "I think that my references to you...I would not change them as I've made them." English beckoned McLeod back to the table. McLeod charged the board with defending a "culture of corruption." Then Tamagni attacked again. Although not quite Beckett, it made for grand political theater, even if it didn't pack the house.
Tamagni: You'd better retract that because there's complaints to be filed against you, too.

McLeod: For what?

Tamagni: Civil.

McLeod: For what?

Tamagni: Civil cases.

McLeod: Civil cases for what?

Tamagni: You just said I was corrupt.

McLeod: As a body.

Tamagni: No. You referred to me personally.

McLeod: Are you intimidating...Are you threatening me with a lawsuit?

Tamagni: Are you calling me corrupt?

McLeod: Are you threatening me with a lawsuit?

Tamagni: Are you calling me corrupt?

McLeod: Wow.
That's how the sausage gets made at the Personnel Board in the State of Alaska. Protocols are disregarded. Reports leaked. Complainants vilified and threatened by staff and members of the board. The process oozes with open bias and partisan politics. It's apparent the board's intent is not to root out ethics violators, in particular Palin, but to protect the status quo. "We are still reeling from the damage caused by Palin's actions as these findings set precedence," McLeod said in an interview. "The bar has greatly been lowered and the standards for a more honest and ethical government have shifted away from the public's best interests towards protecting and defending the interests of public officials."
Indeed, the Act requires that "not more than two members of the board may be members of the same political party." But the board's web site does not state which party its members belong to, utterly obfuscating what was clearly an intention of the act: making the process open and transparent. (Tamagni's son, for instance, has served on the campaigns of Republican state senator Kevin Meyer, a political association not disclosed on the board's web site.) Moreover, the three members sit at the pleasure of the governor for six-year terms, meaning that the governor ultimately controls the make-up of the board. All three were originally appointed by Republican governor Frank Murkowski and in of 2008, Palin reappointed chair English. So it is hardly a neutral body; it's bubbling with biases and hidden agendas.
McLeod, now in her mid-50s, is of Armenian descent by way of Lebanon, but she was raised in New York (her family immigrated to the U.S. in 1963) and you can still catch the trace of a Long Island accent in her voice. Energetic, spunky and uniquely tenacious (she makes Palin's infamous barracuda persona look more like that of a goldfish), McLeod arrived in Sitka in 1978. She began working in Alaska government in 1984, serving in a variety of positions for the departments of Fish and Game, Education, Administration, Health and Social Services, Transportation and Public Facilities, Military and Veterans Affairs, and Labor and Workforce Development. She also worked as an aide for a couple of Alaska legislators and completed a degree in economics at the University of Alaska at Anchorage.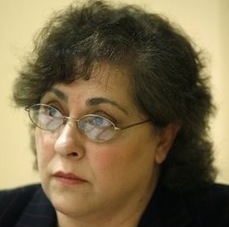 During the 1990s, she tried selling falafels in downtown Anchorage. While hot dog vendors and the like were welcomed downtown, faire made out of spiced chickpeas was deemed too exotic for the City of Lights. McLeod was suddenly awoken to the power of government -- and thus began her entree into Alaska politics. She ran for mayor of Anchorage -- unsuccessfully -- in 1997.
In both 2002 and 2004, McLeod ran unsuccessfully for the Alaska house of representatives. Her campaign slogan in 2004 was "Integrity and Ethics Do Matter." Prominently displayed on her campaign brochure was a supportive quote from the former mayor of Wasilla:
Like many of us, Andrée wants good government. She's not afraid to stand up for what's right. Though she ruffles a feather or two now and then, this intelligent Alaskan is exactly what we need during these times.
-- Sarah Palin
McLeod had made friends with Palin after she lost her bid for Lt. Governor and before Palin served as the chair and ethics officer of the Alaska Oil & Gas Conservation Commission. They worked closely together during Palin's highly publicized battle with Republican Party Chair Randy Ruedrich. McLeod has a thick file of emails from Palin both thanking her and praising her for her efforts. One of them sent by Palin in 2004 had this to say about McLeod:
That was a great letter to the ed. this week Andree. I haven't had time to call but wanted to tell you it was, again, insightful & educational & good writing.
I'm still disenchanted with the whole issue of RR and state politics and am not even very optimistic about the call for an independent investigation. We'll see. I guess I'll believe it when I see it.
Hope you're doing well, staying warm & staying on top of all these state issues I'm hearing about on the news!
Love,
SP
Other Palin emails to McLeod refer to her as "intelligent," "bold," "powerful" and "encouraging." In another email Palin wrote: "Ugh! I know you must get so frustrated because you're all about accountability!"
During the State Republican Convention in March of 2008, McLeod observed two top Palin officials -- Frank Bailey and Ivy Frye -- closely involved in an effort to oust Ruedrich as head of the Republican Party. That's when McLeod first became concerned that Palin's administration was crossing the line in terms of the state's ethics act. Shortly thereafter, she requested Bailey's and Frye's emails, text messages and telephone records from February to April of 2008.
One turbulent year-and-a-half later, McLeod remains the most public and vociferous of those Alaskans, irate with Sarah Palin and her administration, who have filed as many as twenty (the exact number is unknown) ethics acts complaints against her.
Palin referenced "frivolous ethics violations" in her resignation speech as one of the principal reasons of resigning her office. Palin and her supporters have incessantly put out the spin that her opponents have cost Alaska " two million" dollars (a figure disputed by Cockerham at the ADN) and that she "has won" every single complaint. It's a serious bending of the truth (even with the tilted makeup of the board) -- but it has caught traction in the mainstream media and on the streets of Alaska, where McLeod, in particular, has been viciously demonized for her actions. Some of the assaults on McLeod's persona are so vulgar, even pornographic, that they are beyond detailed account. Suffice it to say that she has taken considerable abuse.
Contrary to a myth being spun by Palin and her supporters, McLeod is hardly a tool of outside "Democratic Party operatives" who have infiltrated her state. In fact, because she's a registered Republican and has run against Democratic opponents, McLeod is not welcomed by Alaska Democrats and is kept at arm's length by progressive activists and organizations.
While it's true that most of the ethics charges against Palin have been dismissed by a three-member board who serves at the pleasure of the governor, there actually have been several critical findings against Palin in the process. Indeed, McLeod's first ethics complaint brought against Palin -- long before she chosen to be John McCain's nominee -- was directed at the governor's office for the inappropriate hiring of a Palin supporter for a classified position. It resulted in the finding that a key member of Palin's staff, Frank Bailey, get "training and counseling" on the Alaska Personnel Act to "prevent the potential for future violations of the act."
It was also McLeod's initial Records Act request that led to the discovery that Palin and several members of her administration were conducting state business on private email systems -- a rogue government communications network with Palin at the helm. She also exposed the fact that Palin was using state funds for her family travels and collected a per diem for living at her home in Wasilla.
Since then, Palin has also had to repay the state for travel expenses and to pay back income taxes on thousands of dollars in expense money she received while living at her Wasilla home.
In a preliminary finding issued by Personnel Board investigator Thomas Daniel, "there is probable cause to believe that Governor Palin used, or attempted to use, her official position for personal gain" in violation of Alaska statutes in respect to the establishment of the Alaska Trust Fund -- which is being used to pay Palin's legal fees. It's uncertain if and when those final findings will be issued.
By far, the most expensive ethics complaint against Palin was the one she brought against herself as a way of trying to sidestep the so-called Troopergate charges levied against her by the bipartisan Alaska Legislative Council. That investigation, conducted by a former Republican prosecutor Steve Branchflower, resulted in the finding "that Governor Palin abused her power by violating Alaska Statute 39.52.110(a) of the Alaska Executive Branch Ethics Act."
It was clear and unequivocal.
Even the Petumenos Report, processed by the Personnel Board, while exonerating Palin for abuse of power, also came to a rather startling conclusion:
Limitation on the Evidence Reviewed in Support of These Conclusions


A cautionary note must be made with respect to the investigation conducted. Efforts to locate and secure all relevant e-mails have been exceedingly difficult in this case...

We are concerned about the use by the Governor and some of her staff of private e-mail accounts for government business. This is not illegal. But the practice, along with what we found to be bad advice that was apparently received within the Governor's Office, does not give us the assurance that we were able to locate all of the e-mails.

In particular, the Governor and Frank Bailey conducted government business on private accounts...Both Governor Palin and Frank Bailey testified that they had been told there was not a document retention policy that applied to e-mails in the Governor's Office. Our investigation revealed that if they received this advice, it was mistaken. We found document retention schedules for the Governor's Office and for the Director of Boards and Commissions that were specific and readily available at the Office of State Archives.

The Governor and Frank Bailey deleted e-mails without consulting this schedule.
So it's not as if Palin has been cast as Snow White by either the Personnel Board or the Alaska Legislature. Even with the balance of justice tilted heavily in her favor, Palin and her administration have been found at odds with the spirit, if not necessarily the letter, of the ethics act in several cases. A "perfect record"? Hardly. And there may be more on the way.
For her part, McLeod says that she has violated no laws in filing these complaints and is merely trying to expose what she sees as persistent corruption in the Palin/Parnell administration.
"The administration has been bullying people who lodge complaints," says Ethan Berkowitz, a former Alaska legislator and a Democratic candidate for governor in 2010. "That's a completely unacceptable use of the government's power."
McLeod agreed. "There are going to be more complaints filed," she declared. "It is the only way to set the record straight within this culture of corruption."

Award-winning writer and filmmaker Geoffrey Dunn is at work on a book about Sarah Palin and American politics, to be published by Macmillan/St. Martin's next year.
Popular in the Community