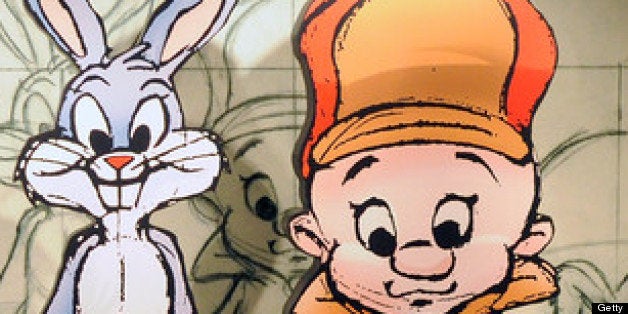 WA R N E R B RO S . had been founded by four Polish brothers from western Pennsylvania who, after World War I, began producing their own Hollywood films. After a successful run with the heroic soldier- dog Rin Tin Tin, the brothers bought the Vitagraph Company in 1925 and took over that company's Vitaphone studios in Brooklyn, where they produced "talkies." In 1927, Warner Bros. unveiled The Jazz Singer, starring Al Jolson, followed a year later by The Lights of New York, considered the first true talking picture. By 1930, Warner Bros. had produced hundreds of experimental short films called "Vitaphone Varieties" or "Broadway Brevities," starring vaudeville stars, comedians, singers, and even media celebrities like Walter Winchell.
Hearst had been working with Vitaphone for more than a decade, and it's likely that his influence led Warner Bros. to offer Ripley four ten- minute "Vitaphone Varieties" shows, at $3,500 per episode—the start of Ripley's long- term and lucrative relationship with both Warner Bros. and the big screen. Ripley's name began to appear on theater marquees in mid-1930 and the films became instant hits, sometimes prompting applause at their conclusion.
In Ripley's first-ever film, he introduced viewers to a six year-old Chinese boy from Chicago named One Long Hop, said to have been born the day of Lindbergh's transatlantic flight, and a woman who could speak ten words per second. (The boy was actually the son of Ripley's cartoonist friend, Paul Fung—"One Long Hop" was a nickname; fast- talking Cygna Conly was a romantic interest who would soon come to work for Ripley.) In his next film, Ripley emerged from behind a six-foot mound of letters to thank a few letter carriers for handling so much of his mail. Then he displayed some creatively addressed envelopes, including one addressed in Braille, others in Greek, sign language, and one with a tear in the envelope next to a sketch of Robert E. Lee—Rip + Lee.
The films offered the first in- the- flesh look at the famed cartoonist. For many, it likely came as a shock to see how badly his teeth protruded and how significantly they affected his speech. Like a craggy wall between upper and lower lips, Ripley's misshapen and misaligned teeth prevented him from fully closing his mouth, making it difficult to pronounce certain letters. With the help of his speech lessons (and liquor) he had grown accustomed to compensating, but certain letters and words still sounded awkward— b's sounded like v's, p's sounded like fee, and s's emerged in a slushy lisp.
BELIEVE IT!
In 1930 Vitaphone launched a series of animated cartoons
called "Looney Tunes" that would create such characters
as Porky Pig, Daffy Duck, Bugs Bunny, and Elmer Fudd.
Introduced as Egghead in the late 1930s, the speech- impeded
and stuttering character who became Fudd was believed to
have been partly modeled on Ripley. One cartoon, "Believe It
or Else," featured a bucktoothed Egghead wearing a loud suit
and spats. The narrator introduces the world's loudest hog
caller, the human basketball, and the world's fastest woodcutter.
"I don't believe it!" says Egghead. Egghead/Fudd also made a
cameo appearance in The Isle of Pingo Pongo, a faux South
Seas travelogue cartoon that was later banned for its racist
depiction of black islanders.
On-screen, Ripley appeared swishy and loose-limbed, almost effeminate—possibly due to his self- prescribed doses of hooch. He walked with a sheepdog's waddle and constantly fiddled with the nubs of charcoal he kept in his pockets. After introducing guests, he'd shuffle to an easel and sketch a cartoon—an "Up-arm Man" from India or the boy who died of old age at six years old or the man-eating tree of Madagascar. He wore nice suits with bow ties and spats over his shoes. He appeared fit and confident, though he was starting to develop a paunch and lose hair, the remnants of which were slicked back and shiny.
The director, Murray Roth (who co-wrote Lights of New York), grew frustrated as Ripley mangled the scripts. In his On Broadway column, Walter Winchell teased, "Ripley, who knows everything, can't remember his lines over at the Long Island . . . studios. heheheh." Speaking before a small audience assembled on a stage designed to look like a ship's lounge or an airplane cabin, Ripley introduced guests and shared film footage of his travels to Morocco or Jerusalem or film clips of real people doing weird things. His human queeriosities included a sixteen-month-old roller skater, a six-year-old boy who smoked, and an armless trombone player. By featuring odd performers from Scranton, Flint, Tacoma, and Toledo, he showed an appreciation for small- town America as well as genuine awe for the fetishes and fixations of those willing to spend years of concentrated effort carving a chain of matchsticks or building a violin entirely of sugar or printing an eighth-of-an-inch copy of the Rubáiyát of Omar Khayyám, which Ripley stored inside a pinky ring.
In one episode, Ripley is arrested and tried in a mock court, forced to prove some of his controversial statements: America had no official national anthem? The Statue of Liberty was built atop a prison? He patiently defends himself on all charges and once again explains the details of his famous claim that Lindbergh had been the sixty-seventh man to fly across the Atlantic. Finally, the judge intervenes and declares, "Mr. Ripley, believe it or not, you are acquitted."
Excerpted from the book A CURIOUS MAN by Neal Thompson. Copyright © 2013 by Neal Thompson. Published by Crown Archetype, an imprint of the Crown Publishing Group, a division of Random House, Inc.
Related
Popular in the Community