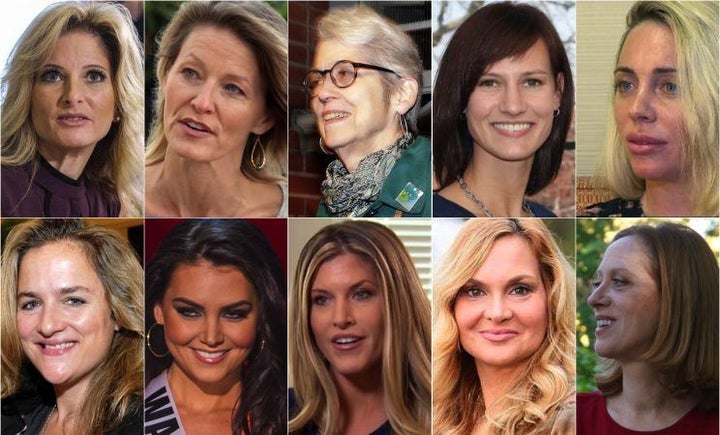 One silver lining to this horrible presidential election is the attention it has drawn to the very real harm caused by so-called "boy talk," "locker room talk" and so on.
I've spent a lot of time these past few weeks thinking and writing and talking about how to raise my son to respect girls and women, to treat them as equals, and to speak out when anyone around him behaves otherwise.
In other words, to be a feminist.
So the enormity of the task is daunting, but it's not like I have to come up with a comprehensive plan by the end of the week.
It helps that, as is increasingly certain, he will spend the next four years of his life growing up in a country where the President is a woman.
I hope it never crosses his mind that there's anything unusual about that. I hope the words "Mister President" will someday sound as strange and exotic to him as the words "Madam President" do to us now.
Maybe by the start of her second term he'll be ready for a bit more historical context.
The Power Of Misogyny
Before this election, I'd always assumed that misogyny, while a big issue, was a relatively distant second (to racism, obviously) among the problems afflicting our country.
This election (starting, I should point out, with the Democratic primary) opened my eyes to how big a problem sexism truly is. Racism is still the biggest. And it will continue to be, until we begin to acknowledge that centuries of African slavery are the unspeakable, unmeasurable, bedrock evil upon which our country was founded.
BUT… my god. We as a country came THIS CLOSE to giving Donald Trump the power to, among other things, single-handedly wipe out the entire human race. And we did it solely because a large number of people, across the political spectrum, simply can't bear the idea of a woman being President.
THAT is how powerful misogyny is. People, including many on the left, would rather take their chances on planetary annihilation than see a woman in the Oval Office.
Words Are A Form Of Teaching
And this is where teaching comes in. But where to begin? I would argue that men, particularly fathers of sons, have a responsibility to model better behaviors for our sons, starting with the way we speak.
"Before boys and men learn to commit physical acts of sexual violence, they learn to engage in degrading talk about women and girls."
Before boys and men learn to commit physical acts of sexual violence, they learn to engage in degrading talk about women and girls. They learn it by hearing their fathers (or father figures or other role models in their lives) using that kind of language, and so it seems normal.
Never doubt that the way we use words, and the words we use, is a form of teaching.
Take this photo of a man wearing a "She's A Cunt, Vote For Trump" t-shirt at a Trump rally with his wife and sons:
I won't say that this man's sons have no chance of growing up to be feminists. But if they're learning from him that that's an acceptable way to refer to any woman, they certainly face some obstacles along the way.
Teaching boys that it's OK to degrade women verbally inevitably leads to worse forms of misogyny, from the kind of backward thinking that rejects the very idea of a woman — any woman — becoming President, to sexual abuse, sexual violence and rape.
If you grow up hearing a certain group of people repeatedly described in ways that paint them as less than human, especially by someone you look up to and emulate, it becomes easier to ignore, or indeed actively participate in, those people's subjugation.
Even the words we use to describe other words play a part. Expressions like "locker room talk" or "boy talk" dismiss the pain and shame such words produce, while absolving the person speaking those words of responsibility.
It Is More Than Just Words
But it isn't just words. Just as words have the power to dehumanize, they also have the power to minimize and normalize the degrading and sometimes violent acts that those words encourage.
Another example: boys will be boys, which is a subtle but powerful way of excusing the horrible behavior, not of boys, but of men. And excusing the behavior of the rapist is an integral part of rape culture.
That's why "boys will be boys" is so insidious. Boys will be boys if they learn from an early age to speak about girls and women as objects, to treat them as possessions, to regard them as property, whose bodies they are entitled to attack and violate.
"Boys will be boys if they learn that there are no consequences for committing acts of sexual violence."
Boys will be boys if they learn that there are no consequences for committing acts of sexual violence.
Boys will be boys if they see that the victims of their attacks, the rare few who dare to come forward, are called liars. Your abuse didn't happen, they are told. This in turn discourages others from coming forward, thereby emboldening would-be predators, and the cycle continues.
So let's stop saying boys will be boys. Boys will be as good and as honorable as we can imagine and encourage and raise them to be. Boys, someday, will be men.
Dads: I Challenge You To Do Better
I also challenge myself. I don't claim to be perfect, or that I have all the answers. What I do have is a lot of questions, a few ideas, and a strong desire to do better.
Even if you're not wearing t-shirts like the man in the photo, or using that sort of language, what language are you using? How do you speak to your son's mom, or to other women? What jokes do you tell? What jokes do you laugh at?
It starts with self-awareness. I've heard it said that you should never write in an email something you wouldn't want to see published on the front page of the newspaper. Many men likely put more care into the words they use in an email than the words they use in front of their sons—although the consequences of the latter are arguably more permanent.
I see the way my son looks to me, watches me, absorbs my words, imitates me. It's a staggering responsibility, and I regularly agonize over whether I could've handled something better, constantly asking myself: CAN I DO BETTER?
So I'm not so much calling dads out as I am asking them for help, and in turn offering my own. Let's help each other. Eventually, maybe a kind of herd immunity will kick in.
Let's start the discussion. Talk to each other. Talk to me. Tweet at me. Comment me. Blog your own ideas and link to me. We can do better. Our sons are counting on us.