I look at the tobacco industry's financial reports on a regular basis. As a public health professional, I expected to see our policy successes reflected as a blow to their profits. Instead, I was shocked to see the industry is still doing very well financially.
Thanks to the many successes in the area of public health policy that have led to smoke-free environments, most of us are no longer assaulted by tobacco smoke on a daily basis. As a result, many people, particularly in the United States and other high income countries, view tobacco as a problem that has already been solved; out of sight, out of mind.
But in reality, the tobacco epidemic is still raging, killing around 6 million people each year, and most of these deaths are in low income countries or among the most vulnerable populations in high income countries.
The tobacco epidemic is different from other epidemics because it is driven by corporations looking to make a profit from a product that causes death and disease. The six top tobacco companies made $44.1 billion in profits in 2013, which is equivalent to the combined profits of The Coca-Cola Company, Walt Disney, General Mills, FedEx, AT&T, Google, McDonald's and Starbucks in the same year. According to the World Lung Foundation, If Big Tobacco were a country, it would have a gross domestic product (GDP) of countries like Poland, Saudi Arabia, Sweden and Venezuela.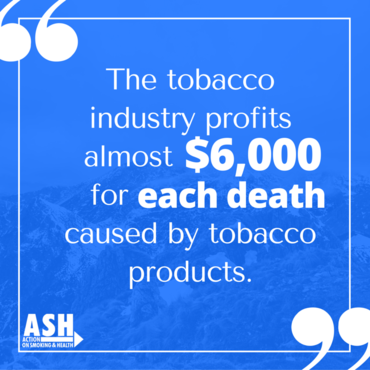 According to the World Bank, global economic growth was disappointing in 2015, slowing to 2.4 percent. On the other hand, the growth of companies responsible for the leading cause of preventable death -- cigarettes -- was quite high in 2015. That trend is continuing into 2016. Tobacco companies are growing at an alarming rate.
Much to our incredible dismay, after many decades, the tobacco fight is far from over. Instead, it is shifting to other parts of the world.
Using BAT's words, they recognize that "while cigarette sales in developed countries continue to decline year on year, sustained volume growth is widely predicted in emerging markets." It is shameful that these companies continue to grow at the expense of the world's health and especially at the detriment of the health of those living in low income countries.
This windfall to Altria, and other companies like it, is despite the 101 court cases pending against Philip Morris International, including class action suits, individual litigation, and healthcare recovery cost litigation. Other tobacco companies are similarly fighting court battles, but lawsuits alone are not working to stop Big Tobacco.
The future does not have to be as bleak as the financial figures indicate -- we have made tremendous progress in the tobacco war, and without this progress the death toll would be even more catastrophic. Current trends such as taxation, standardized packaging, and a 21 minimum purchase age show great promise. As they say, it is always darkest before the dawn.
Governments must do more to take the profit out of this industry which addicts billions and kills over 6 million people per year. They should all follow the lead of Australia which intends to dramatically increase taxes on tobacco products in order to reduce the number of smokers, to prevent a new generation from nicotine addiction, and to raise much needed revenue, especially at a time when the global economy is stagnant.
We aren't done yet -- tobacco corporations are the vector of this epidemic, and in order to stop the death and disease caused by tobacco, we must redouble our efforts to take the profit out of tobacco and stop the corporations from putting profits before lives.
Popular in the Community