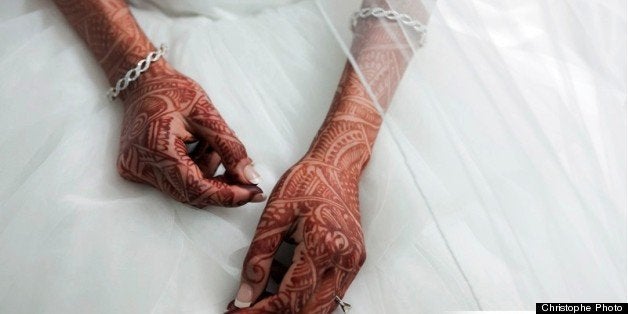 Whether you're trying to plan a multicultural wedding and looking for ways to incorporate South Asian touches to your celebration, or if you're just in love with the glamour and glitz that is characteristic of most South Asian weddings, we've got five simple and gorgeous ideas that will help any bride add some serious South Asian flair to any celebration!
A Touch of Red
If a traditional red or maroon outfit intimidates you, you can add touches of the traditional color to your wardrobe for a subtle yet impactful effect. Choose a white lengha or saree to emulate a glamorous white wedding gown and pair it with an embroidered red dupatta for a finish that will pay homage to the authentic South Asian bride in red, while letting you maintain a subdued bridal look.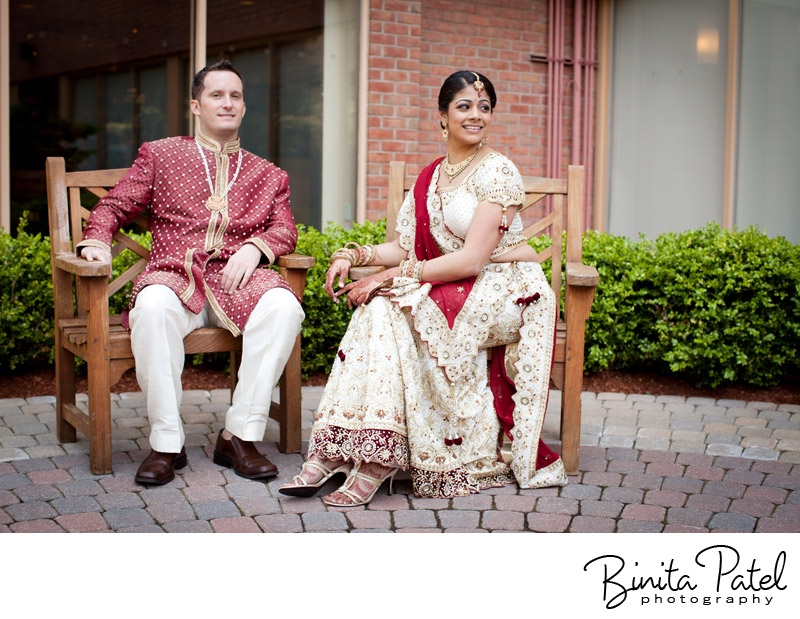 Image courtesy of Binita Patel Photography
Double Ceremonies Call for Double Celebrations
For couples confused about how to combine ceremonies and rituals from two different cultures, a double ceremony is the perfect solution if you're having trouble finding the perfect compromise. Traditional South Asian ceremonies are often held in the morning because it's considered an auspicious time of day; if you're opting for two ceremonies, consider scheduling one in the morning and one later in the day right before the cocktail hour -- your guests will have a break between events, and you'll give yourself time to get dressed! Getting married will be twice as fun, plus your guests will love the opportunity to learn about two different cultures at one event.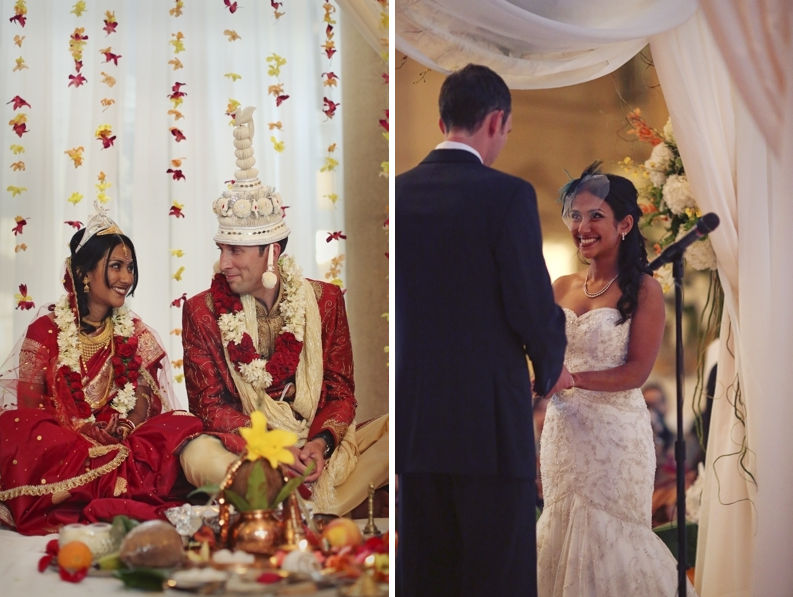 Images courtesy of Clark+Walker Studio
Make a Statement with Mehndi
Even if you're not wearing a traditional South Asian wardrobe, it doesn't mean you can't add some South Asian tradition to your look. Deeply colored mehndi designs are a stunning standout when contrasted with an elegant white gown. Add a statement necklace or earrings to pull together the entire look.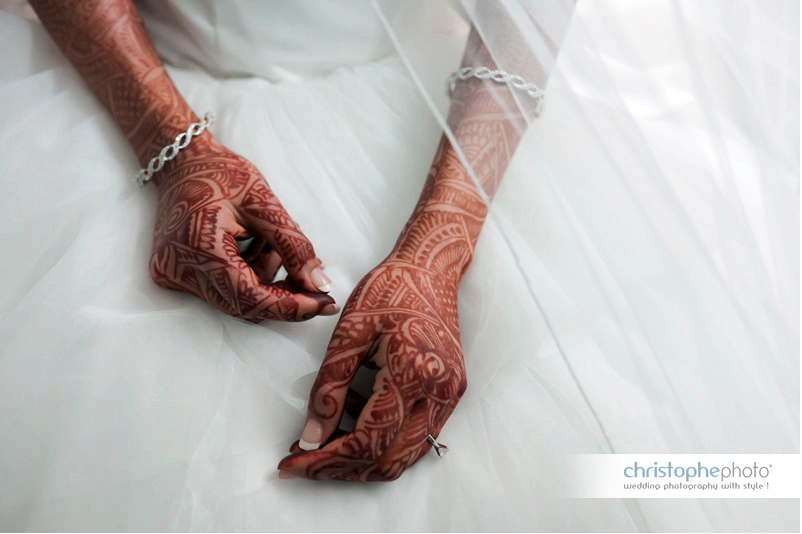 Image courtesy of Christophe Photo
Get Creative with the Pre-Wedding Parties
For brides looking to maintain as much formality and tradition with their wedding ceremonies, it's the pre-wedding functions that can be the creative and festive celebration of more than one culture. Add some live music and dance performances to your rehearsal dinner to turn it into a glamorous sangeet. The party can even turn into a pre-wedding dance class: hire traditional bhangra or garba dancers to entertain everyone and maybe even provide short dance lessons -- your guests who are unfamiliar with the traditional dances will be grateful for the last-minute tutorial!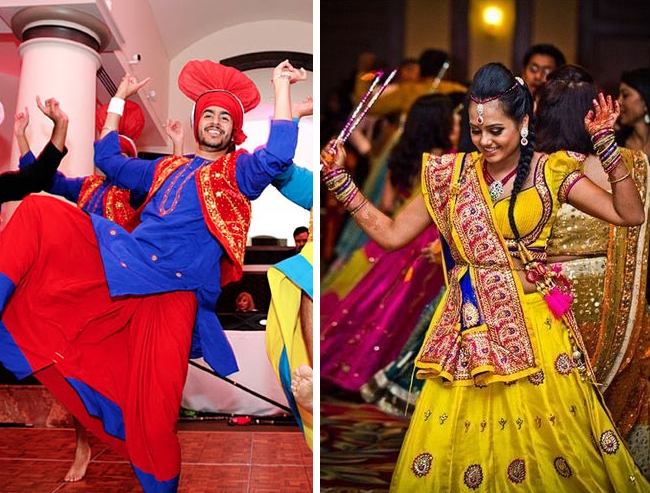 Images courtesy of Baltazar Photography and Binita Patel Photography
For the Love of Food
We already know the path to anyone's heart is through their stomach -- the same of course applies to your guests! Incorporating some lip-smacking desi dishes to your menu is an easy (and tasty!) way of adding South Asian style to your celebration. Whether you add a plate of traditional sweets (mithai) to your dessert table alongside the cake or go all out with a full South Asian menu, your options are limitless. Chaat stations that allow guests to mix and match different types of South Asian street food are a fun and crowd-pleasing option for appetizers during a cocktail hour.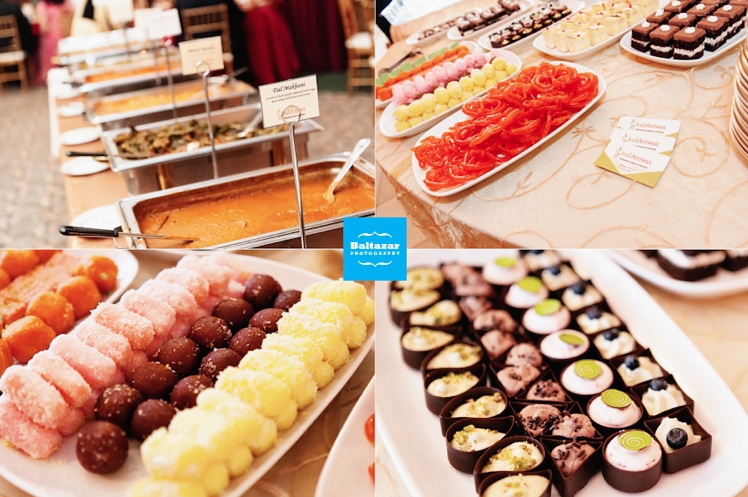 Image courtesy of Baltazar Photography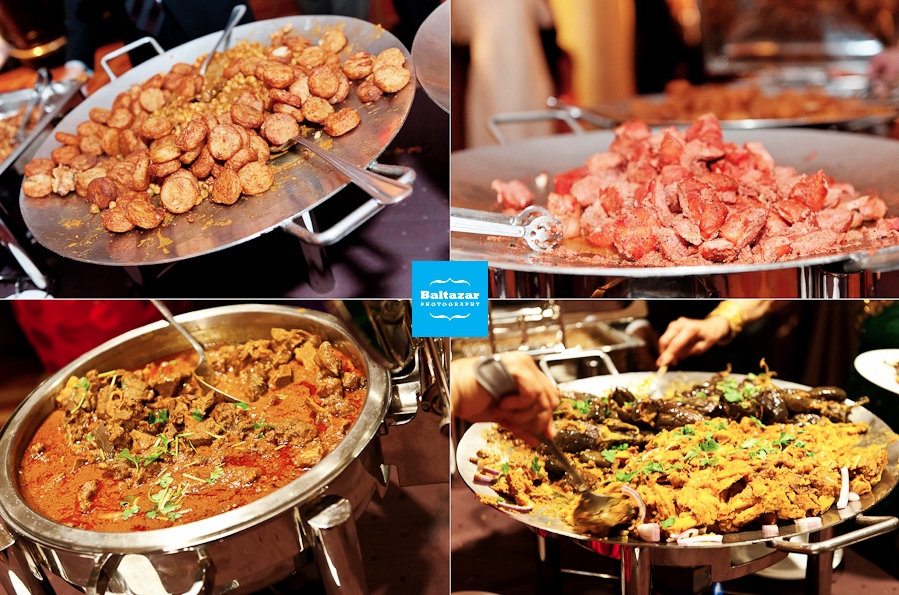 Image courtesy of Baltazar Photography