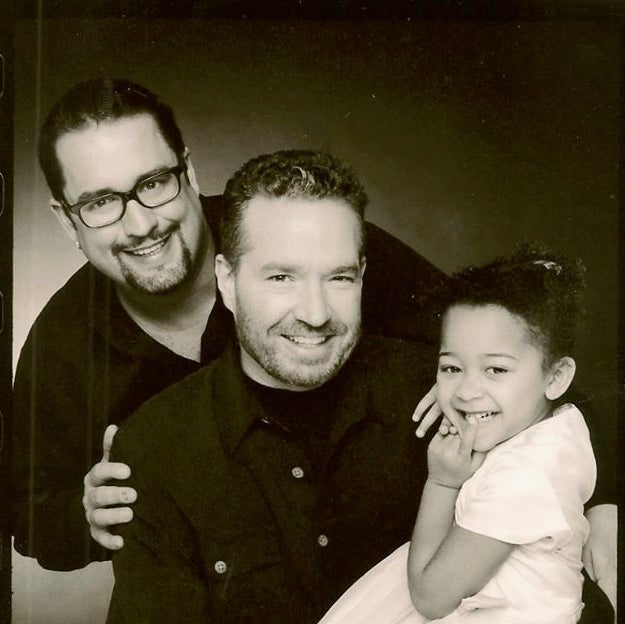 In honor of Father's Day, RaiseAChild's contributing writer Danielle Lescure shares a "Let Love Define Family®" series installment for Huffington Post Queer Voices of a daughter who has great pride in being raised by two dads.
Eric Steidinger and Jim Ward began looking into adoption, surprisingly, at the urging of Eric's mother.
"Jim and I had been together about five years and in January of 1995, my mother called and said, 'Of my 8 kids, I think you and Jim would be the best parents. I don't know why you haven't adopted yet,'" shared Eric. "It kind of woke us up. I was 35 and Jim was 38. If we were going to adopt, it was time to do it. We actually talked about adopting on our second date together. We're both from large families and liked children a lot. We'd both taken on parenting roles in our families. So having a kid was something we both wanted to do and was very natural for us."
At the time, the couple lived in northwest Indiana and only one of the 37 agencies in the Chicago area was willing to work with gay and lesbian parents.
"The gay and lesbian center was very helpful. They pointed us toward the right adoption agency," he continued. "Once we found them, we were pretty much treated like any other family. But they were very honest in telling us that in regards to the fact that we were a different kind of family, we would have different challenges. They were very good consultants."
After one attempt at an international adoption fell through, a unique opportunity fell into their laps: A woman was seeking an open adoption for her 7-month-old daughter.
"The agency called and said, 'There's a birth mother here in Chicago with a biracial baby that is eager to meet you,'" said Eric. "Two of the mother's major concerns were, she wanted a very open adoption, because she wanted to have a presence in her daughter's life. The other thing she wanted was the child to go to a very creative home. Jim was an advertising producer and I was a creative director. I'd gone to the Art Institute too, so the adoption counselor put the idea together."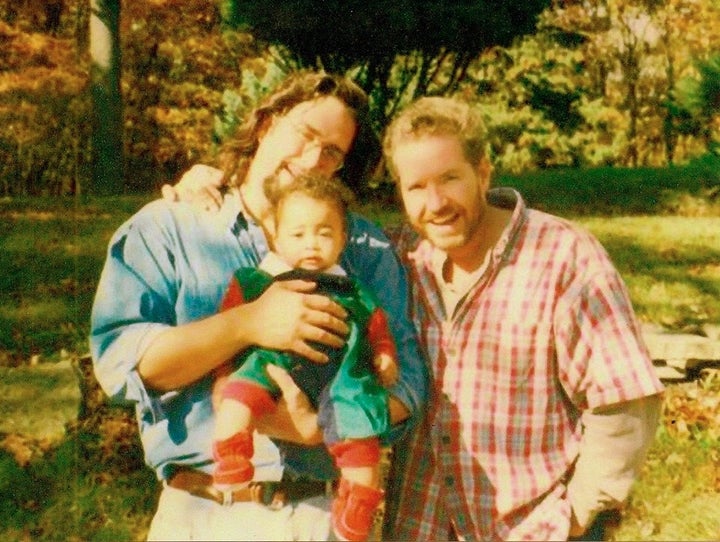 "This could be a real win-win for the child to not only have access to their birth mother, but to also have a mother figure when she has two dads at home. Which sounds really great on the surface, but there's a whole lot of power struggles. We spent a lot of time in family counseling. The kind of trust issues involved were complicated to work out. But it was all worth it for us to work those things out with Mary; it was well worth it. The goal is that we have a really good relationship with Mary and she came for holidays. At least three or four times a year she came to spend time with us."
Today, Eric and Jim's daughter, Savannah is a bright, young woman now living in Hollywood and blazing her own trail with a career in the entertainment industry.
"My grandma was adopted, my mom is adopted, I was adopted," Savannah spoke honestly. "It's this weird chain. My mom did not have a great experience with it. She had a closed adoption and she did not find her birth mom until she was 29. So when she knew that she couldn't raise me, she was like, 'If I can't do this, I'm going to find a family that will accept an open adoption.' Which was really not popular at the time."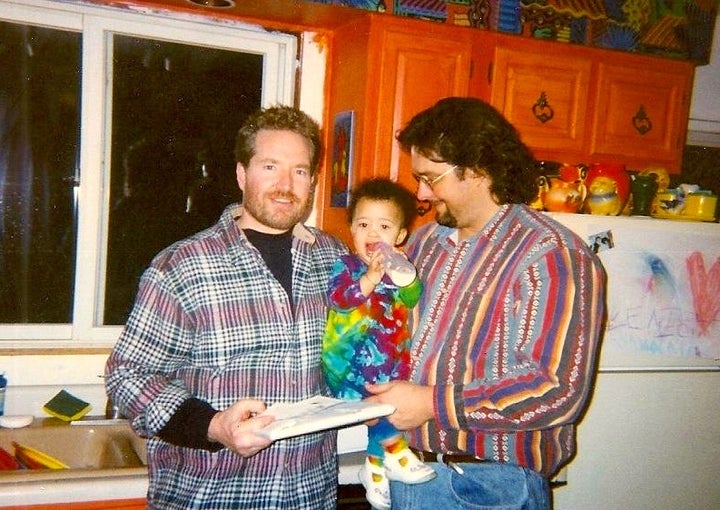 "I feel because they had done so much research about being gay parents and their adoption agent had proclaimed at the time that it was easier for two males to raise a female and for two females to raise a male," she continued. "In the 90's if two males raised a boy, the child would get more fiercely bullied in school. So they were looking for a girl, and I think they both realized if they were going to find a girl, it was also important that she has female role models to look up to."
The family, however, did not find Indiana to be very open and accepting as Savannah got older and moved to Los Angeles in 1999. There, among greater diversity, they settled down. Jim became a stay-at-home father while Eric worked. Although there were challenges along the way, they did all they could to shield their daughter from any of that friction and ensure she knew they were just like any other family and she was their world.
"The only time that I felt their stress for being gay parents was when I was in elementary school," Savannah revealed. "When we moved to Los Angeles, they had to choose, do we put her in a more liberal school, that's mostly white, or do we put her in a more conservative school, with more people of color. They chose the more conservative school. We got so much backlash. We basically got pushed out of that place. That was the first time I thought, 'Not everyone likes my family. My parents are different.'"
"I think they both felt the pressure. Their families were not really accepting of their sexuality, Jim's family especially. When they said they were going to start a family, they completely cut him off. I think he had some self-determination in him where he said, 'I'm going to prove to them that I can be as good, if not a better parent, than they were.' I was always in beautiful dresses as a 2-year-old, going to ballet, tap dance, hip-hop, tae kwon do, every day of the week. I think they just had to make sure their child came out "right" because the whole world was watching us. I think they did a good job of not letting me feel their pressure."
"As Savannah's parents, we fell into a very traditional suburban lifestyle," said Eric. "He was probably bad cop and I was the good cop. He was more the strict disciplinarian. I was always the one she went to when Savannah wanted to me to do something Jim might not. Savannah was a very easy kid. We had a lot of friends, especially when we adopted her, that didn't have kids. She grew up around a lot of adults. She was always included in conversations and always wanted to be a part of the conversation. So, our communication was always very open. That made parenting pretty easy."
Reflecting on their decision to become Dads, Eric recognizes that while he and Jim stood out from the crowd it was absolutely the path they were meant to walk together.
"I was somebody who was very family-oriented and so was Jim, from the beginning. So we set out to do that, which made us different from the beginning," he recalled. "I think a lot of gay men from my generation, were so paralyzed with fear of never having a relationship that lasted that the idea of trying to create family was terrifying. A lot of friends looked at me and said, 'You're jumping into something without knowing what you're getting into.' I had thought about it, I'd thought about it my whole life. The power of the relationship that I have with Savannah, the pride I have in having collaborated with someone that I love for 25 years to do that; those things shape who I am."
After her first year of college, the family was shook to its core as Savannah and Eric lost Jim in a battle with cancer.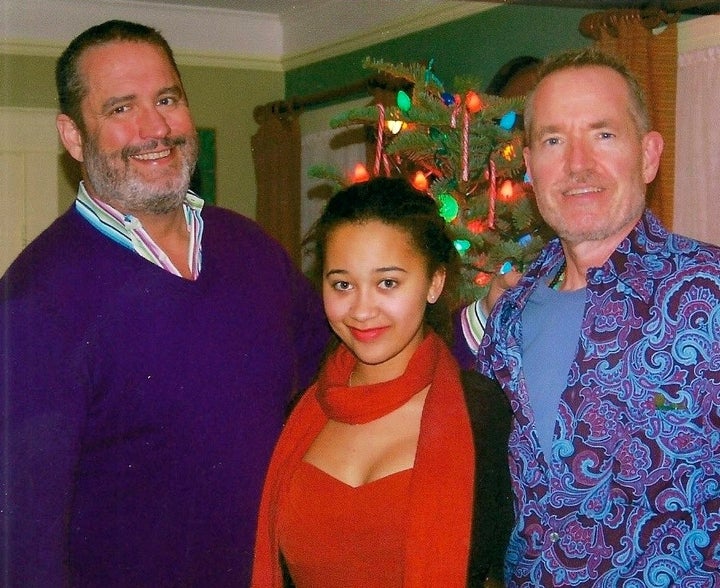 "To be frank, after Jim died, she did a little parenting for me. I was pretty overwhelmed for a while. Savannah had a pretty strong set of values and Jim had instilled a value of health in her that as a Midwestern pig farmer I never got," said Eric. "Her discipline for taking care of herself and her body and the hopes that she had for her future, made her into somebody I didn't really worry about. She wasn't going to take too many risks because she had plans. We've got a great relationship, both her coming to me for advice and sharing things that are personal. Going through five years of my husband's cancer, she and I became very close."
"Whether they influenced me or not, both of my parents have worked in the entertainment industry," said Savannah. "I remember watching Charlie Brown's Christmas with that scene where Lucy screams as she directs everyone. I was about two years old and went up to the TV and pointed at her, 'I want to do that.' I want to be in the TV industry. I'd love to write my own TV show. I'd love to figure out how to create the next Snapchat TV show and get ahead of the curve and when the curve gets to me, I'm already established."
Having borne witness to the sea change in attitudes toward LGBT couples and parents, this father-daughter pair celebrate each momentous victory and actively encourage fostering and adoption as not only a wonderful option for anyone wanting to start a family but also a vital and valuable contribution to society.
"Something really important to highlight is that I always felt special," admitted Savannah. "With my family, we were sort of untouchable because we were so different and I was raised in such a different way. Eric and Jim did the whole 'it takes a village to raise a child' with me. I was always being held by our dear friends. Everyone treated me like their kid. I remember almost every day four people would be at our house taking care of me. When my dad got sick, it was a big clarity moment for me. I realized my family is no different. We are all human. We are all the same. We go through the same tragedies just as a heterosexual traditional family would."
"I think it is really important for LGBTQ people to adopt and take kids from the foster care system because my experience was so amazing," she continued. "Having gay parents was different than having heterosexual parents, and it's also the same. It enriched my life in ways I sometimes can't describe to people. I think it's important that if you're choosing to start a family, think of adoption first because there are a lot of kids in need who require real love and must be saved."
"The moment Savannah was placed in my arms," Eric shared, "there was a metaphysical change that happened that allowed me to, as a parent, feel joy in a way I'd never felt before. Fatherhood takes your whole life to a richer emotional plane. As your child grows, you discover the wonder in the world that you had when you discovered it for the first time. As your child gets older, they keep you youthful. Children help you tie into the changes that you may not be able to keep up with yourself."
"So much richness comes into your life when you make that decision. It's the single best decision that I've ever made in my life. There's nothing I would do to change it. A lot of my friends have more money, because they didn't have to pay for college. But I think a lot of them envy me for having made the decision so long ago. I still think about maybe doing this one more time with an older kid at some point. It just brings so much to your life."
Join RaiseAChild at the 7th Annual Father's Day Brunch at The Abbey Food & Bar, 692 North Robertson Blvd, West Hollywood, CA on Sunday, June 18m 2017. RSVP at Info@RaiseAChild.org.
Interested in learning more about becoming a foster or adoptive parent? RaiseAChild is a national 501 (c) 3 nonprofit dedicated to building loving families for foster children™. RaiseAChild has engaged more than 3,000 prospective foster and adoptive parents as the nationwide leader in the recruitment and support of LGBT and all prospective parents interested in building families through fostering and adoption. For more information, go to RaiseAChild.org or call (323) 417-1440.
REAL LIFE. REAL NEWS. REAL VOICES.
Help us tell more of the stories that matter from voices that too often remain unheard.