TRIOTA, the Women's Studies organization at Penn State University, in conjunction with the university's Muslim Student Association, decided to organize and run an event called "A Day in Her Hijab". I am fortunate to attend this amazing university and I know some of the fabulous members from both organizations.
If you do not know what a hijab is or why Muslim women might wear it, I encourage you to read up here. The authors of this site explain,
Muslim women choose to wear the hijab or other coverings for a variety of reasons. Some women wear the hijab because they believe that God has instructed women to wear it as a means of fulfilling His commandment for modesty. For these women, wearing hijab is a personal choice that is made after puberty and is intended to reflect one's personal devotion to God. In many cases, the wearing of a headscarf is often accompanied by the wearing of loose-fitting, non-revealing clothing, also referred to as hijab.

While some Muslim women do not perceive the hijab to be obligatory to their faith, other Muslim women wear the hijab as a means of visibly expressing their Muslim identity.
The organizations of "A Day in Her Hijab" point out: Today a Muslim woman in a Hijab has become a stereotype of an oppressed Muslim woman. It's time to change this view and let people see what it's all about! For a whole day, participants will wear a Hijab as they go about their daily lives.
The organizations also gave participants the chance to participate in Muslim prayer and other activities to reflect on their experiences.
Of course I couldn't pass up such an incredible opportunity to learn about another faith and help deconstruct stereotypes so I participated!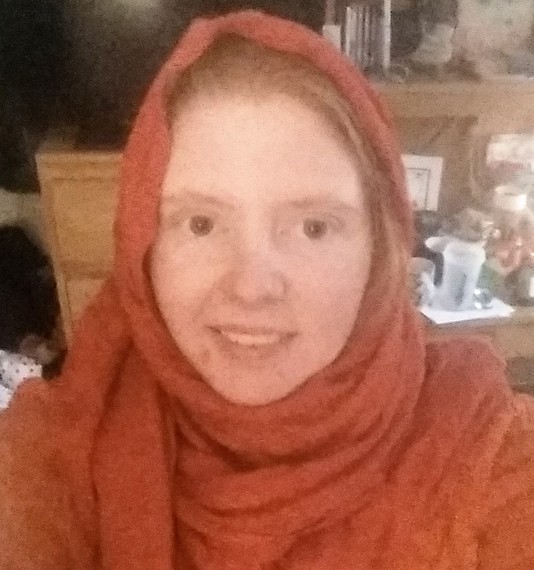 That's me in my Hijab. I watched a tutorial on YouTube to tie a scarf in this way. It wasn't perfect and I need more practice (and probably more pins) to get it right. My own personal experience throughout the day was nothing special, I would say. I felt different because I was intentionally doing something so different from my normal routine, and I did consciously wonder what others might be thinking of me. However, I didn't personally notice a difference in how others were treating me or if others were looking at me in an out-of-the-norm way.
One positive that I really liked was feeling in solidarity with my Muslim friends. I enjoyed that I was actively putting myself out there to challenge negative images surrounding the Hijab. I am so glad I could be part of this. Furthermore, I think this could be extended to a whole "Week in her Hijab" so that participants might be able to have more time to notice differences or engage in more dialogue with others about it. Either way, I hope this event is repeated in the future.
Banan Althowaini, a Muslim student at Penn State in her sophomore year, shared these words:
"I loved seeing non-Muslims of my community so willing to bravely wear the hijab for a day. It made me so happy to see all these beautiful women in hijabs, proudly wearing them in solidarity for all the Muslim women around the world. Reading their experiences and, from that, gaining respect for all the hijabis was amazing to read as well. It made me love Penn State even more knowing such amazing people are around me!"
I must second Banan's sentiments. I hope that other universities and institutions will consider establishing a day like this to promote more understanding and awareness.
REAL LIFE. REAL NEWS. REAL VOICES.
Help us tell more of the stories that matter from voices that too often remain unheard.