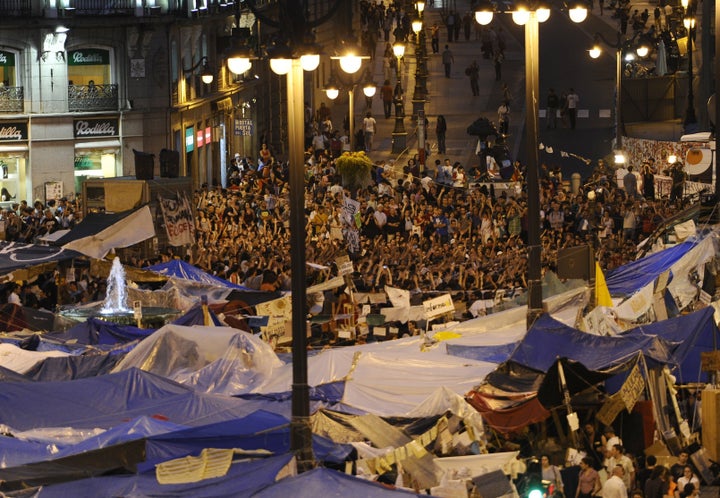 This week Huffington Post will highlight the personal stories of young people in five different countries trying to find work during the worst unemployment crisis in generations. In Europe, according to recent figures from the OECD, by January "more than one active youth in three were unemployed in Italy, Portugal and Slovak Republic, and more than one in two in Greece and Spain." The outlook is grim for U.S. youth as well, where youth unemployment hovers at 7.7 percent; even in Canada, which has weathered through the global economic crisis better than others, many young people are finding their degrees aren't worth much when up against hundreds of other applicants for a single position. Today's focus is on Spain.
Every morning after breakfast, you get ready for yet another "work" day, always hoping that today will be the last one like this. It may seem rough, but really it's not so bad: you're just one of six million Spaniards who are unemployed today. I know some people will say I'm "taking time off," or that I don't want to be working, but I don't identify with those labels. "Time off" sounds passive, like I don't have anything to do, and that's not the case with me. My job consists of selling a product: myself -- in a market with very little demand and lots of supply.
Day after day, I turn on the radio and tune into my favorite rock station. I like to stay informed, but it's too early to dampen my mood listening to the news. When I've just woken up, I have to bolster my spirit to make it through the rest of the day. I begin my day by reading the many emails piling up in my inbox. I begin, as always, with those with subject lines reading, "Response to your application for..." I open them, hoping for good news and knowing that, whether it's good or bad, at least the uncertainty about that particular application will be over. What we call "administrative silence" doesn't seem to be something used just by bureaucrats but rather a favorite tactic of many human resources departments.
"We regret to inform you that your CV has not been chosen by the company for its candidate pool." "We regret to inform you that you will not move forward in the selection process for this position." This is usually the first line of most replies. I always think the same thing: "Chin up! The next one could be good news." Since I've been out of work, 10 months now, I've learned that this is a race of endurance, not speed. Whoever keeps going, wins--and you've always got to keep going, even though up 'til now, every supposedly surefire move I've made has failed: I studied engineering; I learned two languages (English and German); I did internships, thinking that they would prove useful for something. But I'm 26 years old and... some day it will all pan out, I keep telling myself.
I look at the calendar that serves as my daily agenda. Two months to go until the next renewal of my government-issue unemployment card. The training course I've signed up for, which always fills up in a matter of hours, is next week. No job interviews on the horizon (this is almost always the case). And there is a job fair tomorrow. That means that today I've got the whole morning to look for work, and I'd better make the most of my time. I know that lots of people -- politicians included -- wouldn't believe it, but a job-seeker's schedule is not as free as it might seem.
I keep looking. I log into a few job-hunting web sites I'm registered for, and I see that the position I responded to three months ago is still there, posted in limbo. No one has bothered to take it down, thus prolonging that acute agony of not knowing. After much hunting, I sometimes find an internship that matches my profile, at a well-known company. The stipend is never much, but I always think the same thing: I've got enough savings to get by, and the experience I'd get would definitely make it worth my while.
So I get to it: I look for information about the company, I write a cover letter indicating why I am right for the job, I update my resume... all these are things recommended in that training course about "active job-hunting" I took a while back. I send in my application, confident (hope is the last thing to go) that it will be selected from among the 500 people who've already applied in just the two hours the position has been posted. And I keep looking. A few minutes go by, I refresh my application status, and I see that I've been rejected. So, that's that. I keep looking.
Normally, when one spends a lot of time looking for a job, s/he ends up losing perspective, so I always try to throw in some other activities -- like preparing for tomorrow's job fair. It's true, the entry fee is 12 euros; some might say that's taking advantage of the unemployed. I prefer not to think about it. I look for information about the companies participating and write the most relevant information on a Post-it, one for each company. Consultancy? I list my languages skills and mention the master's degree I am completing. For a multinational, I highlight my total geographic mobility, and my drive to succeed. And so on and so forth. I make small tweaks to my resume depending on the company, and I print them out and stick-on the corresponding post-it. At home I practice what I will say, over and over again. In my experience, there will be lots of candidates, the recruiters won't have much time, and the probability of ending up in the pile of resumes to be "recycled" is high. I get my job-seeker clothes ready for tomorrow. Every detail is important, and I can't afford any mistakes.
Nighttime approaches, and I do a quick visit to my groups on LinkedIn, a page I didn't even know existed before I started this process. There I share any relevant information with other people in my situation. I read updates from businesses that I follow, and check out blogs with advice about how to look for work, prepare for an interview, links to the next job fair, etc. I check my inbox one last time, and that's it for today. Every night I try to think the same thing: Maybe you didn't find a job today, but at least you did everything in your power to get one.
There now. To clear my head a little, I read the newspaper. Always the same stories: the unemployment rate this quarter, an international organization reporting on Spain's terrible macroeconomic outlook, or the latest about some corrupt politician. The atmosphere does not inspire optimism, but this isn't the moment to give up. If I don't try, I'll never get a job. If I try, I may not get one, but a .01 percent chance is better than zero percent, I say to myself.
On Facebook, I see the latest updates from a friend who left for the UK, and, after a long time and a lot of effort, found himself a job. Or from another friend who went on an Erasmus study-abroad program to work on his final project for undergrad, stayed to do a doctorate and is now preparing for a fellowship at a university in Taiwan. I like to think that I don't know what continent I will be on next month or next year, That in a year's time my life may have changed completely. And I tell myself that if others can do it, I can do it, too. Switching from "actively job-hunting" to "unemployed," I tell myself, is not an option.
Calling all HuffPost superfans!
Sign up for membership to become a founding member and help shape HuffPost's next chapter