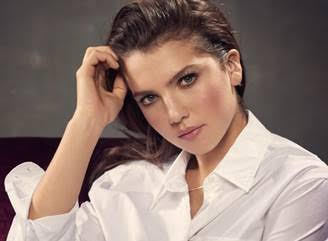 I can remember it like it was yesterday. It was a hot, Thursday night and I was catching up on TMZ, one of my favorite shows. I had class in the morning and knew I should have been getting ready for bed when the next segment caught my eye. The story was about Maya Henry, a girl younger than me from Texas, who just had a $6 million dollar Quincenera (a traditional Mexican coming-of-age party for girls, similar to bat mitzvahs). Hundreds of people showed up to the venue, which was custom built just for her party. There were cherry trees taller than anything I've ever seen before, floral decorations and arrangements everywhere, making the space look like a scene from The Secret Garden. The inside of the party was just as fabulous, with butterflies hanging from the ceiling, and more floral arrangements cascading the space like arches. She also got the chance to wear not one, but two beautiful gowns, which contributed to almost half a million dollars. Both dresses exemplified elegance and grace, and honestly, it felt like something straight out of a princess fairytale from the 21st century. I was so fascinated by this girl and her life, and before I knew it, I had drifted into slumber, the voices in the background still telling Maya's story.
The next thing I knew; I was at the CFDA Fashion Awards in New York. I don't remember how I got here, or how I was invited but I'm with Maya Henry! She's wearing an absolutely gorgeous Etro dress with floral print cascading all the way down to her ankles. Her shoes are gorgeous, and everyone is gorgeous. We talk, and that's when I realize that me and Maya are BFFs! We make our way around the star-studded event, having casual conversations with Anna Wintour, Heidi Klum and Laverne Cox. I hear Maya talk about her work with the Hillary campaign, and the #Teensforhillary she started to raise awareness about the presidential campaign, and her passion for philanthropic work with children. It was all so surreal, and while I felt like a true fish out of water, it was comforting to know I was with one of my best friends. I remember fast-forwarding a bit to our own little shopping trip. We were in Los Angeles, looking for dresses to wear to George Clooney's dinner party later that night. We spent hours laughing and hanging out; it was a normal weekend being Maya Henry's friend. It was... It was a dream! It was all a dream, and I woke up to the sound of my alarm irritatingly reminding me that I had class in a bit.
As I was getting myself together, disappointed that none of it would ever be my reality, I got a phone call from a Texas number. Could it be? OMG! It was Maya Henry herself, calling me! I knew I had to tell her everything, so I told her about my dream, about our jet-setting adventures and low key fabulous weekends in California. I also knew I had to ask her about current events since we just finished a major election, so I figured I'd pick her brain a bit on everything going on
Jazz Girard: 2016 was such an amazing year for you; How do you plan on keeping that momentum in 2017?

Maya Henry: 2016 was an amazing year for me! I never expected my life to change so drastically in just one year. I have been given so many opportunities and I'm so excited for what the new year has to offer. I have a lot of projects I'm working on that include acting and modeling. I have been taking acting classes and going on auditions. I I will continue with acting because it is something I am very passionate about. I will also continue to develop my modeling careers not only as a model but as a role model to all young teens. My biggest project for 2017 will be my philanthropy work.
JG: How do you feel about our president-elect, both as a millennial and as a Latina with strong Mexican heritage? What do you think that this means for the United States moving forward?

MH: It is clear that a majority of our country supported a woman for president. Even though our electoral college doesn't not allow for the majority to win, people did voice their opinion and were willing to have a female president. I am happy that people were able to demonstrate that a woman can truly have the most powerful position in the world. I have friends and family that have supported both sides and I believe we all need to do what we can to make our country the best it can be. If our current president can't make our country better than it already is, then when I am of voting age I will be able to have a true voice for change through my vote! As a young Latina woman, I encourage everyone to fight for our rights. I think that no matter our religion, race, gender, or sexuality--we all have equal rights!
JG: How do you plan on using your philanthropic passion and political motivation to help people of your generation and beyond?

MH: As a young teenage woman, I understand what a great opportunity I have to help young people in my generation that do not have the same opportunities as I. I have had the fortune of meeting some amazing people that have the same goals as I do, and who can assist me in working together to ensure that we help other young people in need, as well as encouraging young people to stay educated and involved.
Maya's rise to internet popularity through her epic Quincenera party has no match on her future potential as a rising star, philanthropic leader, and political correspondent. Be sure to look out for her in years to come!
Be sure to follow Maya Henry on Instagram to keep up with her!
REAL LIFE. REAL NEWS. REAL VOICES.
Help us tell more of the stories that matter from voices that too often remain unheard.