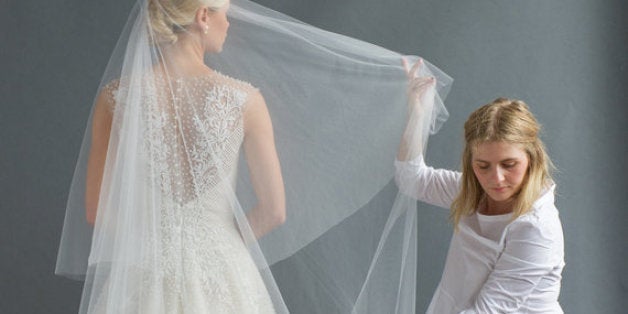 I always dreamed of designing my own bridal collection and marrying the man I fell in love with. I never thought they would both happen at the same time! Less than a year ago, while designing my debut bridal collection, my soon-to-be husband popped the question and the craziness began.
As a bridal designer and bride-to-be, every day for me is completely different yet each day is action packed, exciting and rewarding all at once. Starting a bridal collection was a leap of faith and has it's challenges, but I've never been happier! I've learned to be a master at multi-tasking, organizing and staying true to my vision -- both at work and at home when I'm wedding planning.
I wanted to share exclusively with HuffPost readers my daily routine and some tips for coping with the stresses of working full time and planning a wedding simultaneously. Come and join me for a day in my world of wedding plans, designs, production details and plenty of tulle!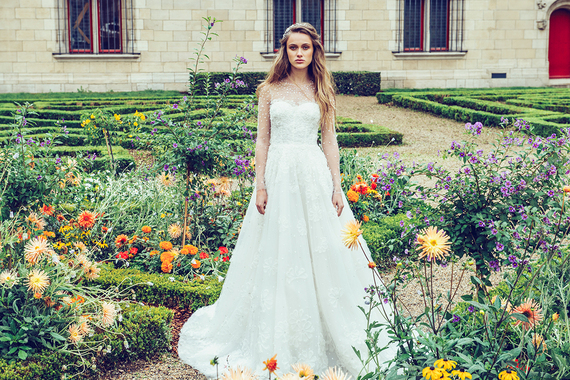 7:30 AM - 8:30 AM
When I wake up the first thing I do is take my dog for a walk. Then, I feel like I need to start every day with a clear mind so that I can be the most active and attentive to every aspect of my life, so I start with a Hot Yoga class or a cardio based class. Between the stresses of starting my own company and planning a wedding, I need an outlet where I can unwind and really focus on myself and my health. I find starting my days with yoga or a workout makes for a much more productive day.

TIP: It's very important to find a place where you can let go and start fresh every day. I think it's crucial to carve out just an hour a day to do something that makes you feel great. I schedule my workout classes for the week ahead of time and write my workouts into my calendar like they are an appointment I can't miss. It makes me less likely to cancel them once they are in my schedule.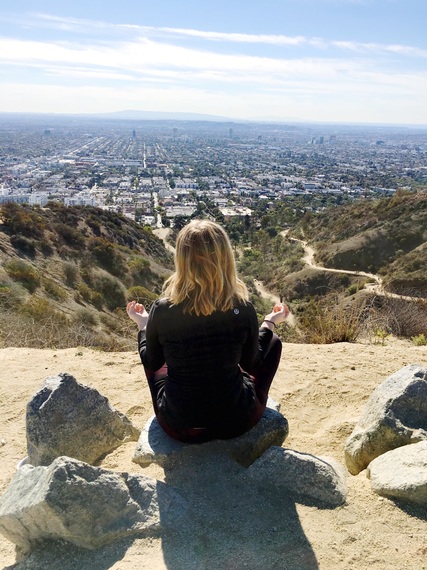 9:00 AM - 10:00 AM
Every morning I make sure to eat a heathy balanced breakfast (yes, that's the wedding diet life). Lately, I have been on an omelet/scrabbled egg kick since I just bought a new Le creuset blue pan that I'm obsessed with! But of course every once in awhile, I still have to splurge on a donut! After breakfast, I always dedicate a large part of each day to designing my new Spring '17 collection that will be showing during NY Bridal Fashion Week in April. I head over to downtown Los Angeles where I stop by to check in with my pattern maker, cutter and sewer. I check in with all three to make sure that all parts of production are running smoothly.

TIP: Eating a healthy breakfast gives me energy for the long day ahead! I found that keeping a food diary helps to keep me on track for the wedding. I review it at the end of the week and make positive adjustments.

10:00 AM - 11:00 AM
First, I dedicate at least an hour to be at my pattern makers studio, where I fit the Spring '17 muslins (the first draft of a dress) on a model and see them take shape. We try on muslins of dresses to perfect the fit and pattern first. This is super important because the new styles are then sent over to the embroiderer where the fabric pieces are beaded by hand.

TIP: Take your time when it comes to certain work projects. This specific process should never be rushed! The patterns need to be absolutely perfect because once the beading process starts it would be very costly and time consuming to find a fit error.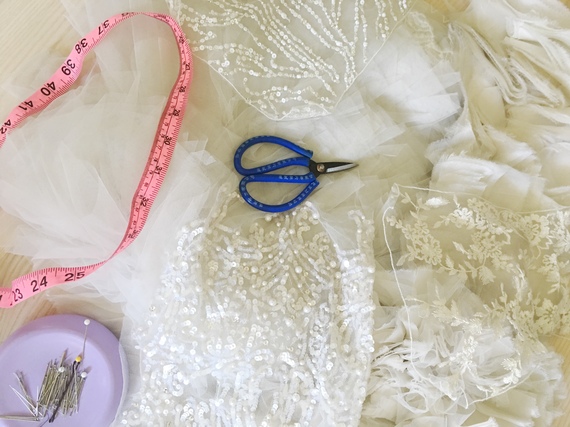 11:00 AM- 12:00 PM
I spend at least an hour a day with my sewer to make sure everything is running smoothly with the production of my Fall 2016 collection. This includes new samples for the salons and the boutiques, as well as bride's dresses. The sewers and I work very closely to ensure that that every detail of the dresses are exactly like the original sample. Usually, I will assist modeling each piece by hand and personally cut lace flower motifs so that I can place them perfectly on the dress.

TIP: There are times when being a perfectionist comes in handy so embrace it! I want every one of my brides to be over the moon happy with her look. For many brides their wedding day is one they have dreamed about forever. They deserve to have the perfect dress!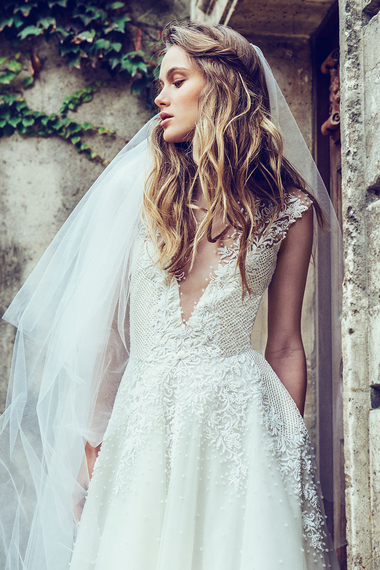 12:00 PM - 2:00 PM
I have weekly lunch meetings with my wedding planners Debbie Geller and Paige Blatt of Geller Events to keep the momentum of the wedding planning process going. Lately we have been focusing on the color schemes and floral ideas- really making sure everything is coming together cohesively. Other than finding the perfect venue, this has been the most difficult for me. There are so many different routes a bride and her planner can take in terms of color and overall theme. I have so many different ideas especially being in the industry, that it has been challenging to focus on just one. My planners are great at finding realistic and cohesive solutions with my ideas. Today, I am revisiting the top photographer portfolios and packages so I can make a final decision on a photographer and videographer.

TIP: Be super open and hyper-communicative with your wedding planner. If you can't communicate clearly your expectations and how you envision your big day, there could be mixed messaging and no one wants that!

3:00 PM - 4:00 PM
I take at least one hour a day in the afternoon to sketch. It's very important that I make time for this every day -- it's my creative outlet! At the end of the day, this is the part of my job that is the most fun and the part I enjoy the most. Now that my Spring '17 collection is all designed and into production, I am working on ideas for my own wedding dress and my bridesmaids! I'm leaning towards incorporating lace and chiffon fabrics into the bridesmaid dresses and for color a subtle peach or maybe an ice blue.

TIP: Remember what you love about your job and why you started. Today many jobs are multifaceted and require so many different tasks that need to be handled any given day. I think it is super important to give precedence to the parts of your job that you love and what makes you happy.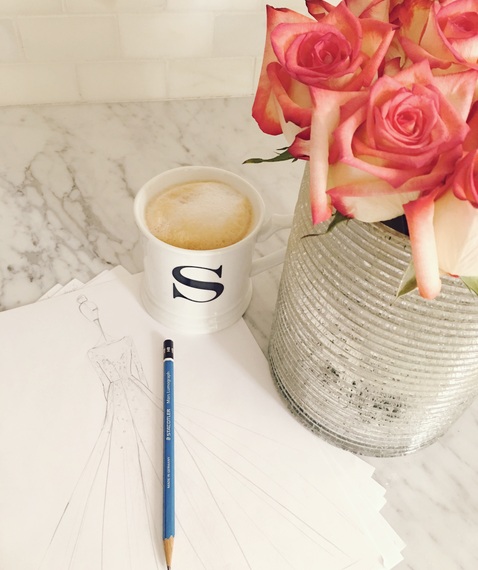 4:00 PM - 5:00 PM
Somedays by 4:00 I really need to rest my mind and recharge. Many nights because of the time difference, I stay up late communicating overseas regarding the production of my fabrics and embroideries so I will try to nap for an hour during the day. I won't make it much past 11:00PM if I don't force myself to rest even if it's just for 30 minutes.

TIP: Listen to your body and take a rest when you need it.
5:00 PM - 7:00 PM
It is crucial that I take some time each day to handle all the logistics that come when owning your own business. I go through all the emails of the day to ensure that all of my embroideries, fabrics and materials are set to arrive on time for production. Today, my embroiderers sent over some artwork for my Spring '17 Collection. When reviewing the embroidery placement and artwork, if I see an element I want to add or remove I place it into photoshop and rearrange floral motifs so that the placement of each dress is special and intricately specific.

TIP: Patience to crucial! Any graphic designer or artist knows that you have to be patient with the design process. This is a part of my job where I need to make sure I take the time to look at every little detail and not to rush, even during a busy day.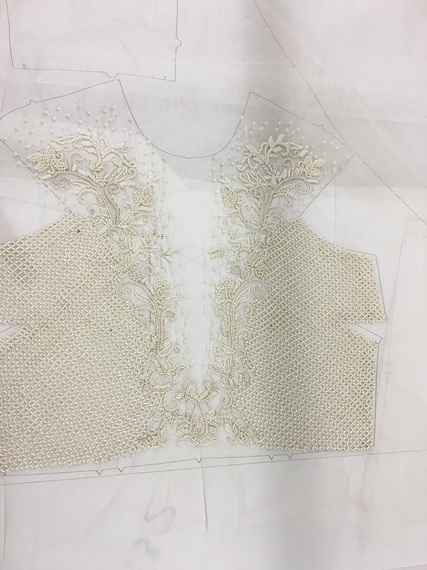 8:00 PM - 10:00 PM
I finally get to spend time with my fiancé! Some nights we cook together, order in or catch up on our favorite TV shows. Every Thursday night we try to make it a date night and go to our favorite vegan restaurant, Crossroads on Melrose. On date night, we make a rule to not talk about the stresses of planning the wedding and just focus on each other. This time of the day is my favorite because I get to relax and eat amazing food with my best friend and tell him all about my day and hear all about his.
TIP: Spend time with the person you love most!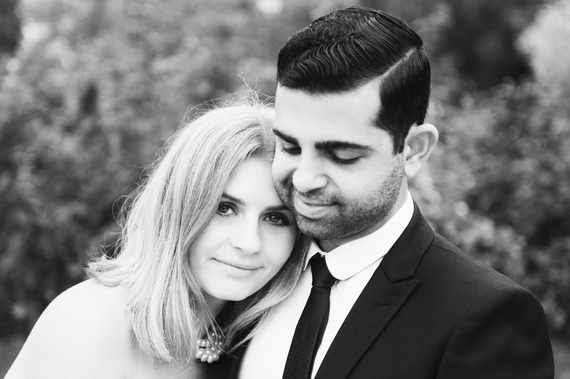 10:00 PM - until I fall asleep
Depending on workload and/or deadlines, I usually stay up late and work while I watch TV and unwind a bit. I use this time to answer a few more emails or focus more on my wedding planning. I enjoy working on my wedding planning at this time because I can multi-task while I watch TV and relax a bit. I also like to browse through magazines, blogs and Pinterest for wedding ideas.
TIP: It's okay to multitask and enjoy a little background noise while you are working on wedding plans or when you have to take your work home with you.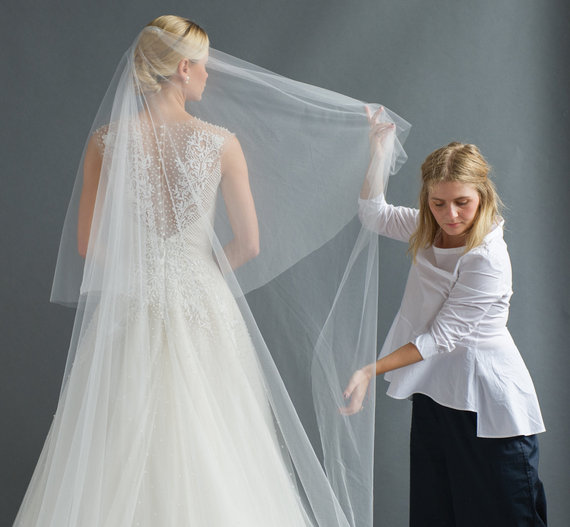 And then it starts all over again! Now calling all brides-to-be: I want to know what your typical day is like and how you cope with stress. Let's hear it!