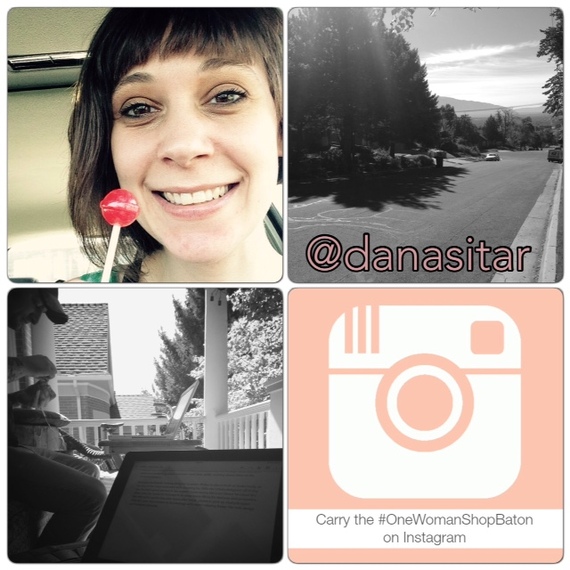 I was invited recently to carry the baton for One Woman Shop's Instagram to show "a day in the life of a female solopreneur." Inspired by colleagues and friends who had carried the baton before me -- and, inevitably, by my desire to share every passing bit of my life with people who might actually care -- I was excited to participate in this simple but powerful project.
Then I realized: There's no such thing as "a day in the life" of Dana Sitar. I don't have a typical work day, a self-made routine, useful work or lifestyle tips for other women trying to navigate self-employment, or even much of a business plan or goals these days.
What of value could I possibly share?
Instead of trying to manufacture some sort of routine, typical day, I decided to guide followers through a day that pretty well encompassed everything I want my life and career to be all the time. It's got city life, writing, blogging, podcasting, coaching, studying, family, friends, tourism, chaos, and comedy.
Not all of my days look like this. Some of my days are completely mundane write-y, bloggy days for sporadic freelance clients. Some days, I'm working a part-time job. Some, I'm in the car for 10 hours, keeping up with social media and emails whenever I have cell service. Some days, I'm babysitting my two-year-old niece.
When my world slips into the kind of chaos I invite in months like this -- where I've left an apartment and a job and set out on the road to survive on nothing but a few book sales and a Hail Mary workshop project -- I wonder if I'm doing it wrong.
I wonder if I'm supposed to sacrifice adventure or fun for the sake of growing a respectable business.
I wonder if I'm supposed to desire the kind of productivity that comes with routine and structure.
I wonder if I'm supposed to want the kind of income that comes with focusing on work and saving money, rather than fitting work around play and spending anything extra on travel and good food.
I wonder if I'm supposed to grow up and land on one clear path, instead of this dabbling that's looking more and more like a lifestyle choice than a passing phase.
Then I looked at One Woman Shop's "day in the life" series.
No, I didn't discover complete kinship with other female solopreneurs traveling the country on a tattered-shoestring budget and a comedian's schedule. None of these women's lives looks like mine.
But none of their lives looks anything like the others', either.
PR pro and side-hustling blogger Jessica Lawlor has trained herself to wake at 5 a.m. for a few hours of exercise and freelance work before her 8-to-5 job in Philadelphia. She fills her "off hours" with yoga, family trips, speaking gigs, and -- get this -- trapeze lessons? This girl wears her Get Gutsy brand on her sleeve!
Finance and business blogger and coach Carrie Smith works from home, entirely self-motivated 9-to-5. She completes client work in blogging and social media and spends afternoons on mastermind and coaching calls to ensure she's always doing the best work she can for her business.
NY-based artist Carrie Eigbrett runs two small businesses -- a photography biz and an Etsy shop -- and works full-time. She squeezes in social media (and Instagram-baton-carrying) during breaks throughout her work day. Oh, and then returns to tend to home, husband, and two teenage boys! She also mentioned something about volunteer work (but, oddly, nothing about sleep?)
Emerging handmade clothing designer Lysandra Weber is also a work-at-home mom, so two days of her work-week start with dropping her little one (#babydesigner) off at day care. No high-speed internet in her country home means the local library often suffices as her office. Her nitty-gritty production time starts after lunch, pauses to pick up #babydesigner from day care, and resumes in the evenings with super-relaxing things like web design and business planning.
And One Woman Shop founder Cristina Roman is a jill-of-all-trades. She helps individuals and small businesses through coaching, consulting, speaking, and courses at CMR Strategies, and she helms the OWS community. In addition to these solopreneur-supporting pursuits, Cristina spends her free time doing yoga and playing tennis, and apparently survives her busy day on decaf coffee (anyone else sleepy just thinking about it?)
These are just a recent smattering from one project. Talk to fellow solopreneurs; read their blogs; and follow their candid, desperate, excited, exhausted, and hilarious posts on social media.
You'll see tons of women building their brands, growing their businesses, and creating their creations -- in their own ways.
See the details of this particular day in my atypical work and life via @onewomanshop on IG.
What does YOUR creative, writerly, or entrepreneurial work-day look like? Share in the comments!
Related
Popular in the Community