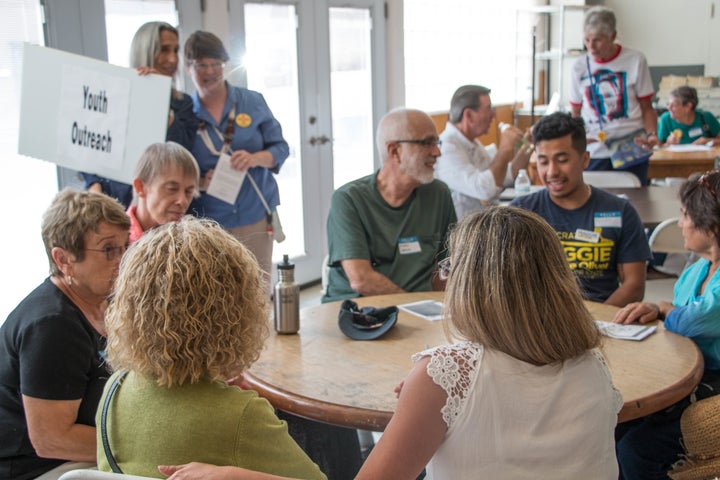 I am a fellow for the Hillary for America campaign in Santa Fe, New Mexico. I am not a paid staffer. I am not retired or independently wealthy. I have a full-time job, an energetic two-year-old, and a partner I love to spend my free time with. However, even with my full schedule, when I got a call this summer asking if I would apply for the HFA fellowship program, I didn't think twice.
There are moments when, after working all day, chasing my daughter, cooking dinner, bath time, and a carefully orchestrated bedtime routine, that I am absolutely exhausted. Like every other working parent in this country, there never seems to be enough hours in the day. I find myself wondering, "Why am I spending my limited free time doing this?" But then I remember who Secretary Clinton is and who her opponent is. I remember that this election is unlike any in my lifetime. I can go back to my normal life on November 9th. Until then, it's full steam ahead.
So, here I am in the all too familiar setting of a campaign office. Campaign offices are not like the ones portrayed in the movies. They are veritable garage sales. Desks, chairs, printers – everything has been donated, leaving a hodgepodge design indicative of the wary and sleepless. In the Santa Fe HFA office, everyone is a volunteer. And this campaign is their life. They work until they can't keep their eyes open, go home to sleep, and come right back. During the 2010 election cycle, I made a crazed shopping trip to Old Navy – in under fifteen minutes – because I didn't have time to do laundry. It's not glamorous.
But there are only 26 days left until Election Day. Volunteers are busy registering voters, conducting trainings, updating databases, cutting turf to create walk lists, phone banking six nights a week, cooking meals so staff don't have to constantly eat fast food, and knocking on doors. They selflessly give the most precious thing we all possess – time.
In this office volunteers step up into leadership roles every day. They walk in parades, host debate parties, hand out literature at the burning of Zozobra. They come to see former Texas State Senator Wendy Davis kickoff a phone bank and chat with Cristóbal Alex, HFA Deputy Director for Voter Outreach and Mobilization, at a local restaurant about why this race is so imperative.
In a time where "busy" has become a badge of honor, campaign volunteers turn the definition on its head. They haven't eaten a meal in their homes in weeks and talk to strangers more often than their own family members. But they are doing the work. Talking the talk and walking the walk. Door by door.
So here is what my average day looks like as a HFA volunteer. If you are interested in volunteering, I urge you to contact your local office, or go to HillaryClinton.com to connect with the campaign. We need you.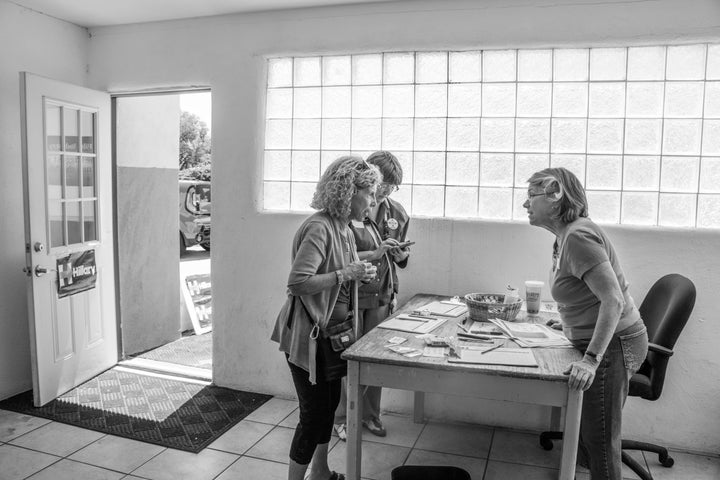 Saturday
9:00 a.m.: Jump on a call with our State Director, Scott Forrester, and over twenty other fellows around New Mexico to discuss messaging, upcoming events, and questions and concerns that have come up. Today we are hearing from Sergio Gonzales, Regional Director for HFA, about Get Out the Vote efforts.
I mute the call to entertain my daughter with stamps. Remind myself to buy more hand soap.
10:22 a.m.: Stop by the campaign office for stickers, clipboards, sign-in sheets and to refresh the event box I permanently keep in the trunk of my car. I get encouragement from Mary Freitas, the Santa Fe Lead and a retired teacher, who welcomes each person who comes into the office with a hug. Mary is typical of the volunteers that fill campaign offices across the country, and I am so thankful for their energy and dedication.
I pass tables of volunteers on the phones. I hear, "We need your support, not just for Hillary but for all the Democrats in New Mexico during this election." Out of the corner of my eye, another volunteer is giving canvassers clipboards full of literature and walk sheets. This is the most important work of any campaign. This is what wins elections. Talking to voters, answering their questions, and asking them to get out and vote. Before I leave, I pick up a life-sized cutout of Secretary Clinton for a selfie wall at an upcoming event. Three cars honk at me and HRC as we make our way down the street in the blustery October afternoon.
11:40 a.m.: I join two local political wonks on a local radio show to discuss how misogyny, lies, and media bias have played a role in the presidential race. I'm reminded yet again of how important this race is – for everyone.
1:00-3:00 p.m.: Nap time equals call time. I call everyone: vendors, interns, phone bank leaders, and my girlfriends who keep me sane and inspired.
3:30 p.m.: Set up sign-in table at today's event and check in with speakers and hosts. My husband is bringing our daughter later. I am so thankful to have such a supportive partner. This wouldn't work without his constant encouragement.

4:00 - 6 p.m.: Pizza for Prez event at Back Road Pizza. Eighty-four people and about twenty kids show up to learn more about the campaign and sign up to volunteer. A troop of little girls march around the patio chanting, "Hillary! Hillary! Hillary!" We all smile and take it in. We are doing this for them. Santa Fe Mayor Javier Gonzales is a regular at these events. He speaks about the importance of getting out the vote and young people running for public office.
11:00 p.m.: I crawl into bed after sending a few dozen emails, creating a flyer for another event, and scanning the news from the day. Volunteering for a campaign is exhausting, exhilarating and frustrating. I remind myself that we are a little closer to having the first female President, and by far the most qualified candidate, in the White House. I think about how that will impact my daughter. I sleep like a baby.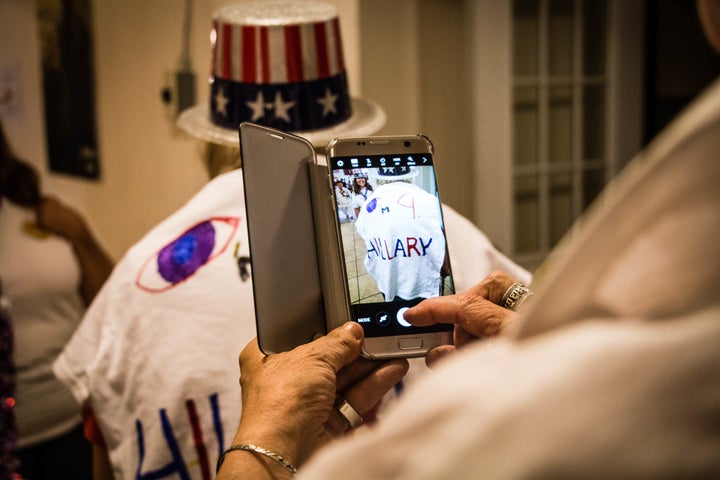 REAL LIFE. REAL NEWS. REAL VOICES.
Help us tell more of the stories that matter from voices that too often remain unheard.