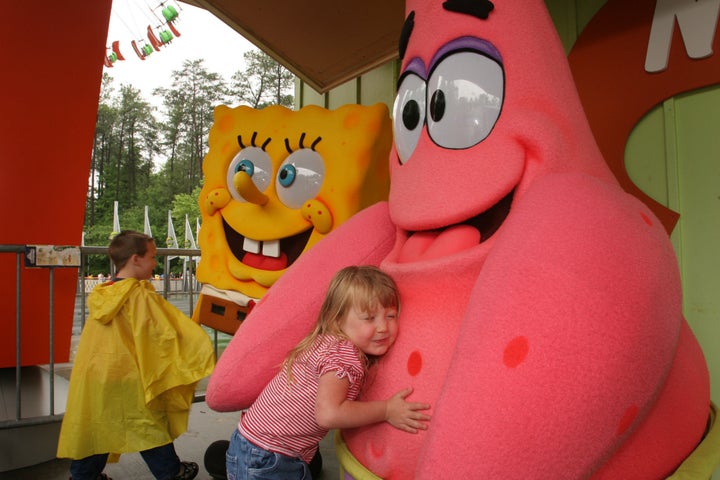 It is July, a few summers back, at Paramount's Kings Dominion theme park near Richmond, Va. And as Patrick the Starfish, SpongeBob SquarePants' best cartoon friend, I am the goofy hero of the afternoon.

Kids are lining up to shake my pink fleece flippers and -- hey, watch out there -- one keeps snapping the stretchy fabric of my Nickelodeon pantaloons.

I'm not allowed to talk in here, so I can't tell this 6-year-old to lay off. I scan around for help, but inside my suit it's dark and hot. I check my key-chain thermometer: 104 degrees. My plastic starfish eyes are fogged.

Suddenly, I feel lightheaded. It feels as if someone -- maybe SpongeBob, who is gyrating next to me -- has sucked the oxygen out of my suit.

Stand back, I think. I am going down.

My day as SpongeBob's TV series sidekick, Patrick the Starfish, gets started because I am nosy. I'm one of those who can't just relax and enjoy the magic of theme parks. I need to know what is really going on. How do the rides work? What's behind the landscaped sets? And, in particular, what's it feel like to be one of those friendly, furry characters who hug everyone and dance around? Is it fun inside the suits, or a nightmare of bad jokes, pushy parents and screaming kids?

One way to find out is to see if someone will let me be one. After I'm turned down by a string of parks, Kings Dominion comes through. When I suit up, I'll be joining a small but important part of the amusement park industry. According to Sarah Lovejoy, Kings Dominion's manager of public relations operations, the park's costumed characters can end up hugging and high-fiving as many as 7,500 park visitors on an average summer day.

At 5 feet 10 inches and 170 pounds, I'm too big to try out for SpongeBob, who's such a squat character that he demands an actor of about five feet. But if I agree to go through training and follow "character integrity" guidelines, I can spend one day in the role of SpongeBob's relaxed-fit companion. Patrick is big and dorky, and even though I don't have kids, I've seen his mug on coloring books and lunchboxes. Blundering along with Bob in series after series of deep-sea adventures, he is co-star of what Nickelodeon says is the most popular show in its history.

10:15 a.m. I report for duty. "Character actors punch a time clock," Lovejoy tells me sternly -- I am 15 minutes late -- "and then head on to one of the costume areas to suit up."

10:42 a.m. Lovejoy gives me a tour of the park. Highlights include the two areas for kids -- Nickelodeon Central and Kidzville -- where actors gear up daily for four to six half-hour-long "meet and greets" or "walks" in their suits.

"I'm ready," I announce.

Lovejoy glares. "It's going to take time to train you," she notes. "Not to mention fitting you in the suit."

Do we get lunch? I ask.

"Forty-five minutes," says Lovejoy. "But then it's back on the clock."

11:30 a.m. New-character boot camp. But today I'm the only inductee. Before learning the ropes, I limber up with some shin-touching and as many push-ups as I can do: nearly five. "A lot of this job has to do with endurance," says Amy Vest, who's in charge of characters and training and eyes me skeptically. "So we get mostly high school kids. It's tough. You'll have to crouch, you'll do a lot of hugging, and you'll dance, sometimes for as long as a mile. One time, during our parade, Patrick had an asthma issue and had to be brought back in."

12:10 p.m. After assuring Vest that, though I'm in my 50s, I don't need an inhaler, I am introduced to my gear in one of the park's top-secret suiting-up shacks. Vest refers to it as the Green Room. Visitors are strictly prohibited, and I can see why. It is crammed with disembodied character heads and hanging torsos.

"They just got washed," says Vest about the torsos. "That's why they don't have arms yet."

A sign on the wall says:

IS IT LAUNDRY DAY? THEN MAKE SURE YOU LEAVE THESE THINGS IN THE SHACK:

*SCOOBY'S HEAD

*SCOOBY'S BELT

*SCOOBY'S TAIL

*SCOOBY'S FEET PODS

I'm not worried about Scooby-Doo's feet pods. I'm concerned with the pieces of Patrick.

12:30 p.m. Lunch. Starfish or not, I down a fried shrimp sandwich from one of the park's fast-food joints. It's decent shrimp, but I feel like a cannibal.

1:04 p.m. Time to suit up. My costume is the color of Pepto-Bismol. Only it's a brighter pink.

Since we performers are responsible for our suits, I spray down all the places that will touch my skin with a hospital-grade disinfectant known as TOR.

1:35 p.m. I step into giant fuzzy leg pods and pull up my mesh-style underwear and suspenders. Next come a pair of massive pea-green pantaloons.

Patrick's head and body unit is heavy -- under the pink fuzz there's a structural shell. I need help from Vest and an assistant to hoist it over my head and get my arms through the knapsack-style harness inside.

SpongeBob's suit, I'm told, is equipped with a personal fan. Nothing fancy like that in mine. It's like a tropical evening in here: dim, roughly the color of sunset, scraps of thread and duct tape hanging limp in the humid air.

As a final touch, I attach some Velcro straps and slide my arms into the arm pods, which I try to flap using subway-style fabric straps. Voila.

2:25 p.m. Vest and her assistant explain the rules. No talking in the suit. No food. No gum. No running. No signing autographs (how could you grip a pen with a flipper?). And no embellishing the costume.

"Once SpongeBob came out with a bracelet on," explains Vest, "that's supposed to go with Dino from the Flintstones. Someone was like, 'Hey, look, SpongeBob has bling!' I had him back in the shack in two seconds."

The bracelet story reminds me of the ancient controversy over whether SpongeBob is gay, whatever that means in the world of cartoons. Since it touched off a national debate, I decide to get an opinion on it from the actor who, at this exact moment, is struggling to squeeze into the bottom part of SpongeBob's suit.

She is Tiffany Vowell, 18, of Milford, Va., a short and cute person about to be topped off by a rectangular cube of pockmarked, airbrushed foam.

"Gay?" says Vowell. "I really don't think so. SpongeBob and Patrick are just friends."

2:56 p.m. We make the final preparations for our first meet-and-greet at Nickelodeon Central. We'll have to wave, shuffle to the music that seems to be blasting everywhere and, of course, pose for pictures.

But because it's started to rain, we're going to have to do this under a canopy. And though trussed up in our suits, we're going to have to break the rules and run for shelter.

How come? I say. What's wrong with a sponge and a starfish getting wet?

"Your paint will run," says Vest impatiently. "And SpongeBob turns black."

3 p.m. It's time to exit the shack. Vowell offers some last-minute advice. "Don't be nervous," she says. "It's easy to stiffen up in there. But you don't want your movements to look forced."

Suddenly there's a loud crack. It could be thunder. It could be part of my costume snapping as I accidentally bump into a wall. I can't really tell.

3:05 p.m. The rain is coming down in torrents. Our walk is aborted, says Vest. "It's just too wet. But stand by."

3:48 p.m. Due to the haze in my suit and the delay, I realize I've been dozing. How much time has gone by? I slip my hand out of one of my arm pods to check my watch -- probably only a couple of minutes, I think.

SpongeBob and a friend are playing Monopoly to pass the time. Vest is checking the weather. No one has noticed my nap.

3:55 p.m. It's drizzling now, dry enough to make another try. I jiggle and shake my pods to wake up. My plastic eyeholes are small and scratched.

Vest and SpongeBob look like the art on an Etch-a-Sketch, but I can tell from sudden squeals that Bob is on the move, out of the Green Room and in public view.

"SpongeBob!"

"Look, it's SpongeyBob!"

"Over here, Bob!"

"Where's Patrick?"

4:06 p.m. Fans are screaming for me! The only problem is that at the moment, I happen to be wedged into the doorway of the shack.

"Duck your head," says Vest. "Come on. This is ridiculous. Twist sideways." She and her assistant give me a shove, and I am loose and stumbling into a crowd of what must be children. "Patrick! Patrick! Can I hold your flipper?" I am grasped by larger shapes, who must be teenagers or parents.

I hear the raindrops plopping onto my hollow head. We get hustled toward the canopy and, surrounded by fans, I try to sway from side to side like SpongeBob. Dancing is impossible. Standing up and not looking desperate are my goals.

4:35 p.m. I feel like a Beatle. There are screams and bursting flashbulbs.

At the height of my fame, inside an enormous knot of kids, my pantaloons get pulled. Two of my Velcro straps are loose. I try to hike things up, but it's difficult with flippers.

I attempt the "help" sign I was taught -- a pantomime of snapping a pencil -- but there are too many bodies against me, crowded around. I am like an astronaut in space. My suit is leaking air. And the hour in here has changed: It's no longer sunset. It is tropical night.

4:50 p.m. I'm bending forward dizzily -- now I'm tipping, thanks to my giant head. I land temporarily on a padded knee.

There are little noises of surprise: Patrick never does this on TV!

SpongeBob is holding out his delicate hand, but I am going over, until I'm stopped by something firm but small.

It is a hug.

My head is being held by a little girl. She is hugging so hard I can't fall forward. I can't even move.

"Goodbye, Patrick," she says. "I love you."

I know the rules. I know I'm not allowed to talk. But I am Patrick the Starfish and it's clear what I must do.

I reach out one flipper, then another.

I hug back.

"Goodbye," I hear Patrick say. "I love you, too."
Peter Mandel is a travel writer, and an author of picture books for kids, including his newest about zoo animals passing on a very noisy sneeze: Zoo Ah-Choooo (Holiday House). Also, recently out, is his children's bestseller: Jackhammer Sam (Macmillan/Roaring Brook).