We love traveling, being in new places, meeting new people, eating new foods, and doing new things. And we like doing it together, as a family.
What we don't like is the act of traveling, or physically moving from one place to another. We have two daughters, ages five and three, which makes getting from point A to point B exponentially harder than it would be to travel it was just the two of us without kids.
We recently did something I vowed I would never do again: a red-eye flight with a layover to a connecting flight to our final destination. Mixing kids into this crazy flight itinerary is a recipe for disaster, and it actually resulted in four throw-ups on an airplane flight on a previous trip with a similar flight schedule.
Why would we engage in this madness again, if we knew the consequences could be bad for us? We didn't really have a choice in flight schedules, since we booked our tickets with miles.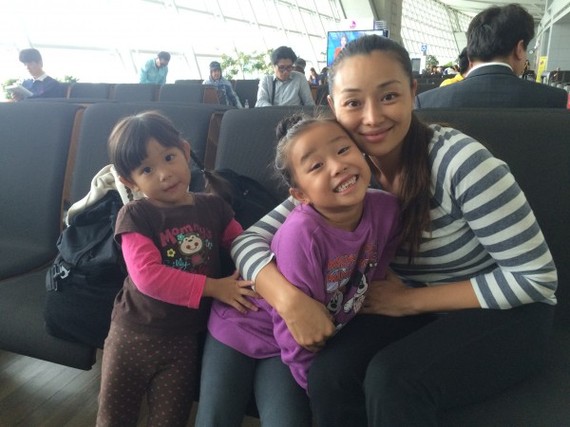 The Mission: Get all kids, parents, and bags safely from Phuket, Thailand to Hangzhou, China on an overnight flight, with a three-hour layover in Seoul, Korea, and a connecting flight to Hangzhou.
7:55 p.m. (Phuket, Thailand time): The taxi I reserved has arrived earlier than I expected. I had scheduled for an 8:30pm pickup, hoping my kids would be able to fall asleep in the car on our forty-five minute car ride to the airport.
8:10 p.m. (Phuket, Thailand time): Two big roller luggage, two small roller luggage, two duffel bags, two computer bags and one umbrella stroller get packed away in the Toyota Camry taxi. One of the big roller luggage occupies the front passenger seat while the four of us sit in the back seat.
8:30 p.m. (Phuket, Thailand time): Despite multiple attempts to have the kids quiet down, close their eyes, and lie down across our laps, they refuse to go to sleep. They are too excited to go to the airport. My master plan of having the kids fall asleep before we get to the airport goes out the window, and we will need to deal with their boundless energy at the airport, even if it's past their normal bedtime of 8 p.m.
8:55 p.m. (Phuket, Thailand time): We arrive at Phuket International Airport. I load up two push-carts with all our bags, pay the driver the taxi fee, and we make our way into the airport. It's not a big airport, but it has a considerable amount of night flights, mostly to destinations in China and other parts of Asia. Our flight to Seoul (Incheon) doesn't leave until 1:25 a.m., which is in approximately 4.5 hours. I hoped that check-in would start four hours before departure, thus booking the taxi for 8:30 p.m. Since the taxi came earlier than expected, we had arrived at the airport earlier than expected. Plus, once we get to the airport, I realize that check-in for our flight doesn't start until three hours before departure. Thus, we'll be waiting for an hour and half to get rid of our bags.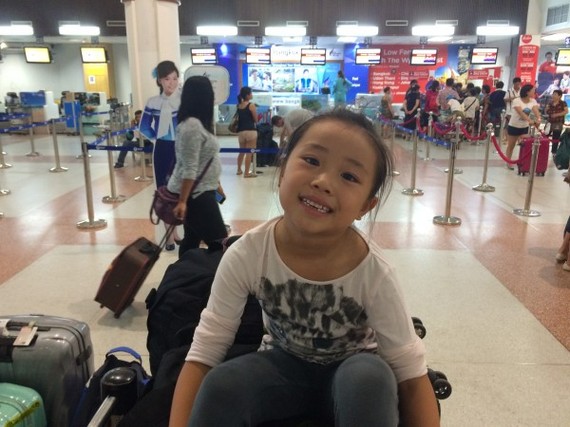 9:45 p.m. (Phuket, Thailand time): The kids are still awake. They're running around and keeping each other entertained. My wife's attempt to put our three-year-old daughter to sleep in her carrier and on the stroller have been unsuccessful. And my 5-year-old daughter has dark bags under her eyes, but refuses to go to sleep. We've gone to the point of no return...They'll have to stay awake until we check-in, get past baggage check and immigration, and make it to the departure gate. If we're lucky, we'll get settled at the gate in an hour, around 10:45 p.m.
10:25 p.m. (Phuket, Thailand time): Check-in begins. We're standing in front of the line for the lane for Star Alliance Gold (which I do not have), but we're OK, since Asiana Airlines also uses this line for "Mommies Service" or families with kids. I'm informed our first flight is a full flight. I had booked two center rows by booking four aisle seats with the hope of having an empty middle seat, so that the kids could sleep lying down. However, the ticket agent informs me that my seats are two sets of twos: two windows and two aisles. Somehow, my seats have changed to accommodate the full flight. I let it slide and take my tickets, disappointed that this flight with our kids just got a lot harder.
10:50 p.m. (Phuket, Thailand time): Baggage check and immigration cleared, we find a spot where we can put our things down and have enough seats for the kids to lay down. At this point, they are three hours past their normal bed time, with no signs of wanting to go to sleep. Going to sleep in this environment is particularly difficult since the departure area is bustling with activity. All the stores are open, there are flights departing every 15-30 minutes over the next few hours, and people are everywhere.
11:15 p.m. (Phuket, Thailand time): "Daddy, I'm not sleepy. See, my eyes are wide open," my oldest daughter says to me with wide eyes and a smile. I'm not impressed. In fact, I'm worried. I can handle a night of almost no sleep. My daughters, on the other hand, probably won't be in the best of moods when we have to drag them off the airplane when they are still trying to sleep. About 10 minutes later, my oldest daughter finally falls asleep fully outstretched on a row of three seats. Next to her is my wife and our youngest daughter, who is still unbelievably awake. Five minutes later, she succumbs to exhaustion and goes to sleep. Ten minutes later, my wife has reached her end, and puts her head on one of our duffel bags. I keep watch on our sleeping family and our bags until boarding time.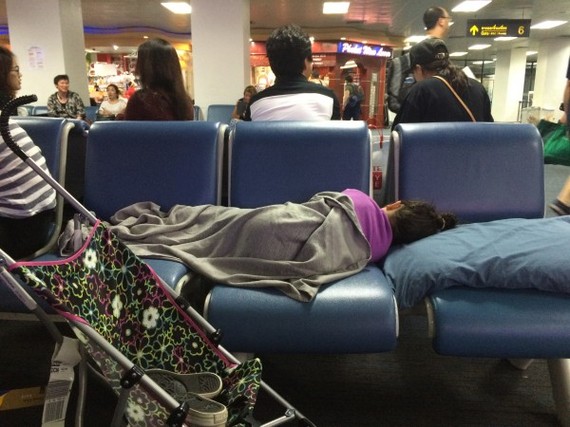 12:40 a.m. (Phuket, Thailand time): Boarding time. I carry our oldest daughter and my wife carries our youngest daughter, all while we navigate one small roller bag, one duffel bag, two computer bags, and checking-in our umbrella stroller at the gate. Thanks to Asiana Airlines, we are one of the first to board the plane due to their pre-boarding policy for families with young children. We get on the plane, put our kids down, put our bags away, sit down under the legs of our sleeping children and finally let out a sigh of relief.
1:25 a.m. (Phuket, Thailand time): Departure time. Safety announcements are being made and the plane is moving towards the takeoff area. Both kids are scrunched up against the window cushioned by a pillow and covered by a blanket. Their legs are outstretched over our legs, so our movement in and out of our seats is very limited. I'll need to try to sleep sitting upright with the constant weight of my daughter's legs on mine.
4:30 a.m. (Phuket, Thailand time): We're about two hours before arrival in Seoul and the lights in the airplane are being slowly turned back on. Announcements are made that the breakfast service will begin. I have been in and out of a state of sleep for the last few hours, since every time my daughter moves, I am woken up. Plus, my legs have gone numb from their restricted movement. This is all the "sleep" I'll get for tonight. I open up my tray table and wait for breakfast to be served.
4:55 a.m. (Phuket, Thailand time): Breakfast time. My oldest daughter is also up. She's awakened by the lights, noise, and smell of food. This alarms me as she's only had about five hours of sleep. She eats a little of her food, as do I. Her sister is still sleeping, but her mother is up for the breakfast service with us.
5:30 a.m. (Phuket, Thailand time): The breakfast trays have been taken away. Thankfully, my oldest daughter goes back to sleep after eating. I try to doze off, without much success, for the last hour of the flight.
7:15 a.m. (Phuket, Thailand time) or 9:15 a.m. (Seoul, Korea time): We have arrived at Incheon International Airport. The girls both wake up. My wife and I are dizzy with exhaustion and lack of sleep, but we need our second wind to get us off the airplane and to our connecting flight, which will leave in approximately three hours.
9:30 a.m. (Seoul, Korea time): We deplane. It's a cold morning in Seoul. We put on our down jackets, wait for our stroller at the gate, use the restroom, clear connecting flights' baggage check, and make our way to the Rest&Relax are on the upper floor of the Incheon Airport. Four months ago, we slept overnight here. This time, we're here to let the kids run around in the children's playground.
10:45 a.m. (Seoul, Korea time): We make our way downstairs to the other children's playground so the kids can run around. Luckily, the playground is situated directly in front of our gate. Our flight leaves at 12:40 p.m. and boarding starts at 12:10 p.m. We still have approximately 1.5 hours to burn before we leave.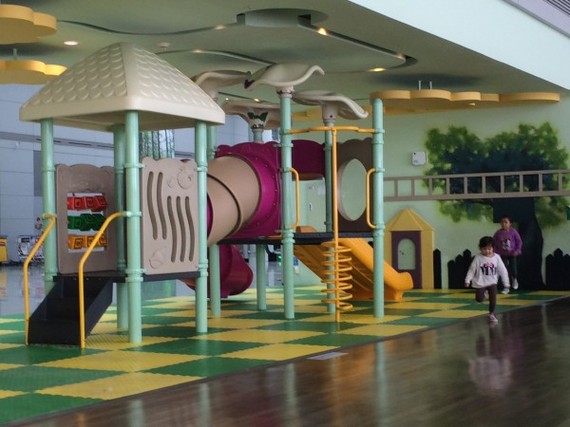 12:10 p.m. (Seoul, Korea time): Boarding time. It's a full flight from Seoul to Hangzhou, China. But it's only a two hour flight, so it's not a big deal. The flight is an interesting mix of Chinese and Korean tourists and business people. We are the only family on board.
12:40 p.m. (Seoul, Korea time): Departure time. Wheels up. We've made it this far and are happy to be on our way to Hangzhou, China to see the kids' grandparents. We're famished and eat the lunch served immediately after takeoff. Our oldest daughter doesn't want to take a nap, so I let her play some iPad games. Our youngest daughter gets in a snooze for an hour and wakes up as soon as we touch down in Hangzhou.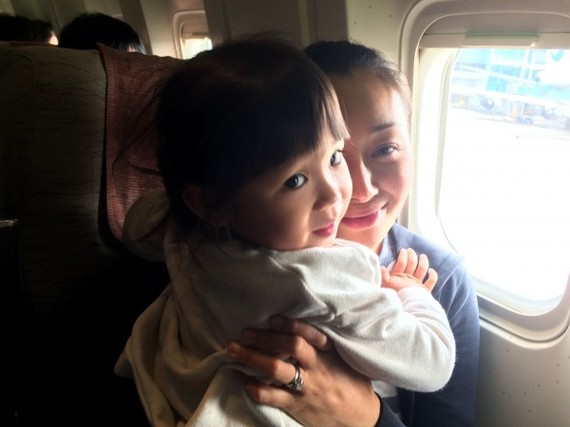 3:00 p.m. (Seoul, Korea time) or 2:00 p.m. (Hangzhou, China time): Arrival. We're finally at our final destination. It's a mad dash through immigration, then on to the baggage carousel where all the passengers are frantically trying to find their luggage. All of our bags arrive, intact, and unopened.
3:00 p.m. (Hangzhou, China time): Pick-up. It's freezing outside and pouring rain. The kids' grandfather has arrived to pick us up. We load the kids in the back of the car first, then load up the car with the luggage. Our oldest daughter falls asleep on the way to her grandparents' place, where we will be staying while we are in Hangzhou.
4:00 p.m. (Hangzhou, China time): Home at last. Bags and kids have safely made it to our final, final destination. My wife and I can finally exhale and rest. We devour our first home cooked meal in about three months.
7:00 p.m. (Hangzhou, China time): Everyone's exhausted and we sleep as soon as the sun goes down and don't wake up until 7 a.m. the next morning.
Mission Accomplished: All kids, parents, and bags were safely transported from Phuket, Thailand to Hangzhou, China on an overnight flight with a three-hour layover in Seoul, Korea.
Trip Stats
Total time door-to-door: 20 hours
Number of hours in the air: 8 hours
Number of hours I slept: 1 hour
Traveling on this type of itinerary wasn't easy, but we made it out alive. It wasn't particularly fun while we were doing it, but the payoff of arriving at our destination and being with family was worth it.
And that's why we keep traveling, even if it is hard and involves sacrificing a lot of sleep and comfort along the way.
Cliff Hsia is a father who is determined to live a better than normal life by traveling the world, slowly and purposefully, with his wife and two young daughters. He's currently on a gap year of world travel with his family. He writes about travel, family, love, happiness, faith, and everything else that life throws at him.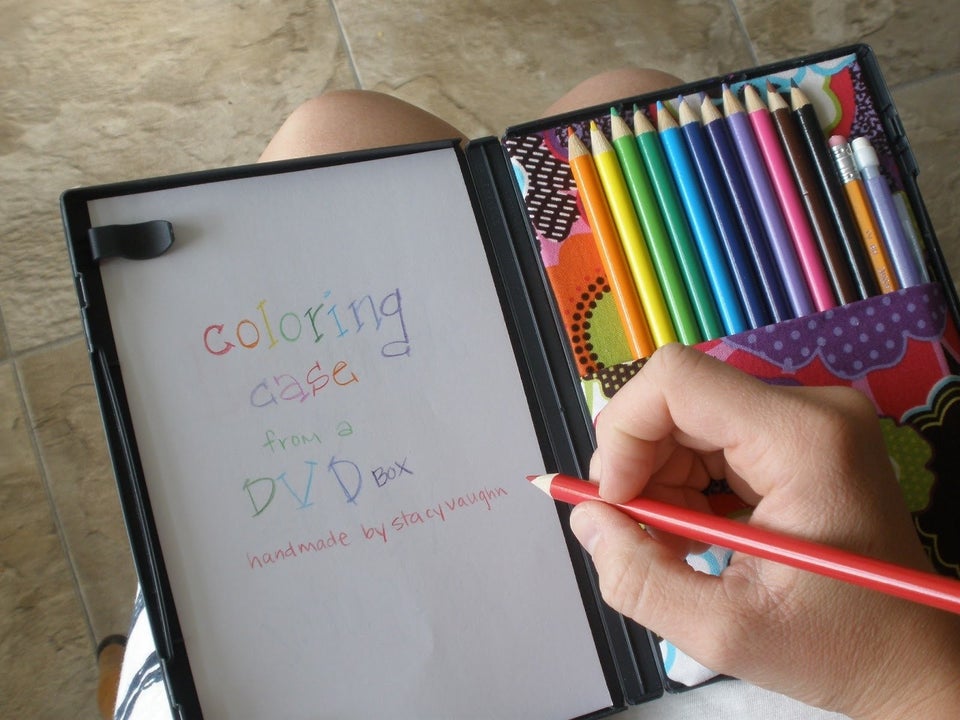 Best DIY Travel Games For Kids