Alex Brightman remembers exactly where he was when he got the call from his agent that he had the role of a lifetime. He was cast to originate the role of Dewey Finn on Broadway in School of Rock. "I all but collapsed," says Brightman. He'll never forget that spot on 23rd Street and 7th Avenue. "I went home in silence with a huge smile on my face," he shares. "I got out of the subway, called my parents -- cried with them -- then cried with my girlfriend. And then I had a drink."
Brightman is playing the role that Jack Black made famous in the 2003 film about an underdog who forms the most awe-inspiring bad ass rock band out of a classroom full of kids. "The best part of doing School of Rock is getting to do everything I have ever wanted to do with my life all in one show over the course of an evening," says Brightman who has made the part uniquely his own. "I get to be funny, inventive, sing rock and roll, play guitar and scream at children. It's a dream. It's a dream I get to have every single night."
That dream to be on stage has been in place since Brightman was a child. When he was eight, he saw his first Broadway show, Cats, and was instantly hooked. Coincidentally that was at the Winter Garden Theatre where he now performs in School of Rock. "My brother was terrified and had to be taken out. But I thought, there's a place for the stuff I do in my living room! Before then I didn't know there was a place where you get paid and people applaud for all the things I was doing in my fireplace every day in California," recalls Brightman. "I would put on music, pretend to be different people and dance to the music of Billy Ocean and Gloria Estefan. Seeing Broadway shows made me realize that I'm nuts, but so is everybody else."
One year later he was performing in his community theater in San Jose, California. "I played Tiny Tim in A Christmas Carol and I had officially caught the acting bug bad," says Brightman. By 2008 he became a replacement in the show Wicked on Broadway and then he did Matilda and Big Fish. "Twenty years later, I am back where I saw Cats but now I'm on the stage and it's completely surreal," offers the actor. "I have always wanted to perform and be able to pay my rent with my acting. The fact that I get to do it in this huge way is the biggest bonus ever. I'm just hoping that I'm not dreaming. So far, so good."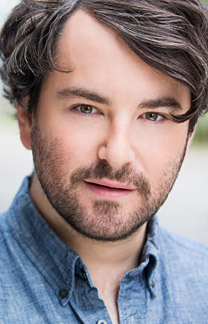 Alex Brightman (Photo used with permission.)
Calling all HuffPost superfans!
Sign up for membership to become a founding member and help shape HuffPost's next chapter