Brides, I'm not a baker. My idea of baking is getting a store-bought mix, popping it in the oven, slathering the resulting cake in homemade buttercream frosting (isn't that the best part anyway?) and calling it a day. So when I was invited to take a professional cake-decorating lesson from the pros at Carlos Bakery in Jersey City, New Jersey — where the hit TLC show Cake Boss is filmed — I leapt at the chance to learn from fourth-generation baker Buddy Valastro.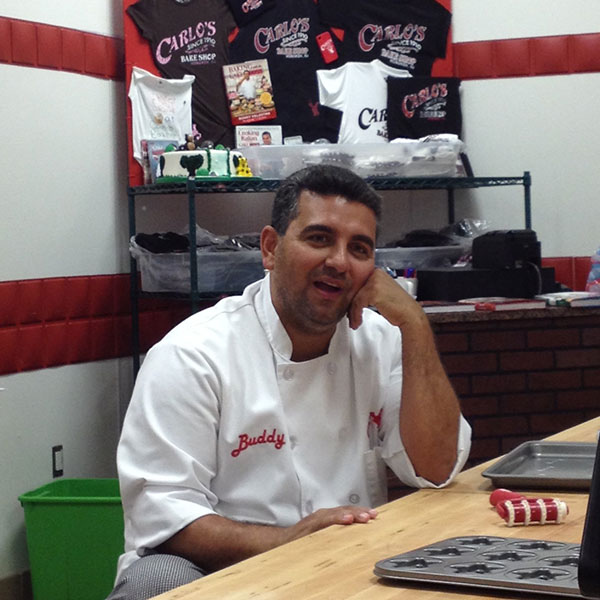 I had recently chosen my own wedding cake and wanted to experience firsthand what goes into creating these confectionary works of art. On average, it takes Valastro's team two to three hours to stack and decorate the average wedding cake; that doesn't include time spent making all of the sugar flowers, ruffles or other adornments. He's designed cakes for mega-profile celeb weddings — most recently, that of Mario Lopez and Courtney Mazza ("They were a lot of fun and had a great vision for what they wanted their wedding cake to look like; it came out beautiful," Valastro said).
Given the Cake Boss' star power, I felt giddy on training day when I arrived to the production facility and he handed my group and I an official apron and baker's tools. "How cool is this?" I remarked to the other students. Then, we found out that we'd be decorating a vanilla and chocolate fudge cake with fondant, and whatever bravado I had dissipated quicker than the cornstarch we threw down on our workstation to prep. Fondant, or sugar paste, is notoriously difficult to work with, but it can be molded to create any shape you can think of, so it's perfect for constructing spectacular wedding cakes. (More of Valastro's bridal clients are asking for a combination of old and new with a cake iced in fondant, but with traditional, classic piping work).
Buddy (we were on a first-name basis now) gave us a reassuring pep talk: "With the right tools, anyone can learn how to decorate a cake, even the baking-challenged," he said. "If you're baking a cake from scratch and filling it, it'll take four hours, but if you buy a premade cake and decorate it, it'll only take an hour and a half." OK, bring it on. A pro Carlos Bakery instructor gave us a quick tutorial, then we rolled up our sleeves and it was our turn.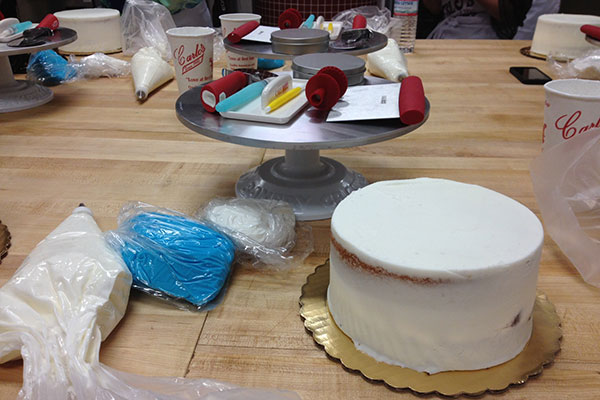 The steps were basic in theory: Knead the fondant like pizza dough until it was the right consistency (the thinner the fondant, the less gummy it tastes); roll it through a pasta-type machine that flattens it out (which speeds up the process considerably than doing it at home); gently drape the now-thin fondant over the cake and trim the excess; fashion a bow and polka-dots from another pile of prepped fondant and pipe icing onto the bottom of the cake.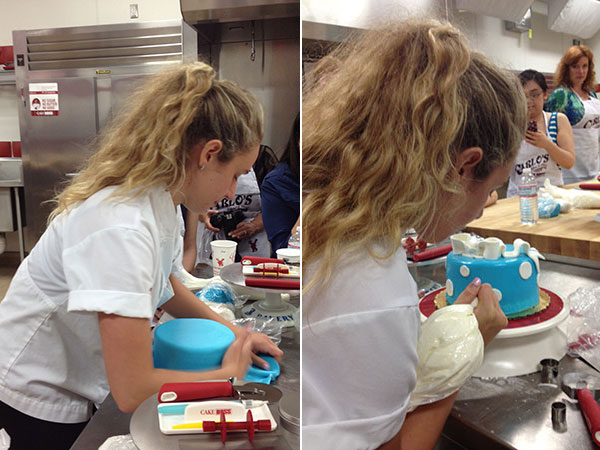 Executing them correctly was a different matter altogether! My fondant ripped when I gingerly placed it on the cake and I held the piping bag like a water gun (a big no-no). Somewhere along the line, I fell into a calm work trance and felt a sense of pride when I finished — so that's why people bake, I thought. It was fascinating to look around the room and see different interpretations of the same Breakfast at Tiffany'sthemed design. Cake Boss Lady I'm not, but the experience gave me confidence and it was a memorable baking first!