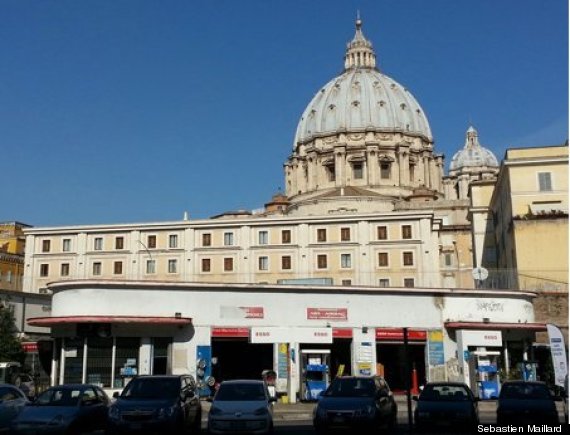 "Following Francis" is a monthly blog on the latest happenings of Pope Francis. It is prepared exclusively for The WorldPost by Sébastien Maillard, Vatican Correspondent for La Croix, Rome
ROME -- Who's awake when Francis rises? Unlike New York, Rome is a city that does sleep. When the Pope wakes up at around 4:45 a.m., there is hardly anyone out in the streets of the Eternal City. Or of the Vatican itself.
It is said Jorge Bergoglio has always been an early bird. Whether as the archbishop of Buenos Aires or now as the pope, his lifestyle remains unchanged.
Rather, he has changed the usual habits in the Vatican by refusing, after his election, to live in the Apostolic Palace and by staying in the so-called Domus Sanctae Marthae, located behind a gas station, where he moved in with all the other cardinals that selected him during the conclave.
Frankly, who really would switch a large beautiful Renaissance-decorated apartment overlooking St Peter's Square for a three-room flat in a dull-looking residence overshadowed by the nearby basilica and with less privacy? This was no sacrifice for Pope Francis, though. He feels much more at ease in this ordinary environment than inside a palace. Especially when you're a workaholic as he has also always been.
Nothing can distract you in Santa Martha. When you enter the residence, where the Vatican accommodates some of its visitors, there is no Raphael fresco or Bernini sculptor to catch your eye. Just plain white walls and green plants on a tidily kept marble floor. The outside six-story facade and the inside lobby alike are as neutral and impartial as a clinic.
"A young cardinal once found himself with the Pope suddenly entering the lift. "Holy Father," he said most politely. Francis replied: 'Holy Son!'"
Yet the one distraction you may come across, in the elevator, is Pope Francis. He stays in Room 201 on the second floor. A young cardinal once found himself with the pope suddenly entering the lift. "Holy Father," he said most politely. Francis replied: "Holy Son!" The pope recently explained to journalists that he had insisted on taking the elevator alone, with no one on duty to accompany him: "My life is as normal as I can make it." And as normal as one of a priest, that he wants it to remain.
He starts his day by praying and preparing his morning mass, reflecting on the day's scriptures and on his homily. The mass, he celebrates each day at 7 a.m. in Santa Martha's chapel, has become the most privileged way to watch and get close to him. It is a half private, half public event, which gathers selected visitors from Rome and abroad.
Wearing unsophisticated liturgical cloth, the pope enters from the side, with no altar boy. His daily homily is his way of delivering messages to the rest of the Catholic Church throughout the world and to the Roman Curia inside. His way of reforming the Curia is not just through structural measures and nominations, but also with a "thought of the day" approach. In this way he slowly spells out, day by day, his spiritual approach and spreads it, via the Vatican media, to shape his organization's vision.
When the mass ends, everyone remains seated. Pope Francis gets up in silence, often moving to a seat in the back row, to pray among the people. All the others try to pretend he's not there, all the while keeping an eye on him. Francis then stands up and leaves to warmly greet everyone outside the chapel -- every single person, one by one.
This is just the beginning of the handshakes he'll be making all through the day: hosting a state visit, welcoming a group of foreign bishops, then greeting some faith-based association.
BREAKFAST AT EIGHT IN THE CAFETERIA
Before starting this relationship marathon throughout the Holy See, he goes down for breakfast, at 8 am. Santa Martha has its own cafeteria, located under the ground floor. Francis sits at his usual table with some guests. The other visitors help themselves, also pretending he's not there, but watching him from a distance. Same thing at lunchtime or for dinner.
Meals served are typical of an Italian trattoria. Last summer, he showed up in a canteen elsewhere in the Vatican, sitting with his tray among employees and joking: "It tastes better here than at Santa Martha!"
The pope never eats alone. Some joke this is safer. He looks after his guests. The Vatican served kosher food once when a group of the pope's Jewish rabbi friends had lunch with him.
Bergoglio manages his own private agenda, choosing whom he wants -- and does not want -- to see, and for how long -- even if the meeting was officially scheduled to be shorter. He books some appointments of his own. He phones directly to some people, for instance those whose letters have personally moved him. He calls friends in Argentina, too -- especially on Sundays --- including prisoners he used to visit back there and with whom he's still in touch.
Then he goes back to the normal-as-can-be kind of life "padre Jorge" tries to maintain. In the early afternoon, he takes a short nap, but he never goes for a walk in the Vatican gardens, as his predecessor did. He just goes straight back to work again: a bishop to appoint, a speech to review, a nuncio -- equivalent of an ambassador for the Holy See -- to speak to.
An Italian Jesuit, Antonio Spadaro, who made the first in-depth interview of Pope Francis last year, has described the pope's private office in his Santa Martha room: "The setting is simple, austere. The workspace occupied by the desk is small."
Objects in the room are scarce: an icon of St. Francis, a statue of Our Lady of Luján, patron saint of Argentina, a crucifix and a statue of St. Joseph sleeping.
Pope Francis ends his day, as it started -- in prayer. He prays before dinner, where he helps himself at the buffet. He switches off the light at around 10 p.m.
By staying in Santa Martha, he's created a space for himself where he can lead the life he's always been used to as a religious priest.
There is one great exception: he's trapped there.
"Really, I would like to get out,"he said last month. "But it can't be done . . .and not for safety reasons, either. It can't be done because if you go out, people flock around you."
He yearns to just stroll around Rome, out there just on the other side of the wall.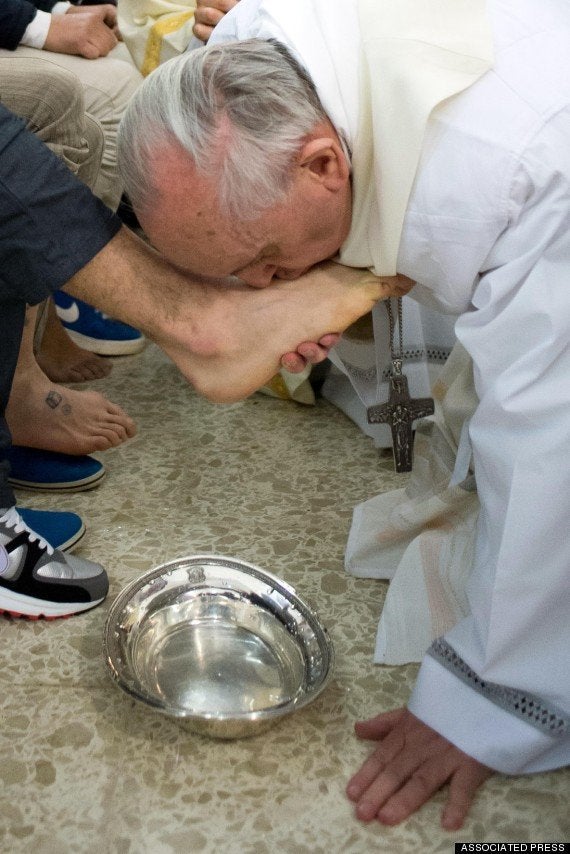 Pope Francis' Best Photos
Related
Popular in the Community