Ruby Lewis got her first big break singing in church. It was the holidays and she was dressed like an elf, sitting on a piano. "The song was written just for me," says Lewis, who grew up in Shelbyville, Kentucky. "The choir would sing a line and I would repeat it. I knew I nailed it because everybody was just freaking out."
In fact, Lewis' mother says her daughter sang before she could talk. "From a very early age, I was fully immersed," recalls Lewis who also studied dance since she was three. "Coming back and forth from dance class, my mom, who was an opera singer, would sing something like 'Silent Night' and have me harmonize with her in the car," she explains.
By the seventh grade, the triple threat landed her first professional acting gig playing Brigitta in The Sound of Music at the Musical Theatre of Louisville. She will never forget the last performance, standing in the wings. "I remember being completely overwhelmed, thinking I will never stand here, in this costume, in this character, at this time ever again," she shares. "I was so sad because it was ending. I tried hard to take a mental snapshot and managed to take a pretty poignant one." What truly stayed with her was the feeling, the longing for more. "I wanted to recreate that moment -- getting ready to take the stage and share a character -- as often as I could," recalls Lewis.
After majoring in Performing Arts at Western Kentucky University, playing roles like Mother in Ragtime and Mrs. Johnstone in Blood Brothers, Lewis was cast as Dainty June in a touring production of Gypsy. Then, she went on the road with Grease, Jersey Boys and We Will Rock You. She eventually moved to L.A. and got an agent. "I was very lucky," she says. "There's maybe one musical theater agent out in L.A."
She was sent to an audition for the television series Medium with Patricia Arquette, where she had to portray a girl who dies from asphyxiation. "I sat in a chair in an office, pretended to suffocate and die," says Lewis. It was so believable that she got the part. "I really do look like I'm dying when I see the clip," she adds. After that co-starring role, more television parts followed, and she worked with Gilles Marini, Felicity Huffman, Vanessa Williams, David Spade, Nicholas D'Agosto and Ben Savage.
In May 2016, Lewis made her Broadway debut as leading lady Indigo James in Cirque du Soleil Paramour. The production combines jaw-dropping acrobatics with narrative storytelling. For her, Paramour is a beautiful merger of all the things that she learned in her career. "When I lived in L.A., I did a lot of on-camera work, and in the show, I get to do some on-camera work. I dance and sing so many different styles of music," she explains. "Paramour almost feels like a quilt that has been patched for me in all of my years touring and doing summer stock. It's really kismet."
Lewis also remains in awe of her Paramour cast mates, who dazzle her. "Every night, I am blown away by the human capacity. Like all Cirque du Soleil shows, Paramour is so joyous, so full of color and light -- it's like entering a magic wonderland," she says. "And then to be on Broadway! It doesn't feel like I should be getting paid. It feels like I should be paying them."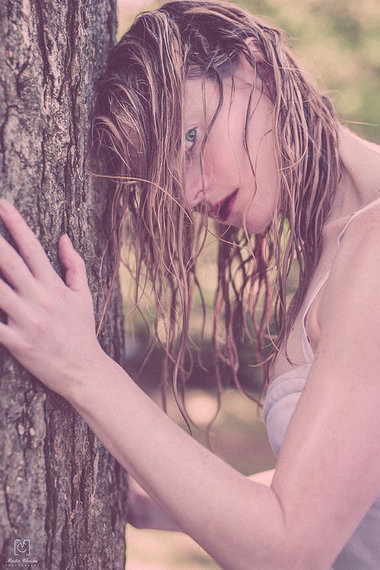 Ruby Lewis (Photo credit: Martin Charrat)
Used with permission.
Calling all HuffPost superfans!
Sign up for membership to become a founding member and help shape HuffPost's next chapter