We are finally in an era where women empowerment and messages of uplifting sisterhood are penetrating our subconscious. I feverishly scout for women who define this message while fulfilling their true purpose, Angela Simmons is amongst the elite group that I speak of. With last minute prepping for her recent fashion show, I followed as she clearly demonstrated the term #GirlBoss.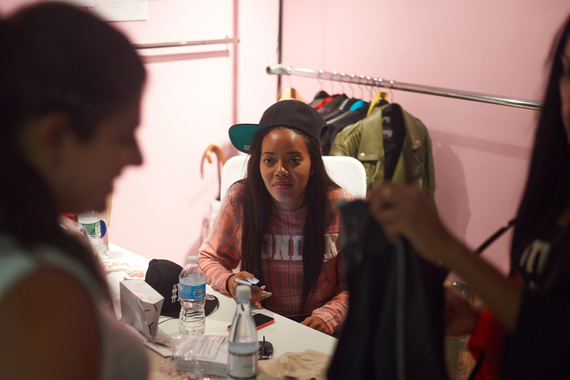 As with any powerhouse, Angela maximizes by surrounding herself with women who support, uplift and basically help run her up and coming empire. The ANGELA I AM team are those pictured with Angela at numerous events, vacations, and personal celebrations, these women also assist with the flawless execution of her runway shows. I arrived at the showroom before anyone and as the ladies entered with their game faces on, I knew they were there to work. Focused and prepared, they laid out the pictures, accessories, shoes and every minor detail they might need. When Angela arrived, they fell into place and together they lined up the rack, scrambling for a missing skirt and used photographs as a reference. Their chemistry is sincere and they hold Angela's vision as a priority. Women supporting women displayed at its best.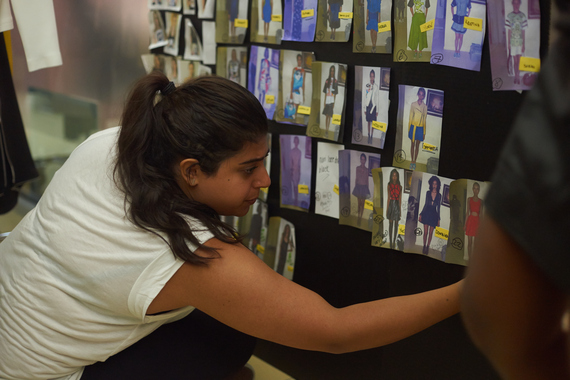 As the last rack was lifted into the silver Splinter, a final check list was cleared and we were off to the Style 360 venue. We arrived as Serena William's show wrapped up and styled celebrities lined the sidewalk. Collectively rushing to unpack the van, we filled the freight elevator and unleashed the magic of a full fledge fashion show. Enduring the pressure of New York Fashion Week, Angela calmly spoke to each and every person responsible for helping execute the "Back to basics" runway show.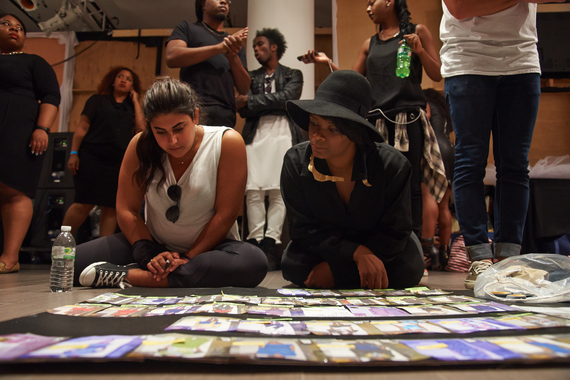 Hair and make-up stylists carried out prior discussions of high ponytails, flat ironed tips, clean faces and pouty lips. Ballerinas practiced on the empty runway while Angela sat front row. With her eyes mesmerized by the tip-toeing dancers, she counted steps and even applauded when they finished. The final run through with the models was where her inner boss stood out as she perfected timing with the talented DJ Quiana Parks. Pacing each model to the beat of her custom mix, a frustrated Angela asked the model to stand aside so she could show her how it should be done. Her attention to detail clearly separates her from the ordinary and her hands on approach is what solidified my respect for this young entrepreneur.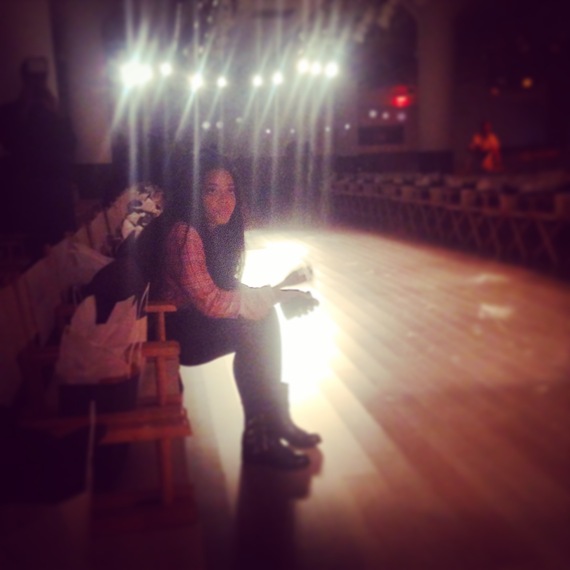 After her final instructions were handled, she hurried into her dressing room with minutes to spare. Although there wasn't an opportunity for an interview, I found it incredibly humbling how she carved time out to spend with her family before the show. In a private green room sat her famed father, Reverend Run from the legendary hip hop group, Run-DMC. I noted throughout the evening how discreet the Simmons family was and how they sat back to watch Angela stand firmly in the spotlight.
VIP guests sat front row and a buzz began to circle the room. Tyson Beckford, Yandy Smith, Erica Cambell of Mary Mary, Monyetta Shaw, Tameka Raymon, Jennifer Williams and more filled the front row . The anticipation of Angela's latest project came to a halt once the DJ's beat dropped and silence was demanded. Elegantly posing, each ballerina returned to the runway and delivered a flawless performance as two-time Emmy award winning violist, Damien Escobar delivered a jaw dropping piece.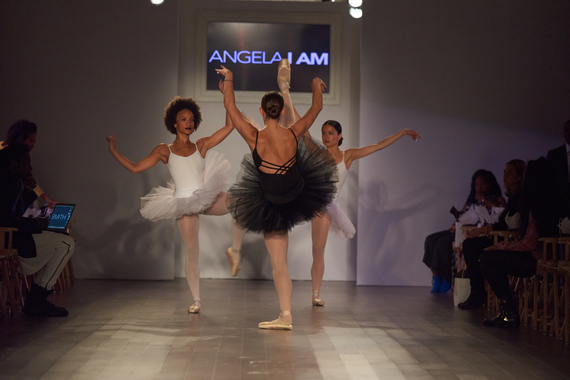 Immediately following his opening act, striking models fiercely summoned our attention as they appeared one by one in stellar high heels and studded footwear. Clothed in an easy mix of reliable favorites and featuring new designers Muehlefer, Big Park and Smith the Second, Angela dressed each girl with a trained eye. The grand finale starred her stunning sister, Vanessa Simmons and debuted baby Ava Marie. As camera flashes filled the second floor venue, supporters clapped and cheered for another successful show. My favorite moment of the evening was as the house lights lit, Rev. Run stood up took Justy by her hand and reached around their family. Gently guiding them away from the crowd and allowing all the attention on his baby girl.
Spending the day shadowing a woman who is a visionary put lots into perspective. All the hard work and dedication it takes to bring your idea into fruition is more than the average person would ever tolerate but the pressure is far greater when you already have an audience. Although heir to a music icon, she is determined to create a legacy that is rightfully deserved on her own. It's clear that she's earned the respect of many trendsetters and consistently packs her events with reputable personalities with the help of her publicist, Anne Edmond. She is a woman on the rise.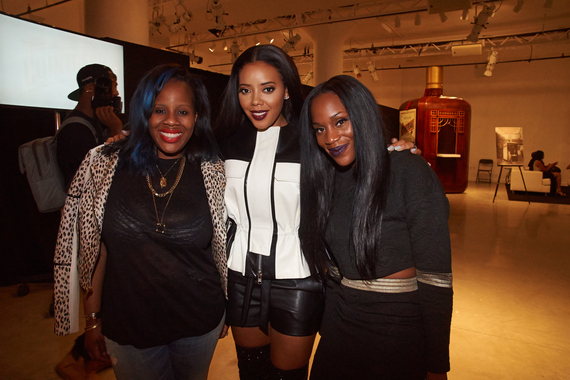 With the immense amount of effort we put into breeding independent women and fueling the women empowerment message, Angela puts her efforts into being a role model with her philanthropy work and exceptional work ethic. Backed by an amazing team, she collaborates, inspires and fulfills the role of a true Girl Boss. Overall, my experience with Angela Simmons helped clarify who she is as a woman and business owner. It takes a lot to step out of Daddy's shadow and demand attention for your own efforts, but Angela has exceeded even her own expectations. Congratulations on the success of identifying with your dreams and setting up genuine relationships with those who help pillar your vision
Watch our day unfold with this exclusive backstage video: