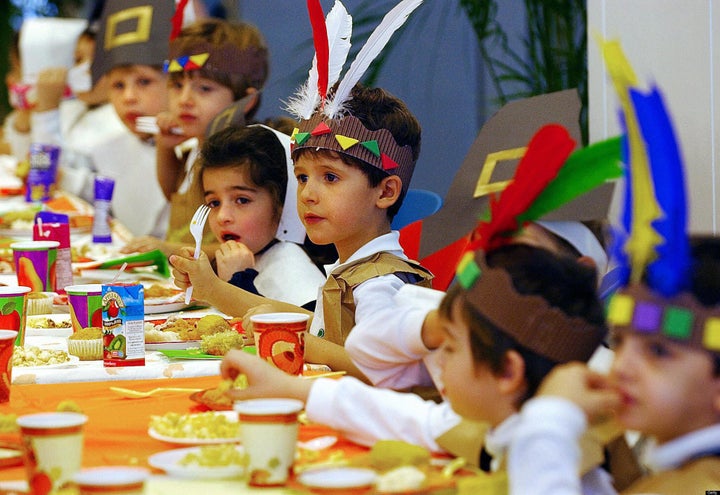 By now I believe most Americans understand that the creative stories surrounding the first Thanksgiving are, for the most part, a myth.
There are few Native Americans who believe this day meant that peace and harmony had become a reality between the Indians and the Pilgrims. Most Natives know that this was just the beginning of an onslaught that would reduce the number of Indians from more than one million to about 200,000 by the beginning of the 20th century.
Over the years I have heard many stories about the psychological impact of Thanksgiving celebrations at schools where a few Native Americans attended classes with predominantly white students. Recalling her school days in Kansas, one Caddo Indian lady said, "All of the kids, except me and two other Native Americans, showed up in class wearing cardboard feathers with their faces painted in various colors. The white kids put their hands over their mouths and whooped and ran around the classroom making these awful sounds. We Indian kids were mortified and embarrassed by all of this."
She continued, "What if on Black History Day or on Martin Luther King's birthday all of the white kids came to school with their faces colored black? Wouldn't that be an insult to the African American students?"
But the day known as Thanksgiving has been accepted as a legal holiday by most Native Americans because the idea of a day to give thanks is such a strong part of their traditions and culture. There are "wopila" (giving thanks) celebrations all of the time among the Indian people of the Great Plains. A son or daughter returning home from Iraq or Afghanistan is an occasion for a wopila celebration. A wopila to celebrate a high school or college graduation is typical. When someone recovers from an accident or a serious illness, a wopila celebration or ceremony is held.
So the idea of a day of Thanksgiving has been a part of the Native American landscape for centuries. The fact that it is also a national holiday for all Americans blends in perfectly with Native American traditions.
According to my research, most of the credit for the establishment of an annual Thanksgiving holiday may be given to Sarah Josepha Hale. She was the editor of Ladies Magazine and Godey's Lady's Book, and she began to clamor for such a day in 1827 by printing articles in the magazines. She also published stories and recipes and wrote scores of letters to governors, senators and presidents. After 36 years of crusading, she won her battle.
On Oct. 3, 1863, buoyed by the Union victory at Gettysburg, President Lincoln proclaimed that Nov. 26 would be a national Thanksgiving Day, to be observed every year on the fourth Thursday of November.
Only twice has a president changed the day of observation. President Franklin D. Roosevelt, in order to give depression-era merchants more selling days before Christmas, assigned the third Thursday to be Thanksgiving Day in 1939 and 1940. But he was met with popular resistance, largely because the change required rescheduling Thanksgiving Day events such as football games and parades. In 1941, a Congressional Joint Resolution officially set the fourth Thursday of November as a national holiday for Thanksgiving.
Each passing year has brought a little more sensitivity to the way Thanksgiving is celebrated in the schools and in the public arena. History is written by the victor, and no victorious people want to put their warts on display before the world.
No doubt there was a time when the Indians and Pilgrims tried to find a peaceful solution to their differences, and maybe they did gather together to share a meal. Perhaps the idea of a day when they gave thanks for their existence blossomed at one point, but the possibilities of eternal peace and love soon vanished from the American scene and bloodshed, genocide and war were the aftermath of that day.
On the remote Indian reservations, families come together and share a meal. I vividly remember one Thanksgiving many years ago when my close friend Timothy Wetstone stopped by my house to play. He said, "Boy am I full. We had a big dinner of hot dogs and beans." Well, to Tim that meal was probably an exceptionally good meal compared to his usual fare. I'm afraid that our meal that day didn't exactly have all of the trimmings of a typical Thanksgiving dinner either, because most of the time we survived on red beans and rice. We were thankful to have that.
For families around this great country celebrating Thanksgiving, I hope your day of "wopila" is a good one.
Tim Giago, an Oglala Lakota, is the editor and publisher of Native Sun News. He was a Nieman Fellow at Harvard with the Class of 1990. His weekly column won the H. L. Mencken Award in 1985. He was the first Native American ever inducted into the South Dakota Newspaper Hall of Fame. He can be reached at editor@nsweekly.com.
Related