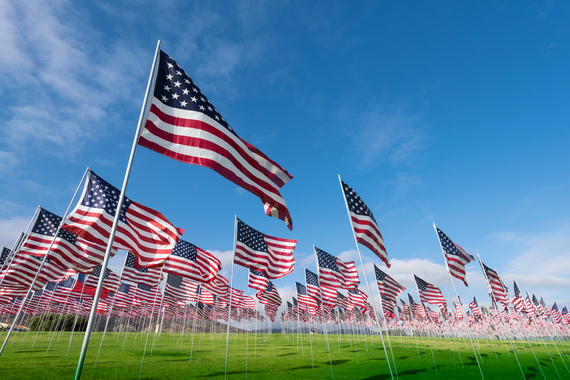 Memorial Day marks the beginning of the summer season. People open beach houses, put boats in the water and head to campgrounds to celebrate the arrival of the warm weather.
But the real purpose of Memorial Day is to remember the sacrifices of the men and women who gave their lives in service to our country. The origins of this holiday stretch back to the years following the Civil War, when local townspeople would plant flowers and decorate the graves of soldiers who had died in those battles. Ultimately, the U.S. government standardized the date and, over the years, the tradition expanded to honor soldiers lost in subsequent wars.
Our focus on the start of summer, the joy of a long weekend and the opening of the backyard grill means we often lose sight of the purpose and origins of the holiday. The wars that we have been fighting since 9/11 have been fought by volunteer armies and by technological advances that help insulate many of us from direct impact.
My father, who was a young boy during World War II, grew up in an environment where the whole country was consumed with the war. For his generation, the impact was very personal. His teenage brother was drafted out of high school and sent to the Pacific. His father, who had been pulled out of school in 1918 to join the Army during the First World War, was sent to manage shipments for the Navy from a mid-Atlantic port, far from their home. Their situation was not unique to the families in their neighborhood. And, certainly, there were families who sacrificed more, but for my dad and my grandmother, the importance of people sacrificing their hopes, dreams, careers, families and sometimes lives was part of what it meant to be an American.
So a few years ago, when my father said he wanted to visit Normandy, I knew it was an important trip to take. He is a teacher and a historian who would start every dinner conversation with the question, "What happened today in history?" As a kid, he would post maps of Europe and the Pacific on the wall of his bedroom and insert thumbtacks to indicate the locations of battles he'd read about in the daily newspaper.
My mother said, "John, graveyards and battlefields are not my area of interest. You take your father." So Dad and I planned out a trip to follow the Allied armies who landed in Normandy in June of 1944 and fought their way across northern France into Germany.
The tour was run by a retired Vietnam-era U.S. Army colonel who'd taught at West Point. Not only did this tour guide provide the perspective of a history professor, but we got the added perspective of a U.S. Army colonel who had lost two brothers in Vietnam. I said to him at one point, "Your family has sacrificed so much for this country."
The cemeteries overlooking the beaches at Normandy are breathtaking. They are shrines to the sacrifice of so many soldiers who died on those beaches and bluffs, and a solemn reminder of young lives cut short moments after their feet hit European soil. The only remarkable sounds at these vast cemeteries were birds and the occasional lawn mower, staffed by a grounds crew who honored the deceased with their impeccable attention to the landscape.
My father had come with a list of people he wanted to look up at the numerous cemeteries we visited. They were friends of his elder brothers, people he knew from his hometown and, in a few cases, people he'd read about in the paper whose relatives had never been able to visit their graves. Each marble cross or star marked a unique life, interred forever on foreign soil but never forgotten.
In honoring these soldiers who fought so nobly in service of our country, my father left an indelible mark on me. His actions reminded me that we stand here today because of the sacrifice of so many veterans who never came home.
In my hometown, there will be a parade this weekend honoring the deceased war veterans, and wreaths will be placed on the war memorials around the town square honoring those lost in the each of the wars over the past few centuries. In attendance will be my friends from town who attended the service academies; they never forget the purpose of Memorial Day. I will also see the veterans from our town who served overseas, some for multiple tours in Iraq or Afghanistan. We felt their absence when they had to step down from leadership roles in our community in order to answer their country's call. And current soldiers from the nearby military base will attend, and they often march in lock step with aging veterans who come to honor those from our town, but also from thousands of other towns around the country who never made it home.
I often write about how my interactions with my children help prepare them to become financially savvy consumers and better investors. I learned a lot from my folks about saving, budgeting and investing, but more importantly, I learned about honor, respect and commitment. Along with the tidbits of financial advice I pass along to my kids, I hope they'll retain some of these more important values as well.
This weekend, as we all enjoy time with family and friends, let's take a few minutes to remember the sacrifices that make it possible for us to enjoy our freedoms. Bring your children to a Memorial Day parade. Visit a war memorial. Read the names on the plaque and think of the families that were forever changed by the loss of that individual. It's important that we remember why we have a Memorial Day holiday and honor those who fought for our freedom and who, by their sacrifice, have earned our eternal gratitude.
About the author: John Sweeney is executive vice president, Retirement and Investing Strategies for Personal Investing, a unit of Fidelity Investments, in Boston. Follow him on Twitter @SweeneyFidelity.
Fidelity Investments and Fidelity are registered service marks of FMR LLC.
Related
Popular in the Community