This weekend is the official start of summer in the United States. Memorial Day Weekend 2015 sale email blasts fill up my personal email inbox. My twitter feed includes links to avoid lines at the airport and the gas stations as America plans to travel for the long holiday weekend. But the commercial buzz and travel excitement are relatively new associations for our Memorial Day Weekend.
According to the U.S. Department of Veteran's Affairs Office of Public and Intergovernmental Affairs, our modern Memorial Day started as a national Decoration Day on May 30, 1868, three years after the end of the Civil War. Local communities had been holding springtime tributes to the fallen soldiers of the Civil War, from Columbus, Mississippi and Boalsburg, Pennsylvania to Carbondale, Illinois and Waterloo, New York. These tributes took place between April and late May. The national Decoration Day of May 30 was chosen because, at this time of year, "flowers would be in bloom all over the country." This first national Decoration Day included speeches of Washington officials and a procession of children who had lost a parent in the conflict and union veterans who laid "flowers on both Union and Confederate graves, reciting prayers and singing hymns." Decoration Day officially became Memorial Day in 1966 by a U.S. Congress & President Lyndon B. Johnson declaration and, in 1971 was officially moved to the last Monday in May and declared a proper national holiday.
Our 2015 Memorial Day Weekend is about to begin, even as the conflict in the Middle East intensifies and Congress debates whether to authorize the use of U.S. military force against ISIS forces in Syria and Iraq. Last year I had the honor to remember our fallen service members on Memorial Day at the Los Angeles National Cemetery with dear friends of the American Legion, Hollywood Post 43. Thousands of rows marked with white stones and American flags placed by Los Angeles area Boy Scouts, Girl Scouts, and Sea Cadets, one flag for each of our more than 80,000 soldiers who are remembered here. The Decoration Day for Civil War soldiers has expanded to include all of our service members who have passed away, recognizing their honor and duty in their lives in service, and for some, the ultimate sacrifice.
Last year's ceremony reminded me of another Memorial Day ceremony at a local cemetery in the small town of Verona, Missouri. For years, on the days leading up to Memorial Day, my grandfather's sister, my Aunt Noveta, would walk with her friends and leave flowers on those stones marked with the veterans symbol. Two different cemeteries in two very different communities in this country, but we remember on Memorial Day. My father and grandfather served in the U.S. Army, my uncle served in the Navy. They each made it home alive from their tours of duty even though they are no longer here today. My great aunt left flowers on my father's headstone on Memorial Day 2007, the first Memorial Day after my father passed away. She did the same for her brother's stone at the IOOF cemetery, and the hundreds of others who were buried in Verona and the nearby communities of Monett and Aurora. This is their Memorial Day, too.
When I go to this year's Memorial Day services at the Los Angeles National Cemetery, I will remember the six marines who died, along with two Nepalese soldiers, in a helicopter crash on May 12 while providing relief aid to the victims of the earthquakes in Nepal. According to
, the Camp Pendleton, California soldiers were part of Marine Light Attack Helicopter squadron 469 and were:
Capt. Christopher L. Norgren, 31, of Sedgwick, Kans.
Capt. Dustin R. Lukasiewicz, 29, of Harlan, Neb.
Sgt. Ward M. Johnson, IV, 29, of Seminole, Fla.
Sgt. Eric M. Seaman, 30, of Riverside, Calif.
Cpl. Sara A. Medina, 23, of Kane, Ill.
Lance Cpl. Jacob A. Hug, 22, of Maricopa, Ariz.
This will be the first Memorial Day for their families where they will honor the memory of these loved ones killed while serving our country. The average age of these soldiers when they died: 27 years old.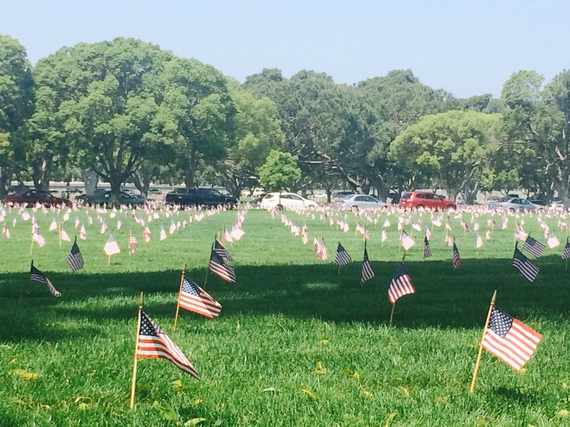 According to the Memorial Day Foundation, more than 1.2 million Americans have died while serving our country. 6,840 American service members have died in Operation Iraqi Freedom and Operation Enduring Freedom. The men and women who have died are younger than the grandparents who have survived the wars of their time. Our recent fallen soldiers were recent high school grads, maybe not even old enough to legally drink alcohol. Some were new parents who were away from home for longer periods of time than their child has been on this earth, some had never meet their children.
So as you celebrate your day off, take a moment to reflect on the reason behind this summer kick off. How will you remember those who have given the ultimate sacrifice? I hope that you will join me at 3:00 pm local time for a National Moment of Remembrance and remember the Marines who died on May 12 and all of our service members who have died while serving our country. You can learn more about the National Moment of Remembrance here.
Thank you to those in my life who currently serve or have served in our Armed Forces despite the great sacrifices, especially Mike, Brad, Shawn, Joe, Fernando, Karen, Paul, Eric, Abe, and your families.
Calling all HuffPost superfans!
Sign up for membership to become a founding member and help shape HuffPost's next chapter