This year my Thanksgiving didn't come with stuffed Turkey, yams or mashed potatoes. Instead, I spent the day with the producer and the cast of The Cooking Odyssey TV show while they were filming their second season in Long Island. The Cooking Odyssey, a culinary travel TV show broadcasted on PBS and Create TV, focuses on Greece: the country, the food and the flavors. Each 30-minute episode presents an area of Greece and its local culinary traditions and specialties.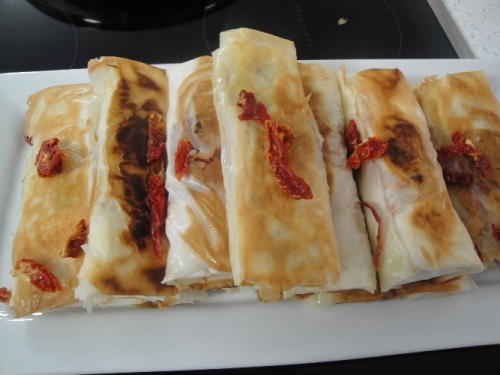 I arrived in Long Island around 2pm when the entire crew was on a quick take break. Then Chef Yannis, the host, and his guest for the day, Eva, continued making pastourmali, a Thessaloniki specialty food made from cured beef, cheese, and sun dried tomatoes all wrapped in a phyllo dough which is then fried. While filming everybody had to be quiet, mute rather, and still. There was no time to waste as the producer, George Stamou, intended to finish "Thessaloniki" (meaning the internal scenes for that city). I complied with the rules, taking photos and realizing that making television is a tedious and long job and often confusing with the "cuts," "cut cuts," scenes and takes. But the breaks were pleasant when all of a sudden the silence was broken and everybody was running, talking, or taking bites from the freshly made dish. So, here I was, eating pastourmali, giving many thanks for my Thanksgiving lunch, and looking for the host.
Chef Yannis, a jovial and gregarious man, was also giving pastourmali a try. In line with my professional duty, I was curious enough to find out how he got into cooking, and he immediately, with no reserves, presented his impressive resume. As a child, he used to work in the kitchen of his parent's own restaurant, learning the basics about techniques and flavors, but he studied Biology, did a Masters in Public Health in Yale and finally completed a Ph.D in molecular epidemiology in Oxford. Although science won him over, he always kept in touch with his culinary inclinations. He even worked as a pastry chef while in Oxford, leading at the same time the Gastronomic Society. Yannis finished his sentence and went back to his lines, preparing for the next scene. I returned to the eco-friendly kitchen (in reality the kitchen of Stamou's house and designed by his wife Effie) turned into The Cooking Odyssey's studio for filming in the USA. All the external scenes were filmed in various parts of Greece, and for the second season the crew traveled in Athens, Crete, Chios, Thessaloniki and Halkidiki, to name a few.
Back in the shooting, this time Chef Yannis made a spiced quince with mavrodaphne, a fragrant and tasty desert often served with vanilla ice cream or whipped cream. I stayed for the next scene that included a seared tuna with kritharaki and sauté green salad with spinach and asparagus, a light dish for fish lovers. Kritharoto -- made with orzo, olive oil and a glass of white wine -- had an excellent texture. The spiced quince made earlier was brought on the table because it needed baking, so the scene was finished with both the tuna and the quince together. There was another break and, stealing some of Chef Yannis' time, I discovered that he loves Mediterranean food but as he currently lives in Geneva, he also appreciates Swiss chocolate and cheese. Stamou, rushing to take a picture of the newly made dishes for The Cooking Odyssey's Facebook page, was relaxed and rather relieved that the second season's filming was almost over. And in a cheerful tone, he didn't forget to mention that the show has been nominated for the 2012 Taste Awards under the Best Ethnic Program category. I couldn't stay longer but I saw the nice appetizer -- shrimp with tomatoes in a green dip made with basil and olive oil being prepared. This colorful appetizer was perfect for my Thanksgiving final dish of the day.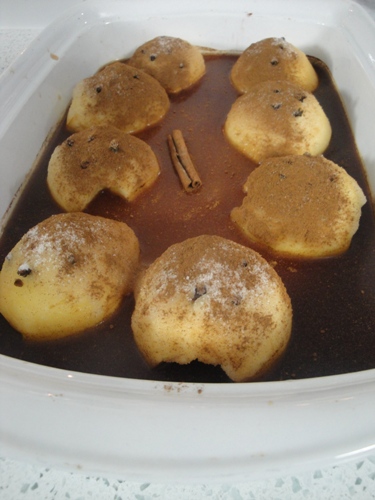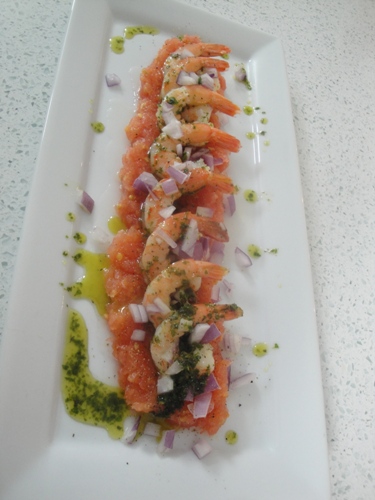 I realized that I was trying the dishes as they were coming out of the stove without any logical sequence but that was the unconventional element of the day and of the show. In fact, we all had bites of food rather a proper lunch or dinner, but that just added to the fun. I left with the entire crew preparing a cod with romaine lettuce in an egg-lemon sauce. There was only one day left of filming after nearly two months both in Greece and the US, but there was still editing to be done. The season starts in February in 2012 on PBS. I am sure many will tuned in, including me.

REAL LIFE. REAL NEWS. REAL VOICES.
Help us tell more of the stories that matter from voices that too often remain unheard.