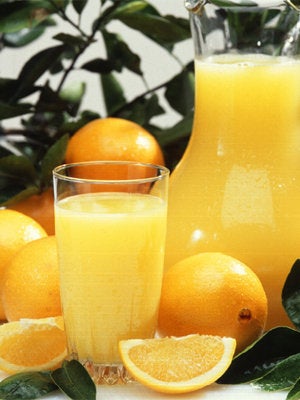 PepsiCo made a big, vitamin-C-filled p.r. splash this week when it released its calculations for the carbon footprint of a half-gallon of orange juice. The New York Times ran a story on it in its Business section describing the process and the growing trend, then followed up with a blog pondering what the effect on consumers will be. Will they understand what a carbon footprint is? Will they trust the calculation? Buy juices with lower numbers? Will low carbon be added to low-fat, low-calorie, or the nearly defunct low-carbohydrate tag as a way to garner sales?
Let's hope so, and not just because (in the interest of full disclosure) I'm helping to start a company that has a better, faster, cheaper way of calculating the global warming impact of everyday purchases. It will be nearly impossible to slow climate change until we all can see the carbon hidden in everything we buy and use. Carbon needs to come clear like the 3-D images in those Magic Eye pictures. You know it's there; it's just a matter of adjusting your perspective to see it.
When you look for carbon, a lot of things come into focus. In the case of orange juice, the analysis brought to light the amount of high-nitrogen fertilizer used in the orange groves, and, in turn, the amount of natural gas used in creating the fertilizer. Though this may not always be the case, chalk one up for organic farming this time -- it would almost certainly lower the carbon footprint of the juice.
Dan Matross, the Scientific Director at Cooler, Inc., checked PepsiCo's number against his own, which combs databases of financial and industrial emissions statistics to produce highly accurate carbon numbers nearly instantly. Cooler's outcome was about 14 percent higher (4.3 pounds of CO2 per half gallon of juice), because Matross's approach takes into account not only the production and transportation of the juice, but the corporate overhead in marketing and selling it. He gives PepsiCo's effort a thumbs-up for accuracy, but far more important is the fact that they did the study and released the number at all. Because when all consumers begin using their Magic Eyes for carbon, we'll be on our way to a healthy ecosystem and a sustainable planet.
Seth Bauer directs East Coast operations for Cooler, Inc., online at climatecooler.com. He was the founding editor of National Geographic Green Guide.
REAL LIFE. REAL NEWS. REAL VOICES.
Help us tell more of the stories that matter from voices that too often remain unheard.